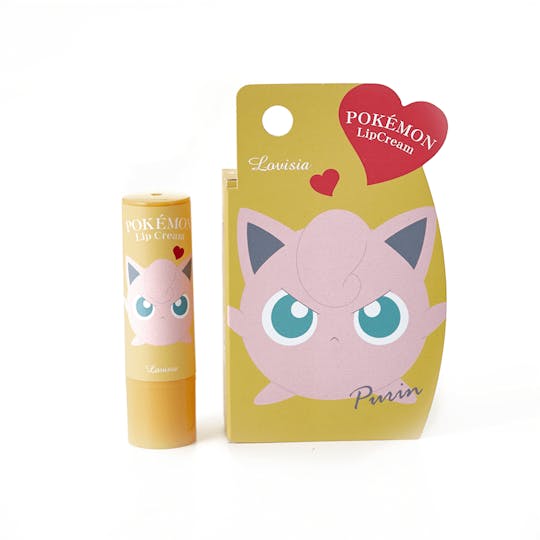 Pokémon x Lovisia Marble Lip Balm
Chapped lips? Not anymore with this cute Pokémon lip balm, made with moisturizing hyaluronic acid and jojoba oil. Perfect for a simple lip day, it features a fun marbled design but goes on clear. Comes in one of 4 designs and colors:  Pikachu: purple and yellow  Eevee: purple and blue  Snorlax: red and yellow  Jigglypuff: pink and yellow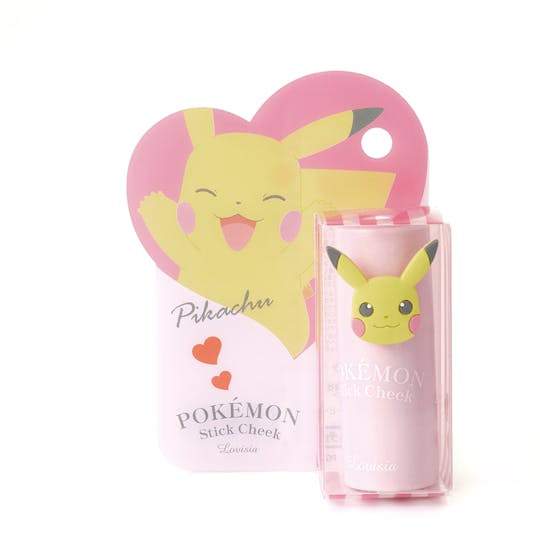 Pokémon x Lovisia Stick Blush
This Pokémon stick blush features a fun 3D character design, adding a Pokémon friend to your makeup routine! Made with moisturizing ingredients and ultra-fine ground pearl, it has a smooth long-lasting application that will give you that just-kissed rosy glow. Comes in one of 4 designs and colors:  Pikachu: milky pink blush  Eevee: rose pink blush  Slowpoke: coral pink blush  Mew: pearl white highlighter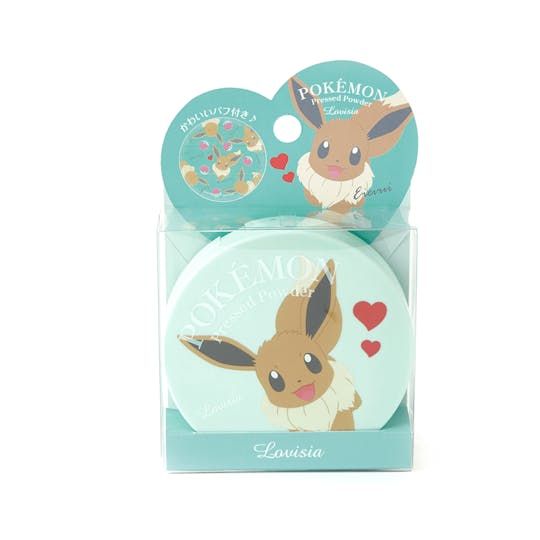 Pokémon x Lovisia Heart Pressed Powder Compact
Set your makeup in place with this Pokémon pressed powder, made from finely ground minerals for a moisturizing smooth finish. This adorable compact comes with a soft puff and features a pretty heart-shaped design. Paraben and fragrance free, it's the perfect size for on-the-go touch ups.  Comes in 1 of 3 designs and colors:  Pikachu: pink for combating blemishes  Eevee: green for reducing redness  Slowpoke: yellow for covering eyebags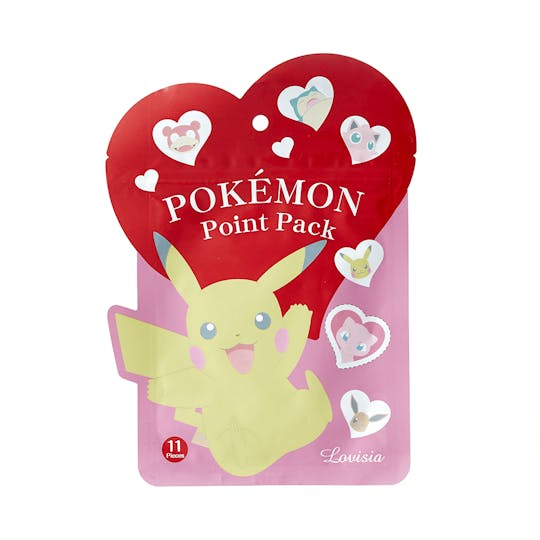 Pokémon x Lovisia Heart Point Pack
Skincare with friends! This fun Pokémon point pack includes 11 heart-shaped moisturizing patches infused with collagen, hyaluronic acid, and shea butter that can be applied to your face and body.  How to Use For the best results, apply on clean skin after your regular skincare routine, then leave on for 15-20 minutes. Characters: Pikachu, Eevee, Jigglypuff, Snorlax, Slowpoke, and Mew.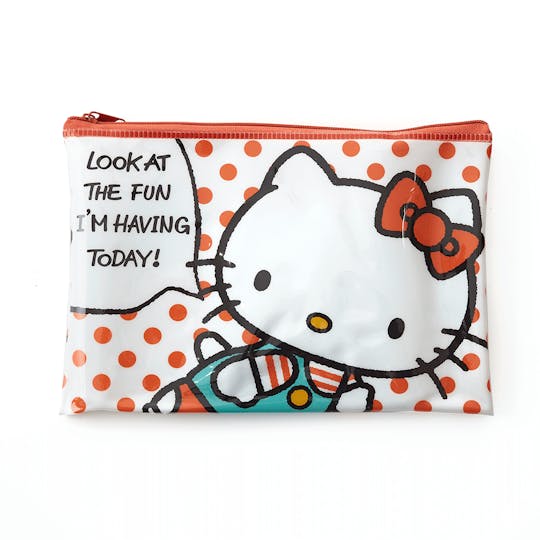 Hello Kitty Makeup Bag
Keeping organized has never looked so cute with this Hello Kitty makeup pouch. A bag designed for daily use, it features a sturdy zipper and is made of vinyl for easy cleaning. Whether at home or on the go, the large size allows you to easily fit all your makeup or toiletry essentials!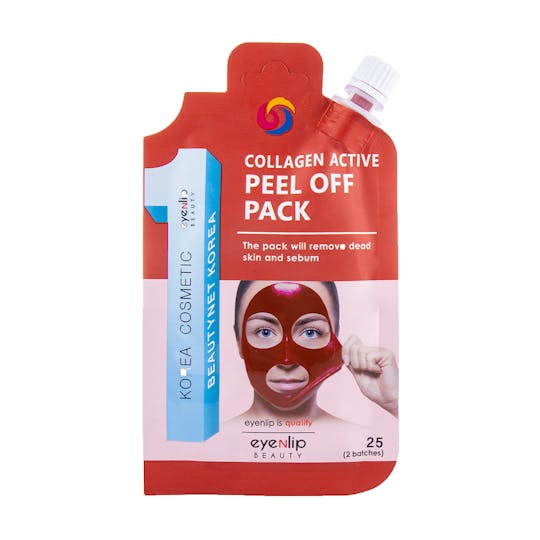 Collagen Peel-Off Face Pack
This Valentine red peel-off pack will make your skin glow! It removes dead skin and excess sebum, plus contains EGF serum that smooths and moisturizes. How to Use Apply a coin sized amount to the face and around the eyes, eyebrows, and mouth. After 15 to 20 minutes, when completely dry, remove the pack and clean your face with toner.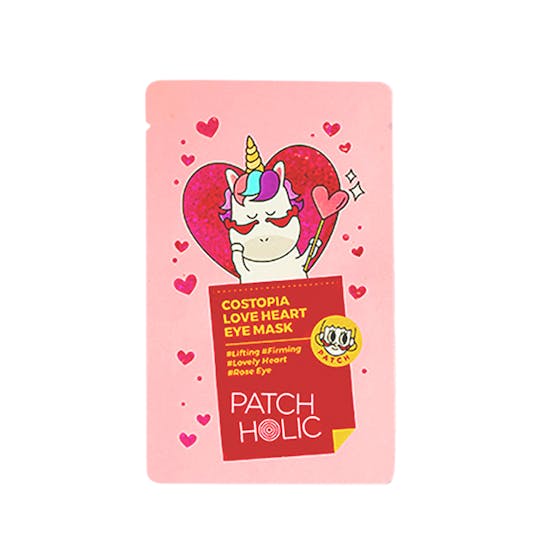 Patch Holic Costopia Love Heart Eye Mask
Puffy eyes? These Korean eye masks will help repair the delicate skin around your eyes and have a sparkly red heart design for a Valentine's touch! Made from sportswear material that boosts your skin's elasticity, they help firm and lift those pesky eyebags. How to Use  Start with clean, moisturized skin  Remove the film from the eye patch  Place under your eyes  Peel off after 20-30 minutes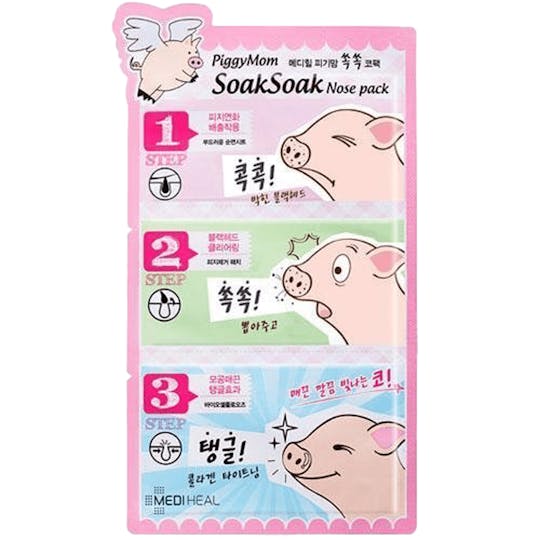 Mediheal PiggyMom SoakSoak Nose Pack
Conquer pesky blackheads and buildup with this 3-step nose pack from Mediheal.