It's almost time for cherry blossoms to start blooming which means the weather in Tokyo will (hopefully) start to get warmer, you will see more drunk people having picnics in parks and pink flowers EVERYWHERE! Not only will you find many sakura drinks and desserts also makeup and beauty brands have stepped up their game and released gorgeous pink sakura inspired collections! Here is our top 5 of Japanese sakura inspired makeup and beauty products 2019!
1. SK-II Facial Treatment Essence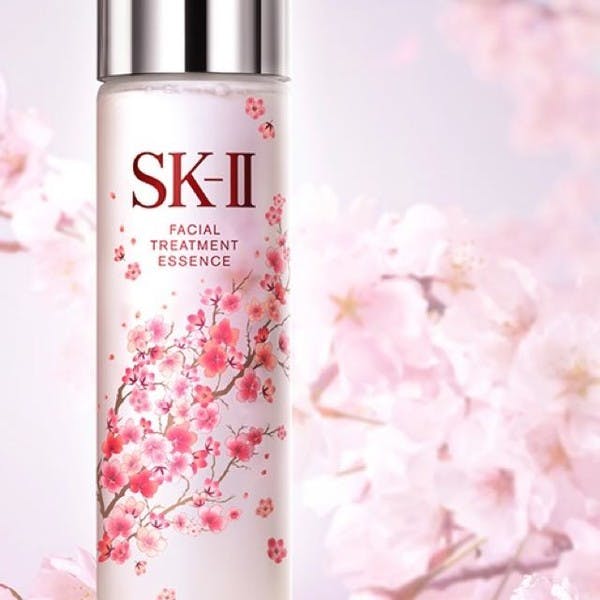 A whole skin care routine existing of SK-II products is (or should be) every beauty lovers dream! These long raved about beauty products get the absolute best ratings everywhere online! This Spring the SK-II facial treatment essence is available in a special sakura edition, only launched in Japan! Being sold out online at most websites the best chance of getting your hands on this beauty is Japanese drug stores! Considering the not-so-affordable price of 23,760jpy or roughly $200 it's only something for the real skin care or sakura fanatics!
2. Ettusais sakura collection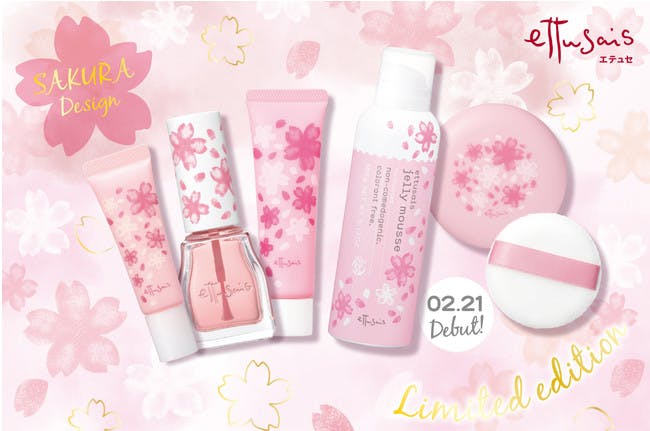 Wow!! How cute is this collection by Ettusais? This drug store brand is definitely more affordable then the brand mentioned above! Released the 21st of February this collection exists of 5 different products with pretty cherry blossom designs! The Jelly Mouse face wash is available for 1500jpy ($13) the skincare powder for 1900JPY ($15), the lip essence for 1200jpy ($10), the quick care coat for nails 950JPY ($8) and the quick care cream for 1000 ($9)
3. Mac Boom Boom Bloom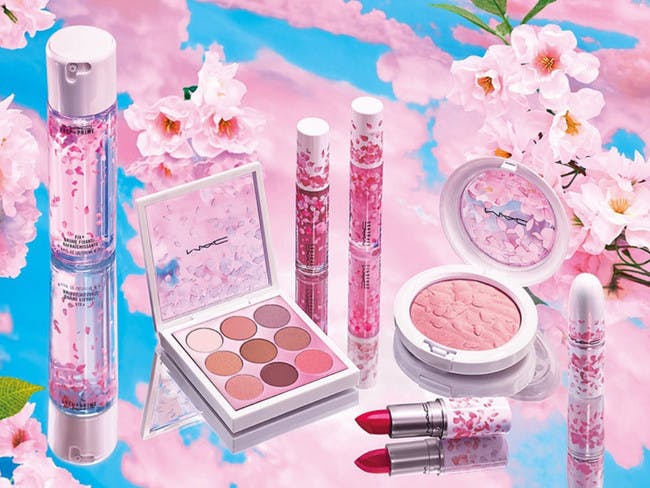 This year Canadian makeup brand MAC surprised us with a gorgeous makeup collection inspired by Japanese cherry blossoms! We want EVERYTHING! And the good thing is, this collection is available worldwide! Lipsticks go for $19.50 and are available in 5 shades of cherry blossom pink shades, lip glosses are slightly cheaper with a price of $18.50 and are available in 4 sakura-inspired shades that go from baby pink, to bright and even mauvy pink! MAC is famous for their primers and setting sprays so make sure to get your hands on the prep + prime fix as well for $28! Then there are 2 gorgeous highlighters in pink and (rose?) gold available for $30!
4. Suncut UV Protect Spray & Gel- SPF50 +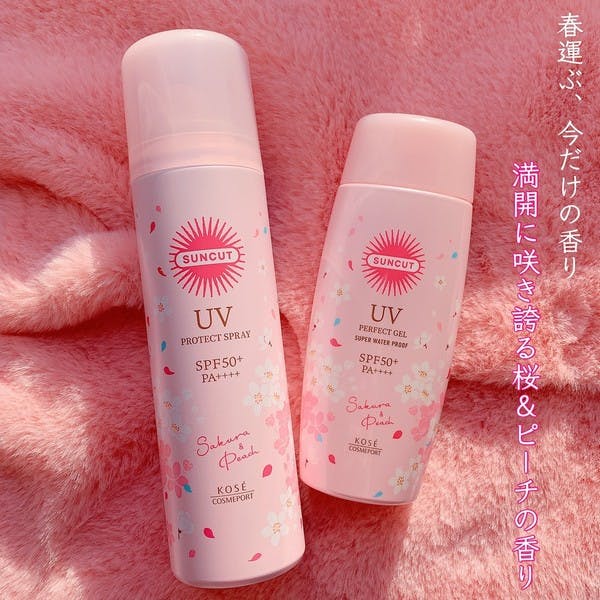 The sun is coming out again! In Japan it can go from a freezing 5 degrees to a boiling 40 degrees in no time so be prepared with sun screen! With these limited edition UV protect gel and spray with SPF50 you can be sure not to suffer from painful sunburned skin during your spring picnics! The gel being super water proof meaning that you can go for a swim too! Both of these have a lovely peach & sakura scent, stock up on them for the rest of the year while you can! The spray is available for 800JPY ($7) and the gel for 700jpy ($6.50).
5. Etude House Blossom Picnic collection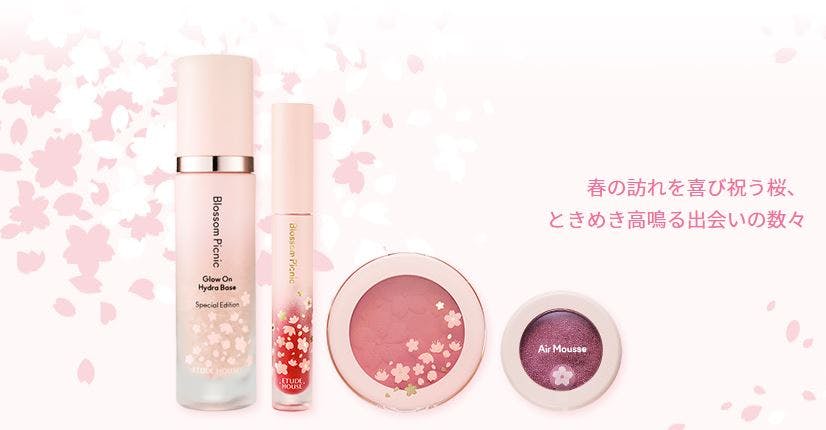 If you've been following our blog and instagram you probably know that we've been raving about this Etude House collection! To freshen up your memory: the Blossom Cheek blush is available in 4 colors ($9) the Blossom Picnic Matte Chic Lip Lacquer in 3 colors ($15), the Blossom Picnic Air Mousse in 8 colors ($8) and last but not least, the Glow On Base Hydra($18)! We have already reviewed 3 of their eye shadows so don't forget to check it out!
Did you know that you can get your own Etude House blossom blush + lip lacquer? Subscribe to a 6 or 12-months plan to get them for FREE! Promotion ends on 22nd of March.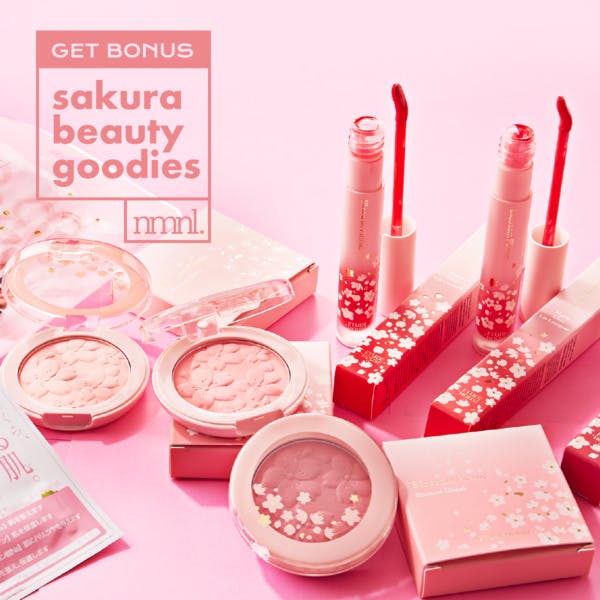 Which of these sakura inspired products do you like most? Let us know in the comments below!
Keep up to date with all the latest Japanese beauty news coming straight from Japan by following us on Facebook, Instagram and Twitter!
Want to get a FREE Japanese beauty subscription box? Check out how to get one here!