Koreans are well known for their long, luscious locks. Smooth and shiny, Koreans prize healthy hair that looks beautiful, naturally. One of the worst kept secrets about K-beauty is its abundance of natural ingredients, good for the body, and hair care is no different. In fact, many of the best Korean makeup brands have branched into the hair care game.
When it comes to the Korean hair care routine, Koreans generally wash their hair and scalp once per day, to wash off the daily pollution in the air. Throughout their hair care routine, Koreans will use a range of natural products, with one of the most popular being vinegar! 
Let's have a look at how Koreans use their hair products in their hair care routine.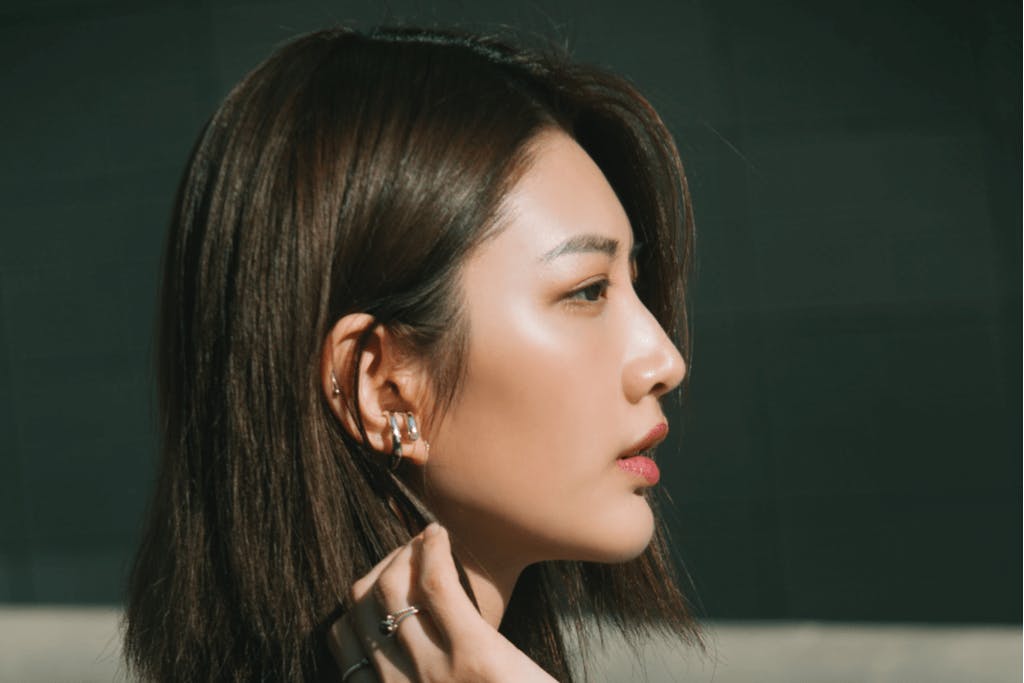 Image via Shutterstock
Scalps
The key, it is said, to having healthy hair is to focus on the root of the hair: the scalp. In western hair care, there is surprisingly little attention given to scalp health - shocking, when you consider that all hair literally comes out of the scalp. 
A healthy scalp means healthy hair. Having a healthy scalp means to limit built-up hair oils like sebum, clean out any pollution, and just generally keep the scalp clean and tidy. There are plenty of Korean hair care products that go beyond cleansing and give proper scalp care.
Wash and Scrub
Yes, you read that correctly! We said 'scrub.' No, we haven't confused a skincare routine with a haircare one. 
Many Koreans will use a scalp scrub, like one from Innisfree or other Korean hair care brands. Imagine a scalp scrub like a face scrub, to exfoliate away any dead cells and invigorate the circulation. 
Scalp scrubs come in a couple of varieties. Scalp scalers often work like shampoos without foam. Scalp scrubs come as a slightly rougher solution - an exfoliator. For non-scaler scalp scrubs, it is recommended to use the scrub after shampooing. 
Massage into the scalp using fingertips, or a special scalp scrub brush or glove, if you're feeling fancy. As the scalp has a completely different pH level from the hair itself - 5.5 (scalp) vs 7.5 (hair), it is good to avoid getting any specialist scalp products on the hair.
For those with an oily scalp, it is important to use a scrub or a scaler to focus on the scalp, as the oil will build up more quickly if not. Scalers like Innisfree's Green Tea Mint scaler are popular for sebum control on the scalp as well. 
Looking for the best in K-Beauty from makeup to skincare, or even hair care? Check out NoMakeNoLife! NoMakeNoLife sends the latest and most stylish Japanese and Korean makeup, skincare, hair care, and beauty products right to your door, so you can keep up with the latest styles.

Massage
In Korea, a big part of many hair care routines are scalp massagers. 
Even if you have an oily scalp, it is important to massage to generate those great natural oils that are so good for the hair. For those with a dry scalp, massaging helps to promote oil production.
Scalp massagers can come in a range of shapes and sizes, to be used during scalp treatments, while the hair is still wet. 
They are said to be good to: stimulate hair growth, lessen excess dandruff, and even remove dead skin cells. Some of the best-selling scalp massagers are made by Korean brands, such as the Heeta scalp massager, made from silicone.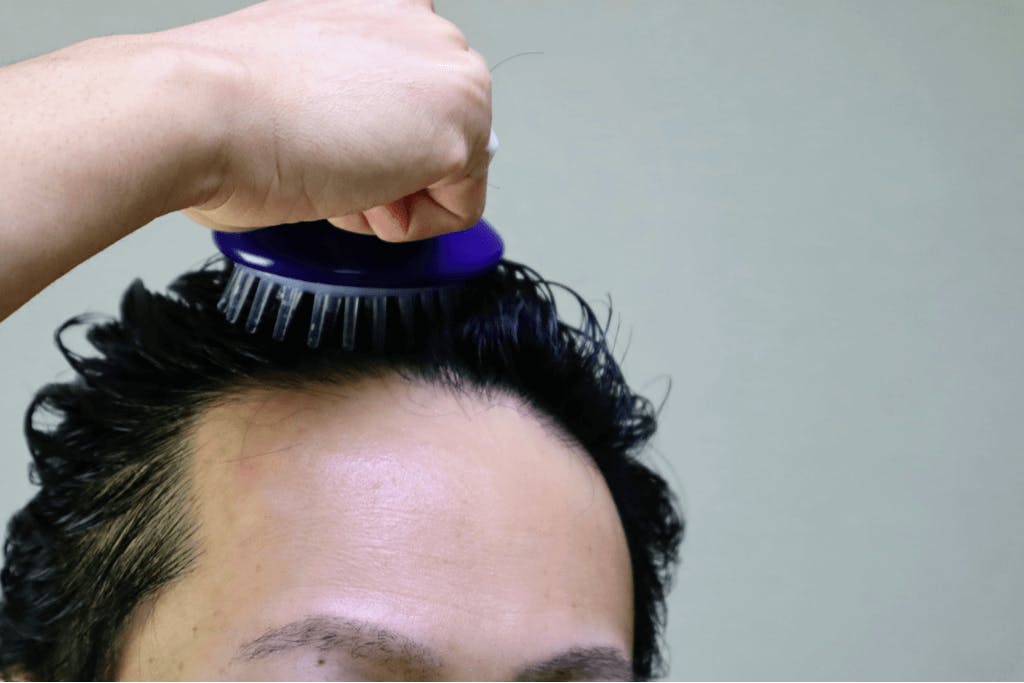 Image via Shutterstock
Hair and Scalp Treatments
An unexpected ally for the hair is found in many kitchens - apple cider vinegar. For anyone wishing to follow a Korean hair care routine, apple cider vinegar is said to do wonders for the scalp and hair, too. In fact, our readers with dreadlocks may already know about this wonder ingredient, often used for deep cleaning locks.
Surprisingly, this unlikely agent is widely agreed upon worldwide, with hair experts from around the world touting the benefits of a vinegar rinse. And the best thing about this scalp (and hair) treatment is that it is easy to make at home. 
Simply mix one part apple cider vinegar with two parts water and pour onto the hair. Yes, the same apple cider vinegar brand you have in your kitchen is fine. If you use filtered water, even better. 
After shampooing, exfoliating and conditioning, let it soak in for a few minutes and then rinse out. Easy!
For those who have a specific hair complaint, there are many different types of targeted hair and scalp treatments available from Korean hair care brands.
Post-Shower Care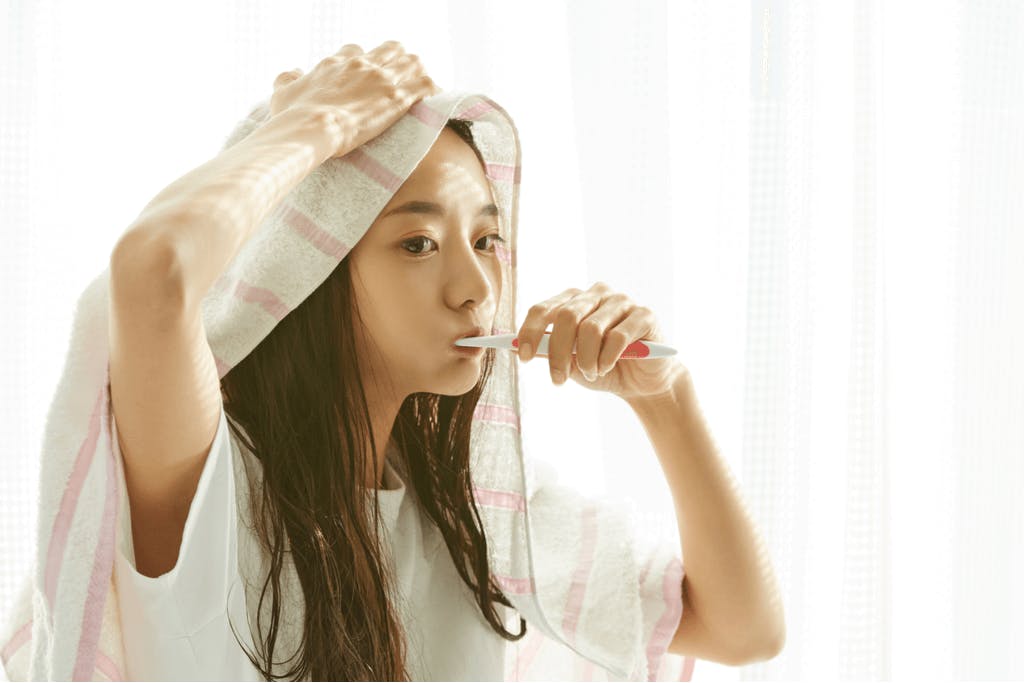 Image via Shutterstock
Once the vinegar solution is washed out, it is time to dry the hair and get out the hair serum, balms, essences, oils, or even a mist.
For a light after-shower treatment, a Korean hair essence can provide a little lift for the hair, to keep it shiny throughout the day, without being too heavy. Sometimes hair essences are referred to as hair mists, because of their great smell. 
A hair mist is, put simply, a perfume for the hair. However, unlike actual perfume, hair mists do not damage or dry out the hair itself.
Hair balm is a perfect product for straight hair. Smoothing on some hair balm will mean that your hair will stay shiny and lucious.
For hair oil, the universally-loved argan oil is great for most hair types. Most Korean hair oils will have argan oil as an ingredient. Simply pop a couple of drops onto your palms (not too much) and gently massage through the hair, for protection throughout the day.
Some oils from Korean brands even contain sunscreen to protect the hair from UV damage. 
Let us know how you get on with your Korean hair care routine. Do you have any hints or tricks?