When it comes to face masks in K-beauty, there is almost no brand that can treat your skin as good as Dr.Jart+. If you're looking for a premium Korean skincare brand that can work "miracles" for your skin in a short period of time, Dr. Jart+ and its mask line are must-try items (at least once) for your skincare routine.
Image via Shutterstock
About Dr.Jart+
Compared to other well-known cosmetic brands in K-beauty, Dr Jart+ is considered one of the most impressive rookies in the Korean cosmetic industry.
Since 2004, it has been positioned as a cosme-ceutical (cosmetic and pharmaceutical) brand since it was born from the unique combination of a dermatologist and an entrepreneur. At first, its products were only sold at some dermatology clinics in Seoul, but gradually became must-have Korean beauty products to their high quality and original designs and formulas.
The nature of Dr.Jart+ products hasn't changed since its establishment: they're safe, mild, and friendly to many skin types, even the most sensitive skin. Its products are great for treating skin problems, like acne, inflammation, and aging; so understanding your skin type is important for taking full advantage of this renowned brand.
Nowadays, Dr.Jart+ is a beloved brand for many K-beauty lovers in 15 countries around the world, including Asia, Europe, and even America. 
Dr. Jart+ Rubber Mask
This is one of the first generations of rubber masks researched and launched by this Korean cosmetic brand. It quickly created a fever in the beauty world thanks to its high effectiveness and interesting design.
If you've never heard of rubber masks, these masks are thicker and designed to boost nutrients absorption into the skin's surface. By preventing the evaporation of water and nutrients, it helps them to penetrate deep into the skin. 
The Dr. Jart+ rubber mask is divided into 2 pieces: one to cover the upper half of the face and the other for the lower half, making it easier to fit tightly to the face. It's soft and not too thick while also adhering to the skin, preventing it from falling off.
This rubber mask has 2 separate parts: a soft and cool rubber mask and the essence contained in a small jar attached together.
Uses
There are five types of masks within this line focused on different needs.
Hydration Lover has a moisturizing effect, retaining water to make the skin soft, smooth, and healthy. Firming Lover contains antioxidant extracts such as raspberry, blueberry, strawberry and red seaweed. It helps with anti-aging, elasticity, and firming for the skin. This mask is definitely a lifesaver for dry, uneven, or irritated skin.
Clear Skin Lover is great for oily skin, helping to clean the pores, soothe the skin, and control sebum and oil production. Bright Lover brightens and evens the skin tone while shrinking pores with a blend of vitamins. Nourishing Lover also brightens while moisturizing skin with gold and pearl essence, hyaluronic acid, and more.
The best part is that the essence box is quite large, so you can use the remaining essence  on other skin areas, like the neck, hands or feet. 
Looking for all the latest in Korean and Japanese skincare, including Dr.Jart+? Check out NoMakeNoLife! NoMakeNoLife sends the latest in Japanese and Korean makeup, beauty, and skincare right to your door, so your look can stay up to date!

Dr.Jart+ Shake & Shot Shaking Rubber Mask 
There are hardly any masks with as unique a design as the Dr.Jart+ Shake & Shot Rubber Mask. The package comes in the shape of a cup of water with a baby face-shaped lid that looks like it's drinking something with a straw. This design is a hit that has set it apart from other masks in the Korean cosmetic world.
Inside the bottle, there are 2 bags of essence to mix together using the straw-like stick. Because of its rare design, this product line has attracted a wide range of consumers from young teens to adults, becoming one of the most sought-after masks from Dr.Jart+. It's definitely one of the best Korean sheet masks for an Insta-worthy moment and your skin.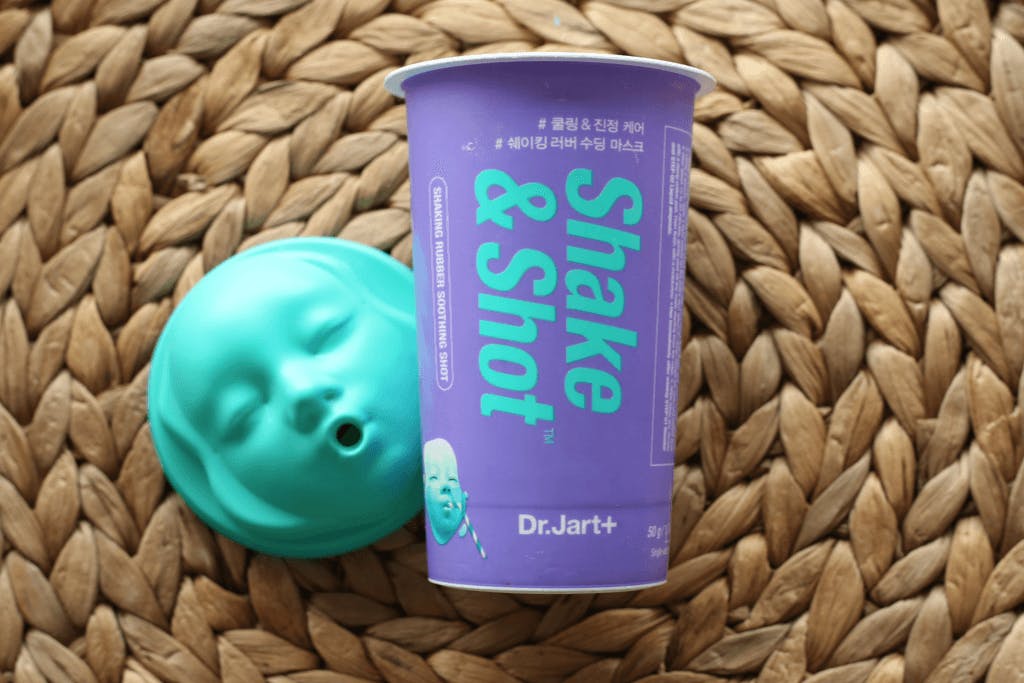 Image via Shutterstock
Uses
It has four types of masks with different eye-catching colors on the packaging. In addition to cleansing and minimizing pores, each individual product in this Shake & Shot line contains separate ingredients with different uses.
The purple Soothing Shot is soothing and anti-inflammatory. Meanwhile, the blue Luminous Shot brightens while fading dark spots. The yellow Hydro Shot smooths and hydrates the skin. Last, the orange Elastic Shot firms the skin and increases skin elasticity.
They're all super easy to use. Just mix the solution in the cup and apply to the skin. Make sure to apply it quickly because the mask dries quickly when exposed to air. Relax for 15-20 minutes, peel, and rinse any remainder off with clean water.
Dr. Jart+ Dermask Solution Mask
Unlike the rubber mask lines, Dermask Solution Mask has standard packaging like other sheet masks, with white paper packaging and black letters stating some key ingredients information. This product line is versatile and multi-use, so it's easy to find a mask suitable for your skin type or skin problems. 
Uses
This product line is recognizable by the pill in different colors on the packaging. Each pill color represents each mask's different characteristics and functions:
The Porecting Solution Mask (gray) is for acne care.
The Soothing Hydra Solution Mask (blue) is a cooling and soothing mask. 
Vital Hydra Solution Mask (blue) is for moisturizing. 
Wrinkless Solution (purple) restores skin structure.
The Firming Solution (yellow) firms the skin. 
The Brightening Solution mask (white and yellow) is for brightening. 
The Clearing Solution Mask (red and white) helps to clear the skin and control sebum.
The Peeling Solution Mask (pink & white) is an exfoliating mask. 
Just leave the mask on your face for 10 to 20 minutes and you're all set!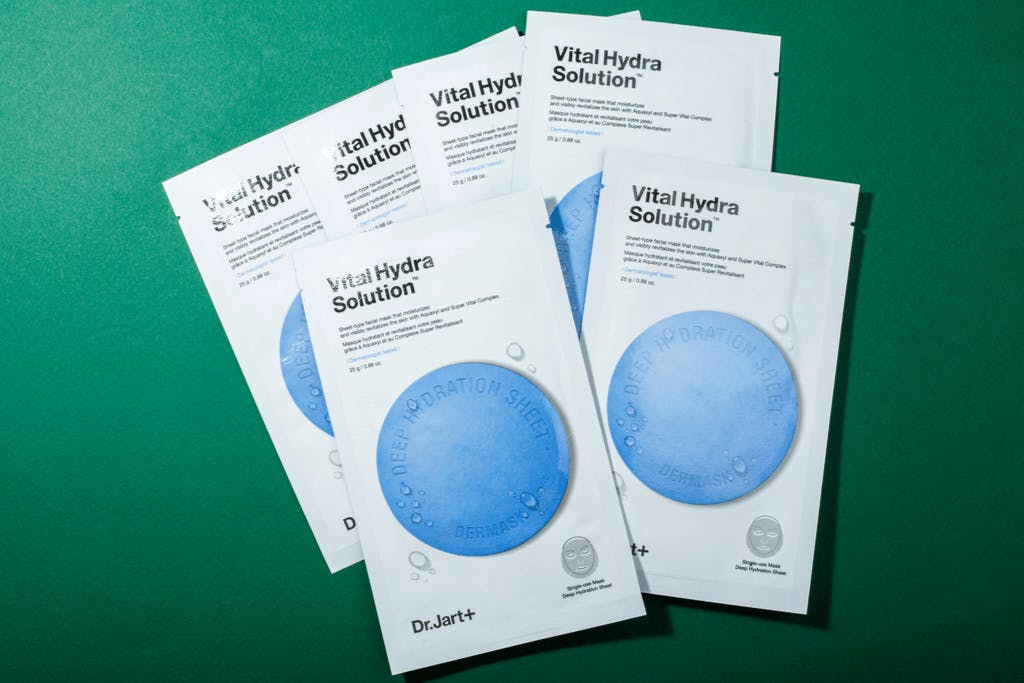 Image via Shutterstock
Other Masks to Check Out
Dr.Jart+ V7 Toning Mask: 
As the name implies, this is a specialized mask pack to help lift skin tone, blur dark spots, and smooth out problematic skin, so we can enjoy bright, clear skin. Despite its very affordable price, it still gives a great experience and effective results thanks to its superior formula, combining 7 different vitamins and hyaluronic acid. 
Dr.Jart+ Doctor's Label Mask:
This product line includes a wide range of options, but the 3 most well-known types are the Pore Clear Mask for oily and acne skin, Age Defense Facial Mask for aging skin, and Light Up for all skin types.
Dr.Jart+ is undoubtedly the king in the Korean mask world and never fails to bring out the best masks, catering to a variety of skin problems. 
Have you ever tried Dr.Jart+ masks? Share your experience with us in the comments!