You seriously can't go anywhere in the world without hearing a song by the K-pop group BTS a.k.a. Bangtan Sonyeondan. The group is made of seven members Jin, Suga, J-Hope, RM, Jimin, V, and Jungkook. 
Since their debut back in 2013, the boys have remained in the spotlight crossing from K-pop over into the international pop scene as well. The popularity of the group has opened them up to tons of great collaborations, including one with LINE Friends'. The members of BTS spent a day creating their own character at a Line Friends store with the help of a team of designers to create the BT21 characters, and of course, bt21 merchandise to go with them.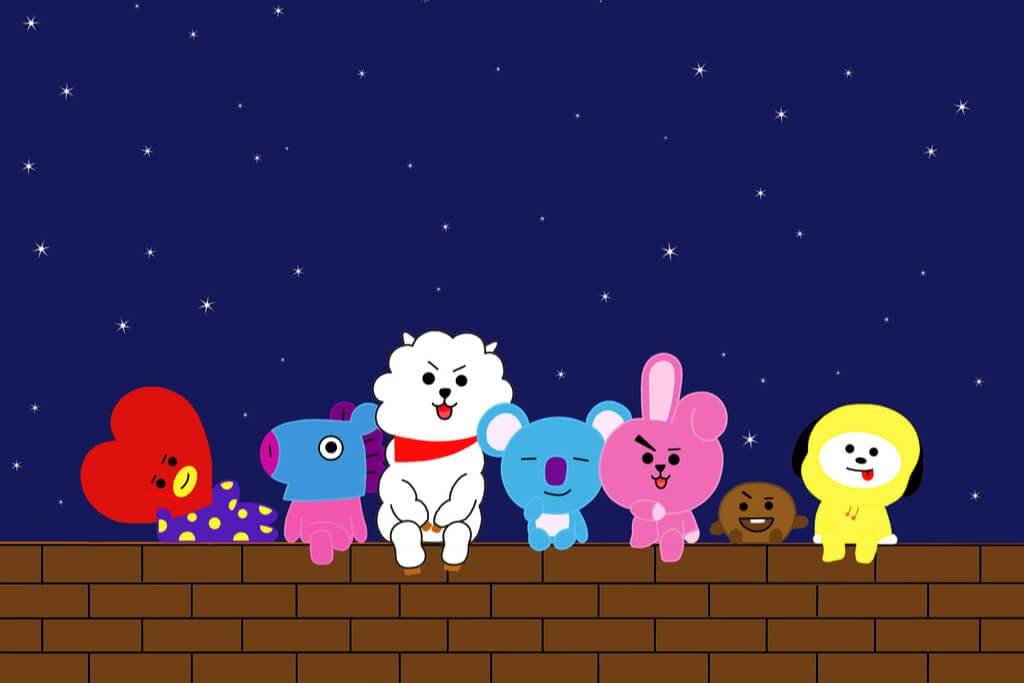 The characters created represent the personalities of the bts member that created them, rather than their actual physical appearance. The group of characters, named BT21, come with their own universe which captures the love of a global audience, similar to the popular summikkogurashi characters. In this article, we'll introduce the universe of BT21 and each individual character.
The BT21 Story
Hailing all the way from planet BT, Prince TATA dreams to spread love across the galaxy. While traversing the galaxy with VAN, Prince TATA crash lands on Earth. After arrival, the prince decides the best way to win over the Earthlings is to become a star. Not just any star a UNIVERSTAR. TATA befriends six beings, KOYA, RJ, SHOOKY, MANG, CHIMMY, and COOKY, and together they become the most influential pop sensation in the galaxy known as BT21.
The BT21 Characters
Don't miss the cutest collabs coming out of Japan & Korea! nomakenolife will send you a beauty box full of cosmetics straight from Tokyo to your door every month!

KOYA The Gifted Sleepyhead
KOYA is bright, gifted, and also a sleepyhead. He was created by the group leader and rapper RM. As he naps, his head is always filled with deep thoughts. The character has removable ears and an adorable purple nose. According to group member V, purple represents love. KOYA is a reflection of RM's deep appreciation for koalas, as he drew pages and pages of koalas during the initial sketching stage.
RJ The Kind Loving Foodie
Created by Jin, RJ loves everything about food. He loves cooking and eating it, preferably in that order. Prior to the collaboration, Jin had this character sketched out years before and was excited to finally bring his character to life. If you can't tell, RJ is supposed to resemble an alpaca. His fluffy fur coat and compassionate soul help make everyone feel comfortable when he's around.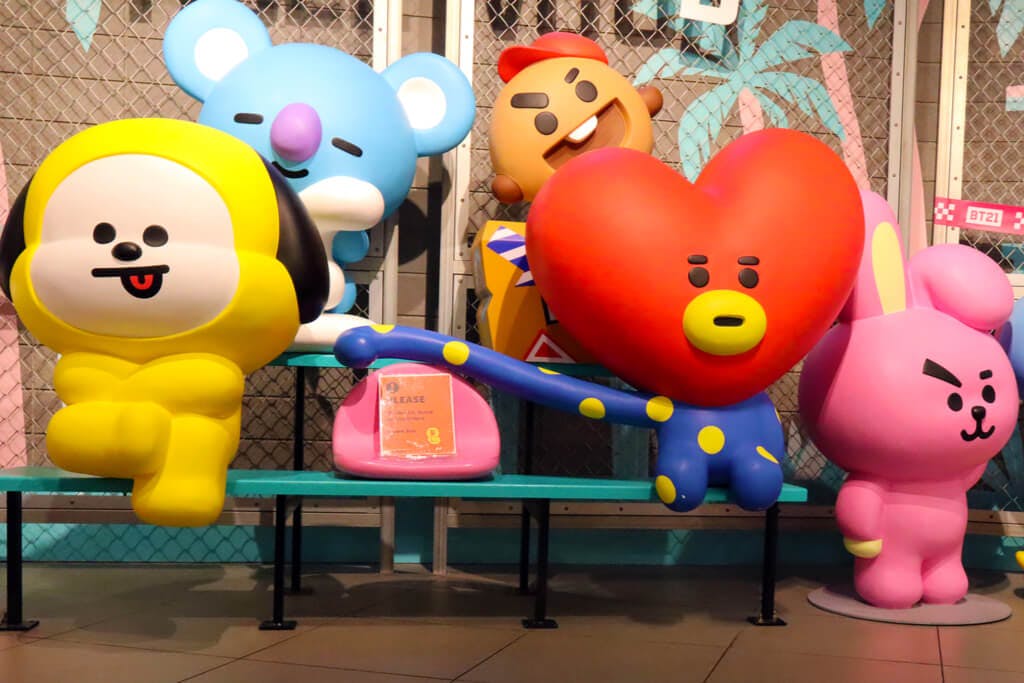 SHOOKY The Mini Prankster
The mini prankster of the characters, SHOOKY, was created by Suga. Much like his creator SHOOKY loves pulling jokes on his friends and is always laughing. He's best friends with COOKY, and hates milk.
MANG The Mystery Dancer 
Dancing is in Mang's veins much like his creator, J-Hope. The masked mystery dancer keeps his face hidden with an adorable horse mask. His true identity remains a secret as no one has ever seen his face. Despite his mysterious ways as the best dancer, MANG can be seen busing moves whenever he hears music. Mang has a heart-shaped nose because J-Hope's lips form a heart when he laughs.
CHIMMY The Purest of Heart 
CHIMMY is supposed to represent BTS' overall image. According to Jimin, the harmonica playing puppy always wears a signature yellow hoodie and always feels compelled to work hard. Fans have expressed that BTS reminds them of puppies since the boys love to be around people and are super active, which is why Jimin's character is a puppy.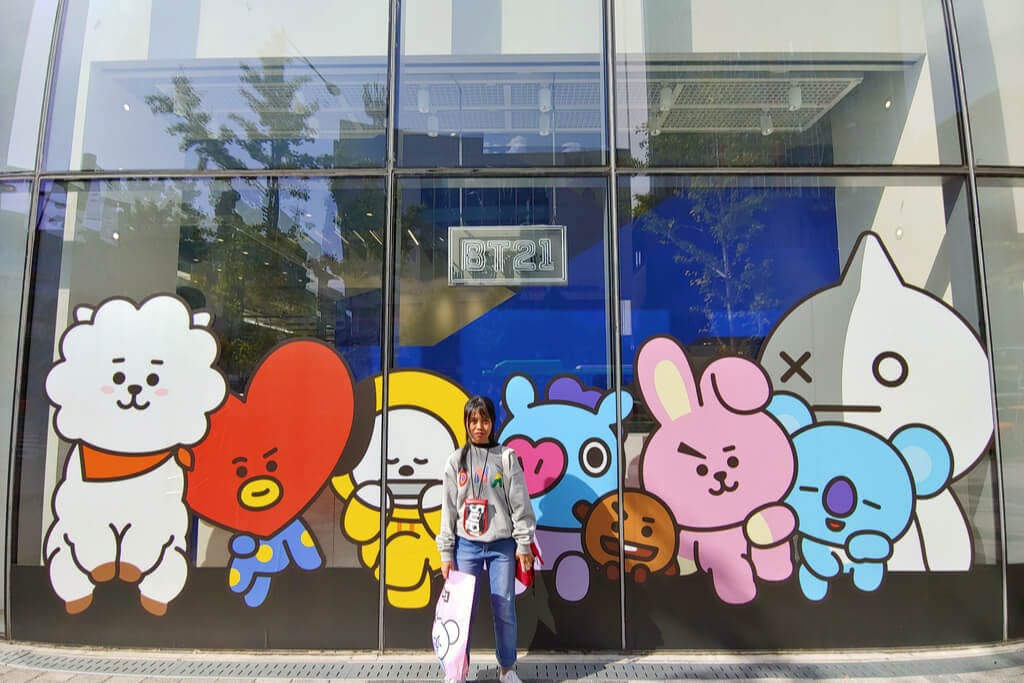 PRINCE TATA The Off the Wall Prince 
Prince TATA from planet BT possesses supernatural powers. He was created by V and dreams of spreading love across the galaxy. Prince TATA's body is hyper-elastic, allowing him to stretch at great lengths and shapeshift into any form he chooses. He has a huge heart-shaped head and aspires to become the ultimate UNIVERSTAR.
COOKY Brawny Heart
Jungkook fans will surely love this muscular rabbit with a tough attitude. Much like his creator COOKY enjoys working out and will transform into a huge muscle man when he gets angry. Full of heart, passion and boundless strength COOKY is the one friend you can always depend on.
VAN The Space Robot 
VAN is a sentient all-knowing guardian space robot who is knowledgeable about all things in the galaxy. A character from the Line Friends' creators, he is the protector of BT21, 24/7. He acts as a protector of BT21, 24/7. He is the embodiment of the BTS ARMY, as they always step up to defend BTS at all times.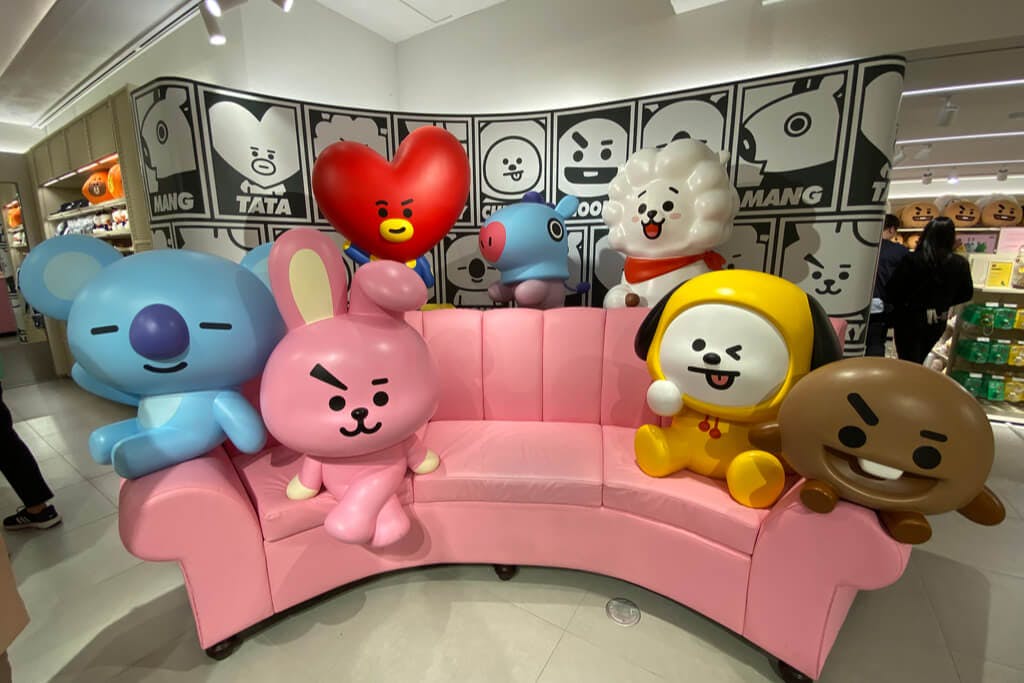 How to Enjoy the BT21 Characters 
Since its release in 2017, BT21 has had many collaborations across different industries from stationary to food, and fashion. In 2019 BTS fans in Japan were able to enjoy a BT21 Pop-UP cafe in Tokyo, Osaka, Nagoya, and Hokkaido.
Although only open in the spring, the cafe was heavily packed to the point of needing reservations well in advance. Some of the most notable BT21 collaborations include Dunkin' Donuts, Reebok, and Uniqlo. Although most of their non-collaborative merchandise is only available in Korea, the official BT21 store does have select stores globally which allow customers to purchase and ship almost anywhere. How do you feel about the BT21 characters? Do you like them, and if so which one is your favorite? Be sure to let us know in a comment below.