If you are a makeup lover who gets carried away by the flavour and sweetness of chocolates then this is for you. The Etude House and Hershey's joined hands and 'chocolatised' your favourite makeup products. The collaboration has brought two different worlds of makeup and chocolates together that will make you happy just by looking at it. 
The Korean makeup brand Etude House is already popular for its innovative, diverse, affordable, and easy to use makeup collection. It has a huge variety of products from makeup collection like eyeshadows, foundations, foundation cushions, compact powder, nail enamel, brow liner, eyeliner, mascara, lip lacquers and everything that you can think about. It has a skincare section too that looks features collagen moisturiser, toners, skin cleansers, etc. They are also made to suit different skin types. I love the nail enamels, lip tints and the eyeshadow palettes by Etude House. They have so many color options to choose from and they have easy applications too. On the other hand Hershey's chocolate needs no introduction. I don't know if there's anyone who doesn't love a Hershey's kiss!
This isn't the first time these two brands have come together to enhance your looks. The brands last collaborated in 2020, when they came up with the super cute chocolate bar inspired makeup kit. The kit came with two chocolate bar inspired mini eyeshadow palettes, two yummy chocolate flavoured lip tints and a set of two brushes. 
After an overwhelming response by makeup lovers for the last edition Etude House x Hershey's chocolate came up with the Hershey's Kisses Collection. 
The Etude House x Hershey's Kisses collection features limited edition conical shaped play color eye palettes, Kisses eyeshadow brush & Choco mousse tints. 
Etude House eyeshadows are known for their soft and sheer look. They're also super smooth for ease of application. Eyeshadows by Korean makeup brands usually aren't too pigmented like MAC or Urban Decay eyeshadows. They also do not have bright shades like yellow, blue, green for bold looks. They are generally on the softer side as Korean makeup items are made to suit the typical, less intense Korean makeup looks. If you are a fan of softer makeup looks then this is definitely for you! Of course, Etude House products also get a bonus for their very reasonable pricing. 
Looking for the cutest cosmetics from Korea and Japan? Subscribe to nomakenolife to get a professionally curated beauty box delivered to your door straight from Japan!

The Etude House x Hershey's Kisses eyeshadow Collection features 3 different color sets with the aromatic chocolate flavour. Each palette has 4 different shades of brown in matte, glitter and shimmer. Though there is no eyeshadow brush included within the palettes. I love the super cute packaging that resembles the shape of Hershey's kisses chocolate! The packaging has three different colors: Silver, golden and red. Let's have a quick look into the palettes.
The first one, is the Milk Chocolate that comes in a silver palette consisting of 4 soft brown shades. Next in the list is the Almond Chocolate, which has golden packaging with 4 golden brown shades. It also has a rich aroma of an Almond chocolate bar! The last one is the Special Dark which has a beautiful neutral Rosy tone packaging with dark brown shades of dark chocolate.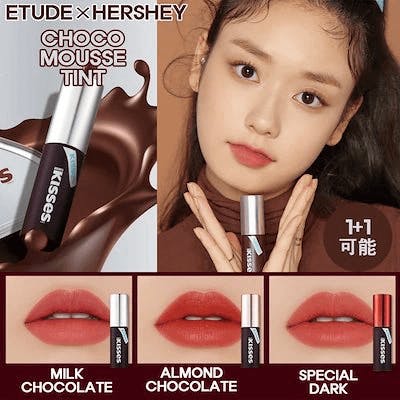 The Etude House x Hershey's Kisses Choco Mousse Tints are the most loved product of this special edition. It comes in 3 natural shades of Red with a hint of chocolate brown. The lips shades are packed with the moisturizing goodness of shea butter and Vitamin E to keep your lips soft, plump, and protected from chapping. 
The Milk Chocolate has a neutral shade, that looks like muted red inspired by marshmallows melted into hot chocolate. The next one is Almond Chocolate. A deep red brown shade inspired by roasted almonds. The last one is Special Dark. A Rosy brown chocolaty shade inspired by dark chocolate.
These lip tints are superlight weight and have a delicious chocolaty scent. It actually feels like  melted chocolate when you apply the tint on your lips. The best part about these lip tints are they are almost non transferable. So, in the current situation if you have to attend a party and want to put on lipstick under your mask then you should definitely give this a try.