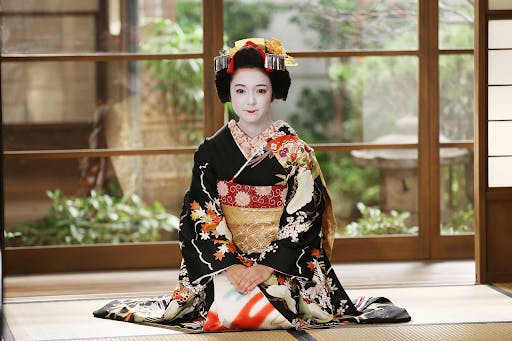 A Geisha "芸者" is a well-trained traditional Japanese female entertainer or companion for men. Most of the professionals start to train as young as 4 years old before becoming a geisha. A Geisha acts as a hostess which includes performing various Japanese arts such as playing classical music on the shamisen, traditional dancing, games, and conversation. Another name for Geisha is Geiko, which is usually used to refer to Geisha from western Japan. Trainee or apprentice Geisha are called Maiko and are often much younger than their geisha counterparts..
You can usually tell Geisha apart by looking at their appearance. They always wear their signature makeup: white face powder, red eyeshadow, and red lipstick. They also have the shimada hairstyle (similar to chignon updo) and wear an elegant kimono.
There is a reason why Geisha have a specific style of makeup. The white face makeup customary to geisha and maiko originated in China. At that time, they wore thick white makeup because it looked better in the light, particularly if they were to perform to or entertain nobles. In the dim candlelight, wearing thick white makeup created a porcelain look. The mouth (red lips) looked like lacquerware—something loved and praised by the Japanese.
Although the Geisha makeup looks quite easy to be imitated, the application of makeup is time-consuming and hard to get perfect, hence why special training is needed. Makeup is applied before dressing to avoid dirtying the kimono. The traditional white base makeup was originally made with harmful white lead or rice powder. The white powder now used does not contain lead and is not poisoning. It is applied with a bamboo brush starting from the neck and working upwards.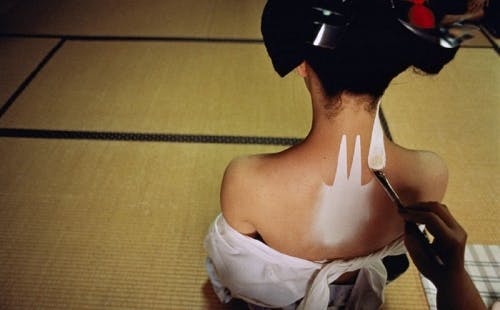 The white substance covers almost all visible parts of the skin, including chest and neck. The nape of the neck has the typical W or V shape of clear skin which has no white makeup. The hairline is not painted white to give the illusion of wearing a mask. 
In the past, eyebrows and eyes are drawn with charcoal. Nowadays, Geisha can use modern cosmetics. The eyebrows and the corners of the eyes are colored black. The Maiko also has red around her eyes, which is another feature in this makeup that distinguishes a Maiko from an established Geisha. If you want to recreate the look, you can use a hint of white or pale pink eye shadow over your eyelids. Then, use a simple black or brown eyeliner to your lower eyelids.
To get the beautiful red lips, they used to get the lip paste made from Beni "紅" which is an extract of the Japanese Safflower. Nowadays, you can easily just use red lipstick like Etude House Matte Chic Lip Lacquer shade RD 303 or Melliesh Denkyu Lip Tint. Remember, you need a lip liner to outline pouty smaller lips on it.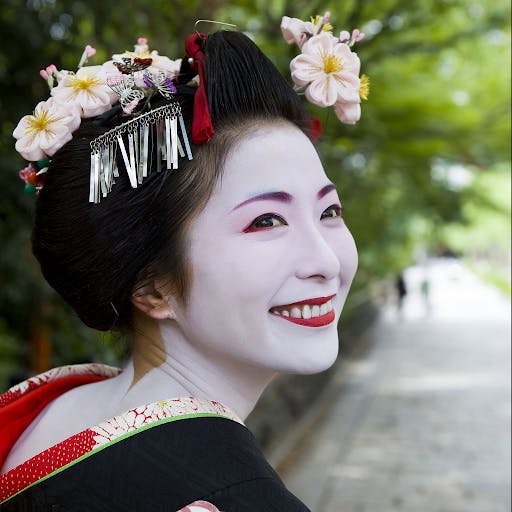 We think that the Geisha makeup looks very beautiful and sophisticated! If you also want to look like a Geisha, head on over to the Geisha makeover station in Japan! You could have an experience being a Geisha for a day and have your picture taken professionally!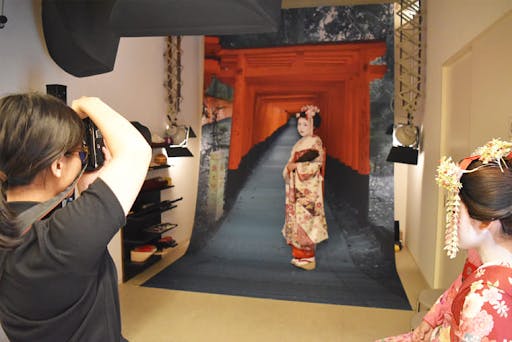 Are you interested in recreating the Geisha look for cosplay or for fun? Do you want to try the Geisha makeover service if you visit Japan someday? Tell us in the comment box below!