In addition to a diet that includes a variety of foods that are good for the skin and hair, and countless high-quality hair care products, proper and meticulous hair care is also one of the reasons that Japanese women have healthy, smooth hair. If you have been curious about how Japanese folks manage to keep their hair healthy while still trying on different hairstyles and treatments, this article will reveal some Japanese hair care secrets to help you get beautiful and healthy hair!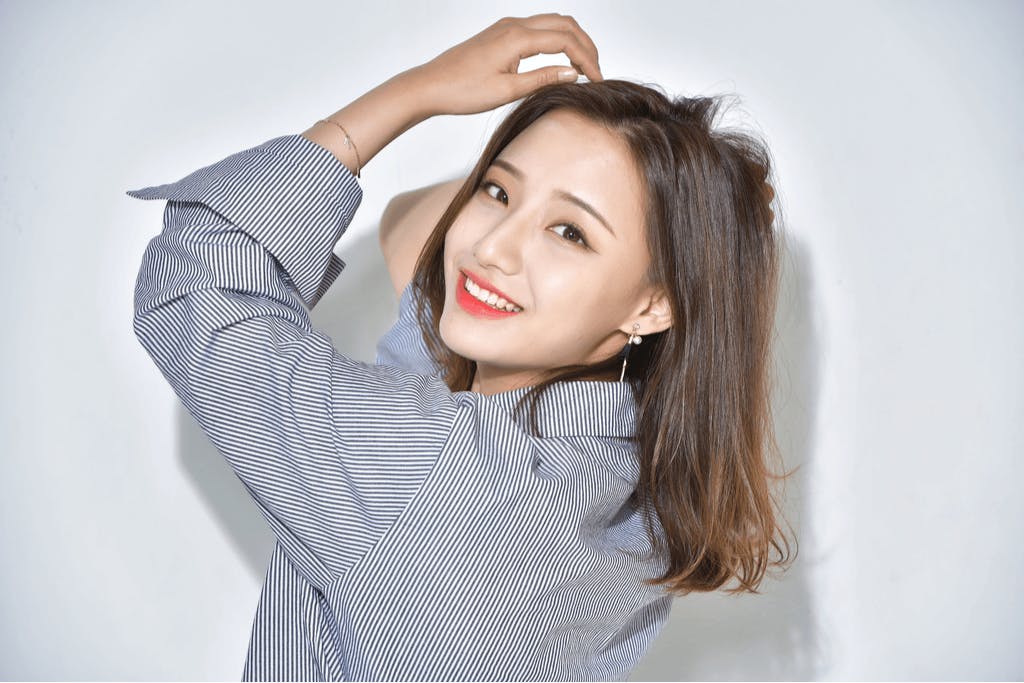 Image via Shutterstock
Shampoo: Get Rid of Hair Stains and Clean The Scalp
Choosing the right shampoo is the most important thing since it comes in direct contact with the scalp. We'll give you tips for choosing the right products for your hair type later on, so keep reading through!
Besides, did you know that the way you shampoo can also do good or bad for your hair?
A proper way to wash hair by Japanese women includes 4 main steps.
First: Brush your hair gently to detangle the hair and prevent the hair from coming off.
Second: Pre-wash the hair and scalp with lukewarm water to remove dirt on the hair's surface. Be careful to gently wash it off without rubbing too hard.
Next: Mix the shampoo with a little bit of water and make foam by rubbing the palm of your hand before applying to different scalp areas. Tips: Instead of using your fingernails, use the flesh of your fingertips to gently massage and clean your scalp. Also, don't rub the hair too hard!
Last: Rinse the shampoo off thoroughly, focusing on the hairlines of the bangs (if you have them), back of the ears, and sides of the neck.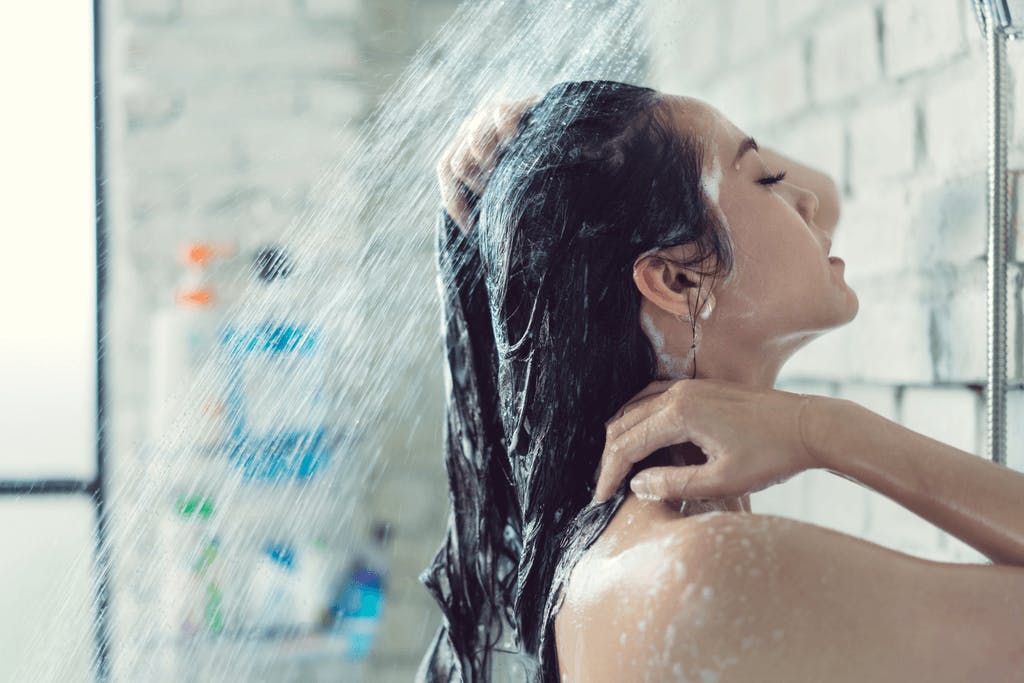 Image via Shutterstock
Many people believe that regular shampooing will help create smooth hair, but actually it only makes the hair dehydrated by stripping it. So, Japanese women maintain a reasonable frequency of washing their hair, usually every 2 days if they do not go out too much.
Moreover, using hot water while shampooing is a big no because it may damage your hair. Instead, cool water is ideal for helping to tighten the pores and reduce any damaging effects on the epidermis of the scalp.
Looking for Japanese hair care products to improve your hair condition? NoMakeNoLife sends the latest Korean and Japanese beauty products to your door, including the most popular hair care products, so you can have a relaxing and effective at-home hair care treatment at the lowest cost!
Dry Hair Properly
Letting your hair dry naturally after a shower might be common for some people, but it may leave your hair frizzy and messy in the end. However, using a hair dryer while your hair is still wet and dripping with water may seriously damage your hair. The correct way to blow dry your hair is:
First, use a soft towel to absorb a large amount of water on your hair.
Then, instead of using a towel to rub and rub the hairs together, squeeze gently to drain the water out slowly. When no water drips off anymore and your hair becomes damp, you can use the dryer.
Tips: Keep the dryer about 10-20cm away from your hair to avoid damaging your hair with the heat.
You can consider using hair spray to prevent the heat from weakening the scalp or use hair gel to add some styling if you have curly hair.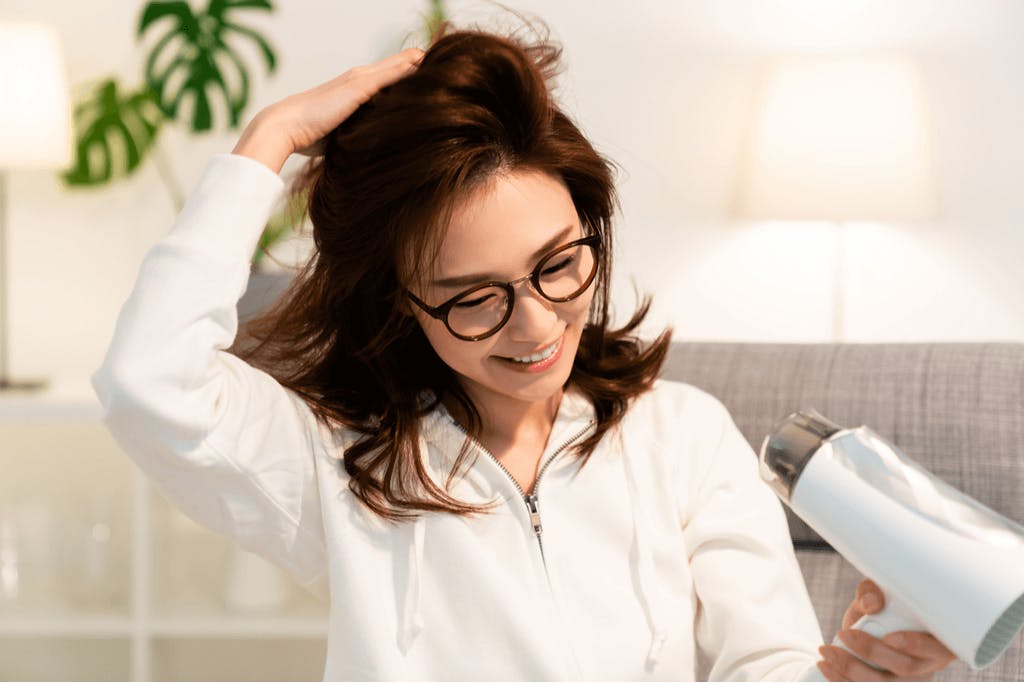 Image via Shutterstock
Using Hair Cream for a Deeper Treatment Effect
Most Japanese women have the habit of incubating their hair with hair treatment or hair mask once a week as an at-home salon treatment. If you haven't heard about Japanese hair care products, check out our other blogs!
Just like Japanese skincare products, Japanese hair care products are also widely known for their high quality and effectiveness. That being said, using products containing the right ingredients for your hair matters more than anything else in an effective hair care routine.
When choosing hair care products, they prioritize natural ingredients or essential nutrients from vegetable oils. Some star ingredients include:
Argan oil contains essences to retain moisture, leaving the hair soft and shiny.
Jojoba oil prevents hair loss and provides essential vitamins for dry hair.
Keravis increases elasticity, strengthens hair fibers, protects hair from high temperatures from dryers or curlers.
Almond oil gently moisturizes, reducing the stickiness of oily hair.
Panthenol (derived from vitamin B5) provides optimal moisturizing for hair.
Collagen and protein reduce hair breakage, make hair firmer and more shiny.
Macadamia oil increases elasticity and restores damaged hair.
Other great ingredients include mint leaf extract, aloe vera, avocado oil, or Tsubaki (camellia) oil! (Tsubaki oil in particular is very popular in Japanese hair care.)
Choose Products Suitable for Your Hair Concerns
Like the skin, different hair types have different concerns that need to be taken care of and no product that works best for one person will have the exact same effect on another.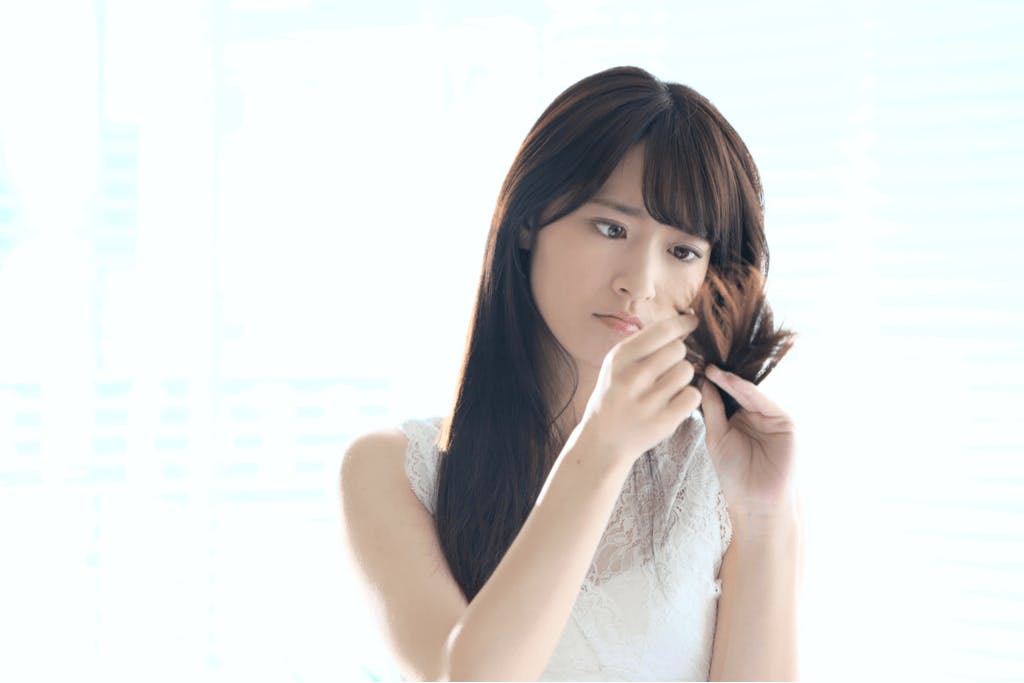 Image via Shutterstock
Dry hair
Dry hair people usually suffer from dry scalp, split ends, itching, and a lack of natural moisture. You should look for hair products that provide moisture to your scalp and nutrients like collagen or keratin to help repair the hair from the inside. This makes the hair softer, bringing vitality back to dry hair.
Oily hair
Oily hair people are constantly worrying about slick or sticky hair and dandruff that makes the hair look messy and untidy. Try to look for hair products with natural, herbal ingredients such as green tea, ginger, or rose to help control oil and unclog the pores. Also, products with lighter textures (not too thick) are more suitable to prevent excessive oil production. 
However, products containing or having main ingredients like coconut, yuzu, or olive oil should be avoided as they can worsen oily hair.
Curly or Styled Hair
Choose products with intensive care such as protein-rich hair cream or camellia hair oil to keep your hair soft and healthy from the inside.
Are you still with us now? These tips may seem to be common and basic practice, but the truth is not many of us are used to taking care of our hair properly.
Don't let bad hair make your day a bad one! Apply these tips and you'll be surprised at how it can change your hair for the better!