If you've read our post about the Top 10 Kawaii Nail Designs then you must know how much Japanese girls love cute, glamorous and sparkly nail designs. Not only in Japan but all around the world, girls have gotten super creative with their nails! We all know that trying to do your own nails can be a challenge, if you like something simple there's nothing wrong with a French manicure but if you really want to stand out, why don't you try nail art featuring your favorite kawaii character? Pikachu, Sailor Moon, Rilakkuma, we can't get enough of looking at these adorable nails!
Detective Pikachu
The movie everyone is talking about in 2019 is of course Detective Pikachu! As popular as in Japan as everywhere else, it's the perfect reason for girls all over the world to get their nails done the Pikachu way! Go as crazy as you want and add huge Pikachu 3D pieces or be slightly more subtle and add lightning bolts to pimp their nails. You can find our favorite designs below!
1. Electrifying cute nails by @nailson7th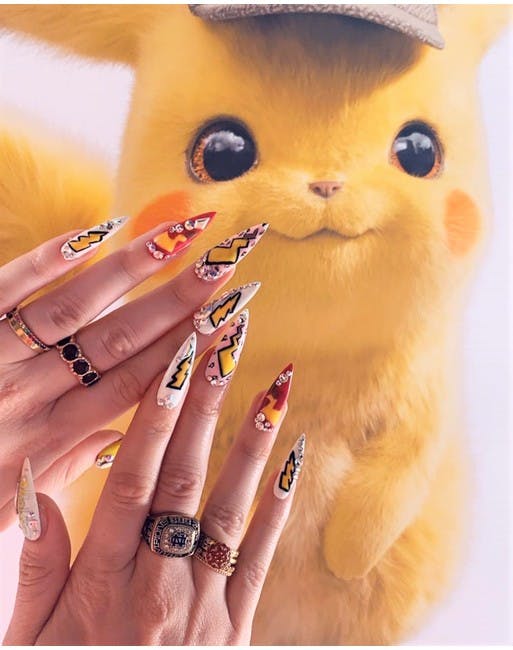 Even though there are no actual Pikachu's on these nails, these are perfect for the Pokemon fans who want to be subtle about it! The gem stones make them pop even more!
2. Superrr realistic Detective Pikachu nail art by @decenails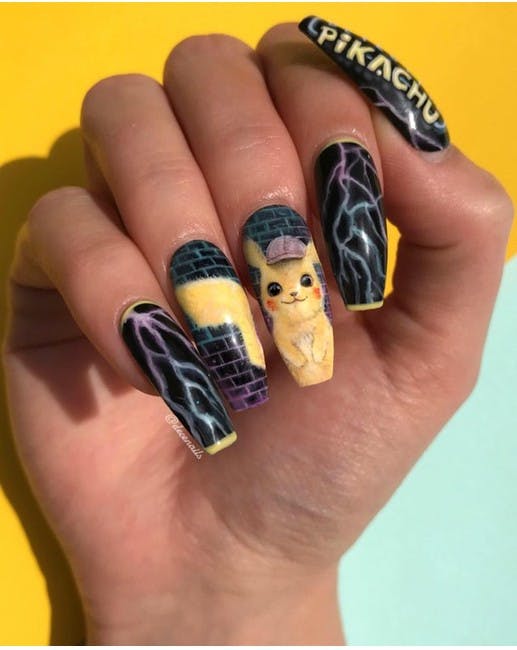 These nails are a piece of art! I can't imagine how much time it would take to make these, everything about them is just so detailed. Just look at the Pikachu's fur!
3. 3D art Detective Pikachu nails by @krhy.nail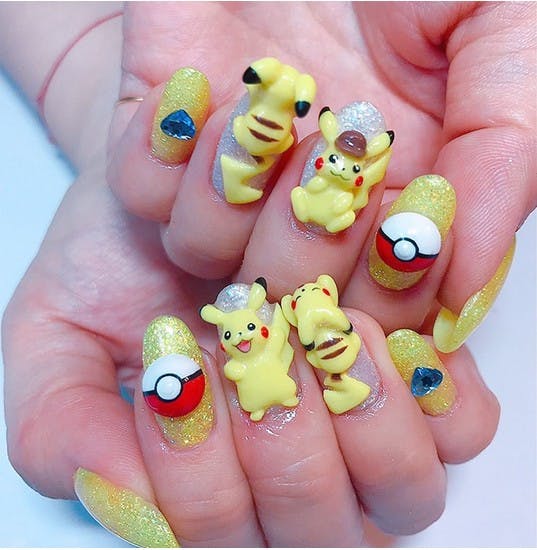 Just looking at these yellow 3D Pikachu nails will cheer up your day! The perfect nails for Pokemon fans who want to show their love for Pikachu to the rest of the world.
Kirby
The retro game character Kirby is making a comeback this year! With Kirby cosmetics being released only a month ago, the pink ball of cuteness wins the hearts of many once more. And the best color for Kirby nails: pink of course! In any shade that you can imagine. Check out the best Kirby designs below!
1. Ultra pink holographic Kirby nails by @decenails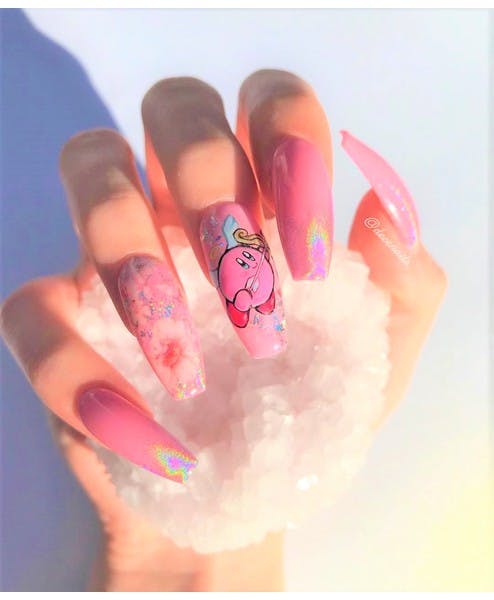 These holographic nails just make us so happy! The holographic nails in combination with the flowers and Kirby in the center, who wouldn't like to have these nails to show off?
2. Pastel pink aesthetic Kirby nails by @blackfancynails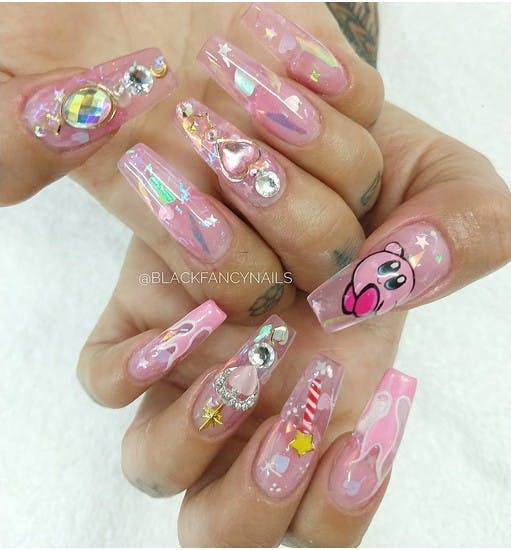 These Kirby nails take the ultra girly aesthetic to the next level! The huge pink gems remind me of princess
3. Super adorable glitter Kirby nails by @pu.chiakirby.pu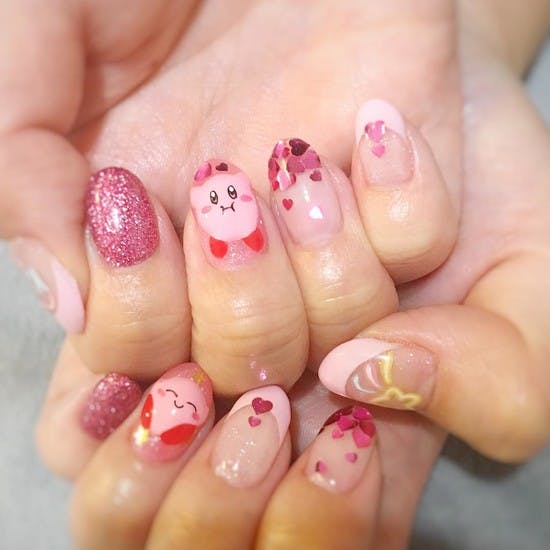 Gudetama
You've probably heard of Gudetama, Sanrio's lazy egg who is just tired of everyday life. As many people find this character very relatable, Gudetama has become very popular the past years. If you love bright colors like yellow (and eggs) you should give the nails below a try!
1. Glitter 3D art Gudetama nails by @mnail00000000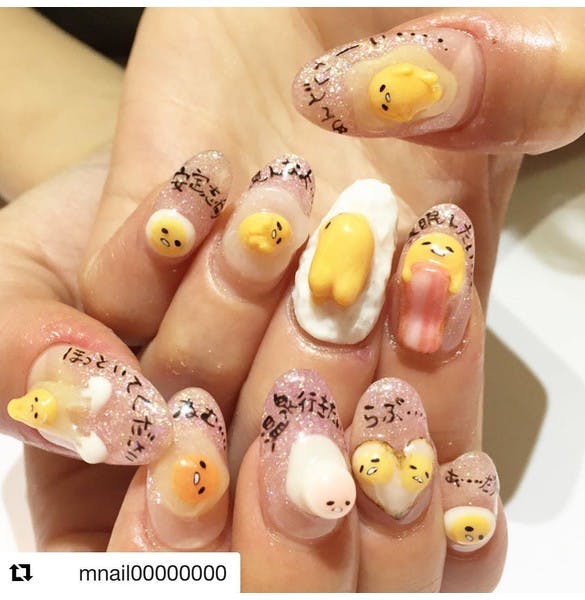 These Gudetama nails are just so cool! The 3D effect intensifies the cravings for a breakfast with eggs and bacon. To mimic the egg whites yet make them a bit cuter a clear glitter polish was used!
2. Sharp but lazy Gudetama nails by @nailsbyhobag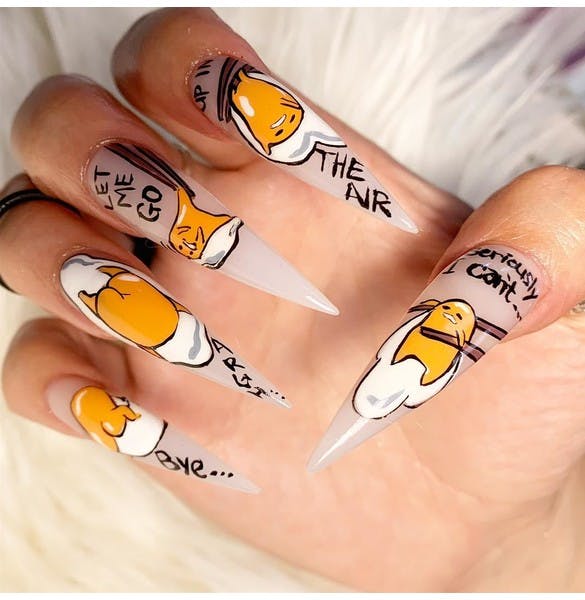 These nails are so sharp, you're ready at any time to face your enemy! However I would worry about poking my own eyes out. These nails feature lazy and somewhat depressing Gudetama's with lines like 'seriously I can't' and 'argh'.
3. Egg shaped Gudetama nails by @clarasnailart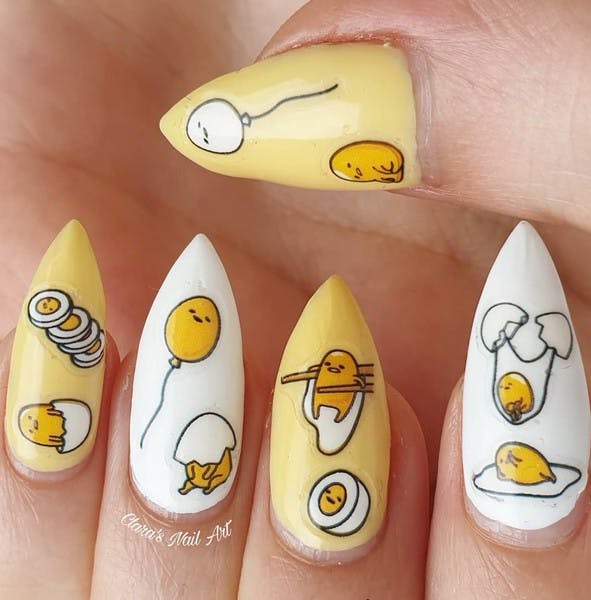 An almond nail shape which is the closest to the shape of an egg is perfect for Gudetama nails! We love the small yet detailed illustrations on these!
Sailor Moon
Sailor Moon is just the perfect character to get nail art inspiration from. The colors are dreamy and you have so many things to choose from and add to your nails: Sailor scouts, moons, crystals, the Sailor outfits, rhinestones, Luna & Artemis, the list just goes on! That's why it was really difficult for us to choose our favorite Sailor Moon nails. Check out the nails below for some of the prettiest designs!
1. Super sparkly and girly Sailor Moon nails by @maichara1000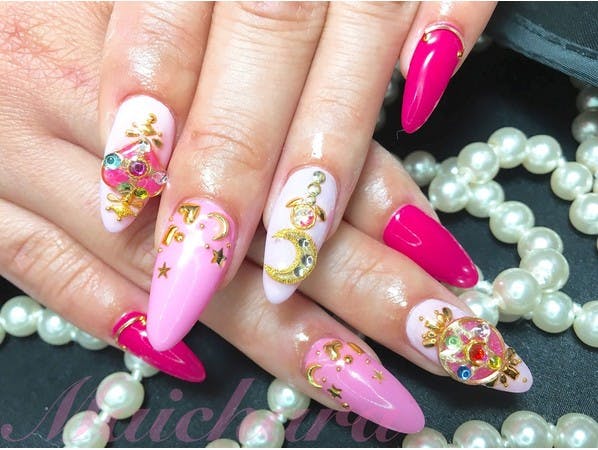 The different shades of pink in combination with Sailor Moon crystals and moons makes these nails every Sailor Moon fan's dream!
2. Transparent ombre Sailor Moon nails by @purple_klawzy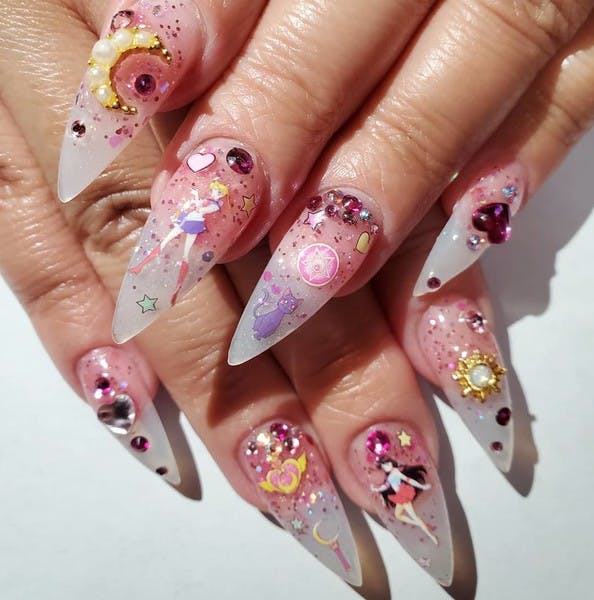 These are just as beautiful as the ones we featured before! The subtle ombre looks, rhinestones, stickers and a bit of 3D art , we're LOVING them!
3. Star power sticks, Luna and Artemis nails by @nailedbylarouge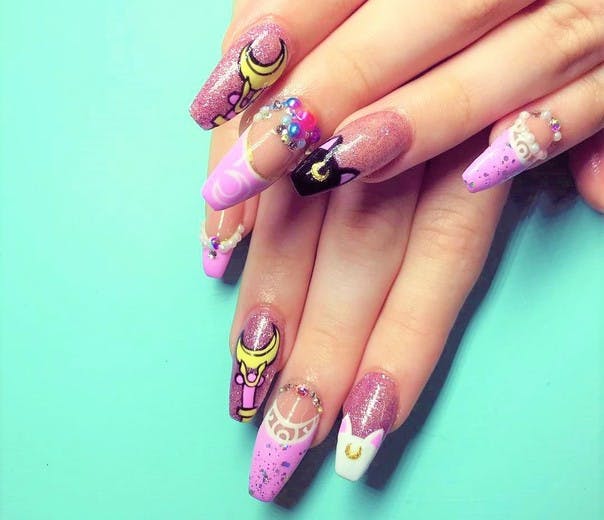 We love how these nails feature the cats from Sailor Moon: Luna and Artemis! All nails are slightly different yet they match well on the whole.
Rilakkuma
Rilakkuma is a friendly and lazy bear character created by Japanese company San-X, since the Netflix show 'Rilakkuma and Kaoru' aired in 2019 everyone had to go and get nails inspired by their favorite bear. Since Rilakkuma and Korilakkuma are neutral in color you can get creative with different nailpolish colors!
1. Sugar sweet Rilakkuma nails by @hc.haruka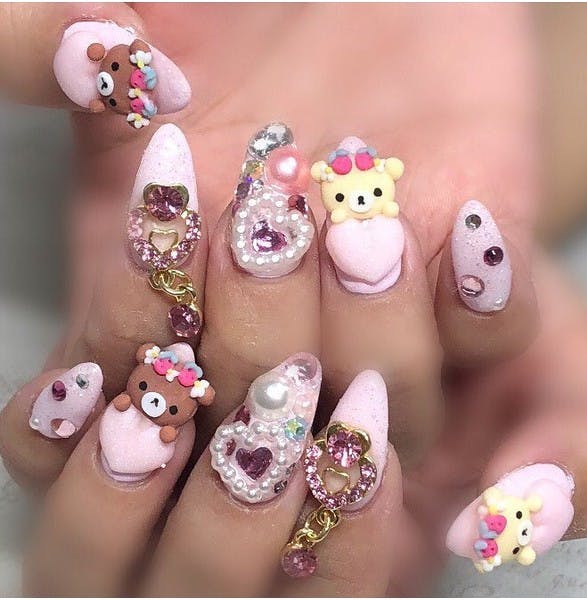 Do you have what it takes to pull off these sugar sweet Rilakkuma nails? ! The baby pink, the 3D bears, if you're a girly girl you're probably on your way to your nail salon now to get these done!
2. Lilac and yellow Kiirotori nails by @irohanail_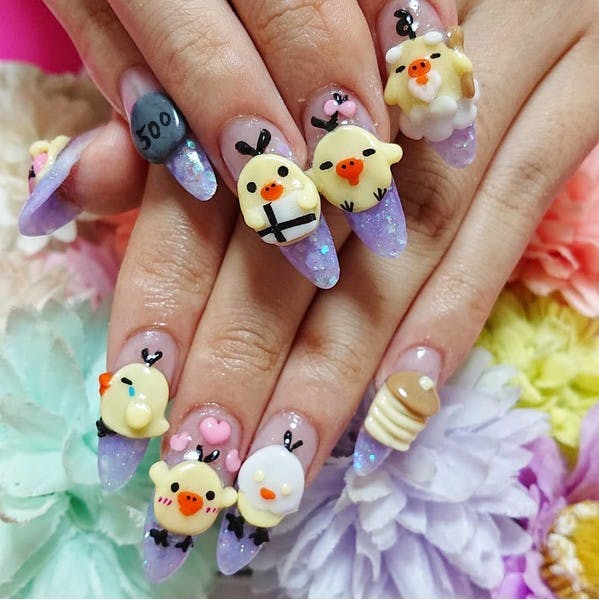 If you've watched Rilakkuma and Kaoru on Netflix you're probably familiar with the cheeky and cleaning-obsessed Kiirotori (or yellow bird!) The yellow of the cute bird goes surprisingly well with lilac and did you notice the pancakes??
3. Summer picnic Rilakkuma nails by @hc.haruka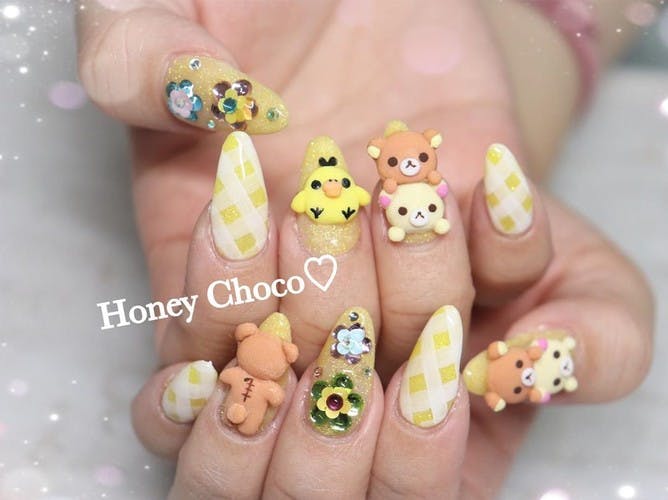 These nails feature Rilakkuma as well as Korilakkuma and Kiirotori and reminds me of a picnic on a sunny day, how cute!
What did you think of these Japanese nail designs, would you get them yourself or do you prefer to look at them? Which ones did you like most? Let us know in the comments below, we're always happy to hear what you think!
Still not sure what Japanese nail design you should try? Take this quiz to find out!
Keep up to date with all the latest Japanese beauty news coming straight from Japan by following us on Facebook, Instagram and Twitter!
Want to get a FREE Japanese beauty subscription box? Check out how to get one here!