Tokyo is the capital of the most unique and interesting fashion. The majority of Japanese people wear uniforms or simple outfits, a handful of young Japanese like to express themselves through cute, crazy and cool fashion! You can find them hanging around trendy places like Harajuku, Shibuya and Shimokitazawa to show off their best outfits. Tokyo fashion is a website that shows you the best snaps of interesting outfits and other fashion news. Some of the people being photographed end up becoming fashion influencers or models so on Sunday you can find many girls and guys dressed up in Harajuku hoping to get their picture taken. The styles are very diverse so for today's blogpost I've collected some of my favorite "kawaii" (cute) outfits!
1. Colorful cute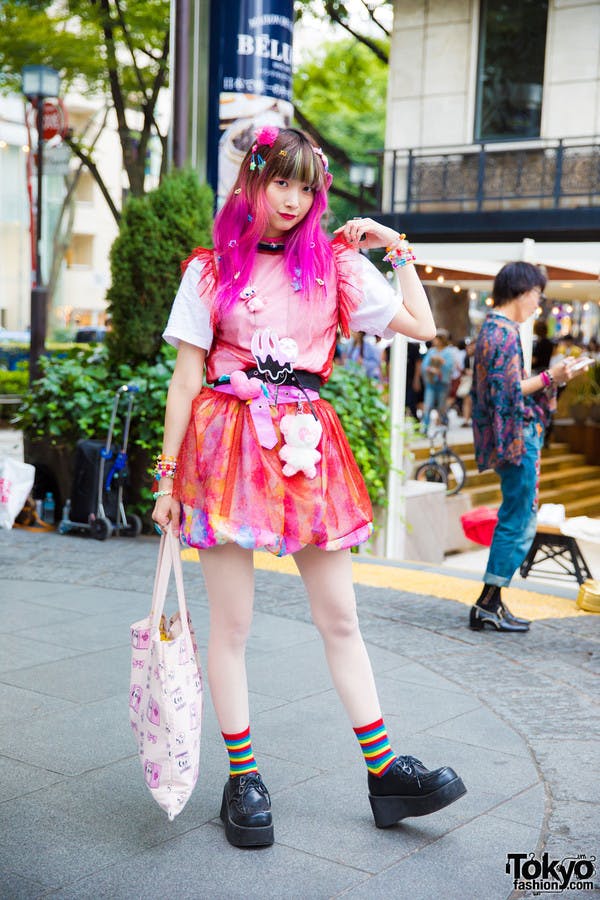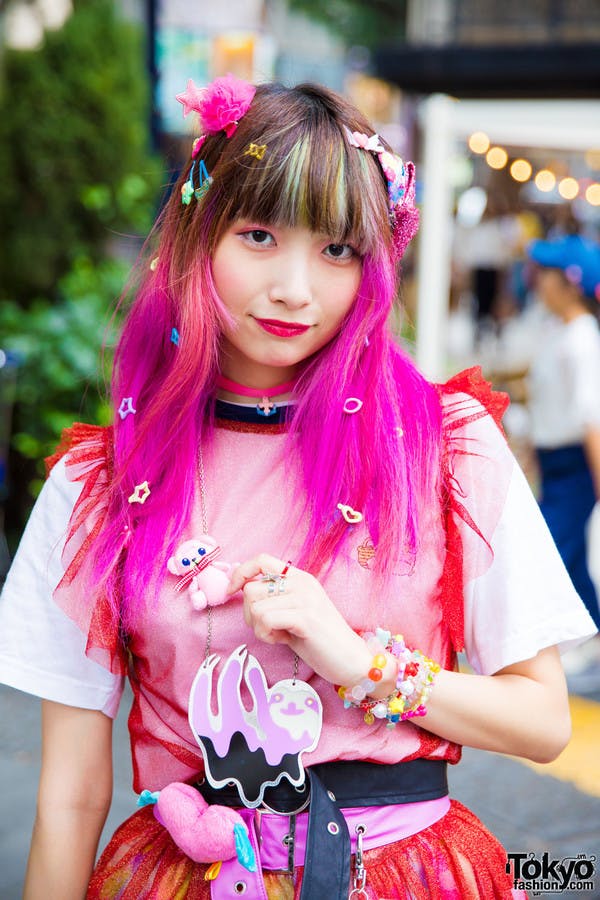 This girl is named Sakura Pluto, a name that goes perfectly with her colorful cute style. She's wearing items from among others WEGO, 6% Dokidoki, Bubbles and Candy stripper. Her bright hair suits her outfit perfectly! Her huge necklace is also interesting. Click here to read more about Sakura Pluto!
2. Pink sweet lolita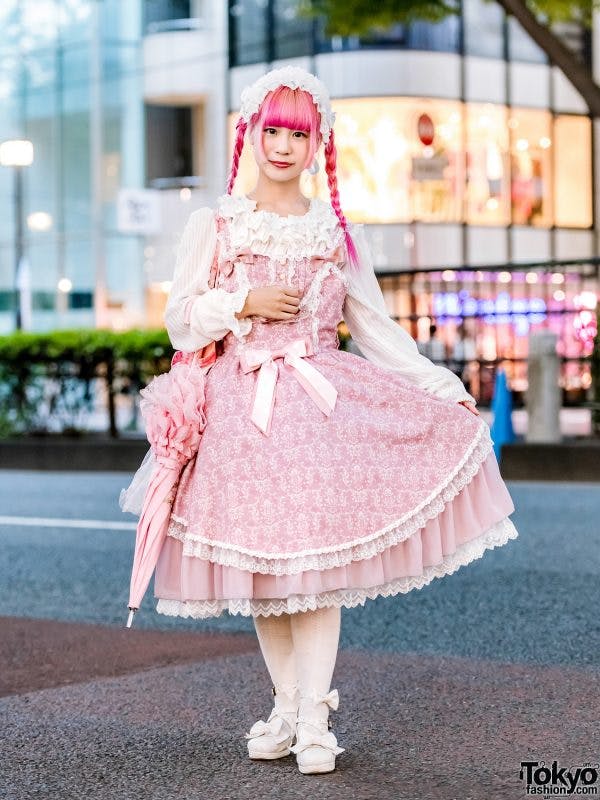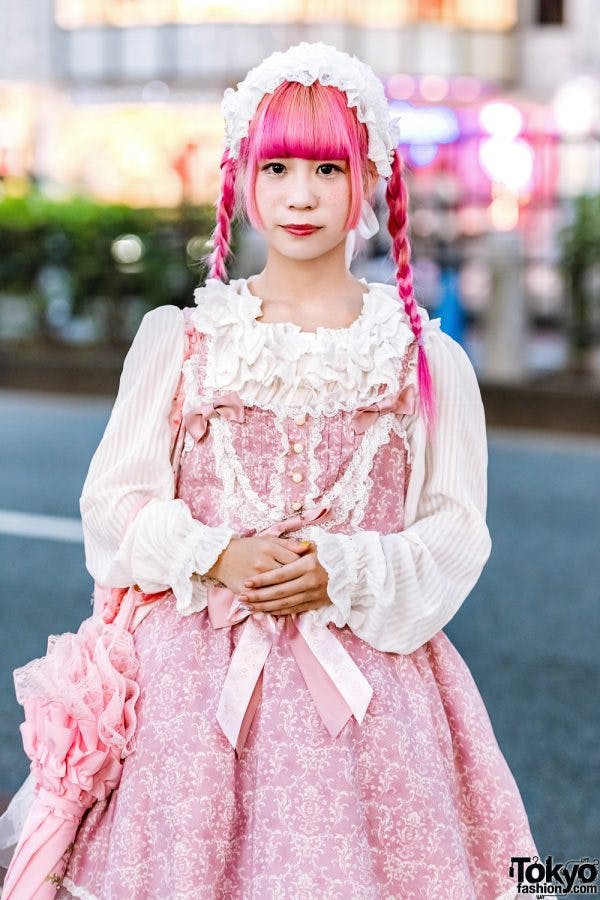 This girl is called Ayana, she's a 20 year old college student wearing sweet lolita style. Sweet lolita is a fashion substyle that you hardly ever see in Tokyo nowadays. Ayana is dressed up in a perfect combination of pink and white, her ruffle umbrella is so cute too! Her dress is from the lolita brand Metamorphose temps de fille, her favorite brand! Click hereto read more about Ayana.
3. Colorful kawaii duo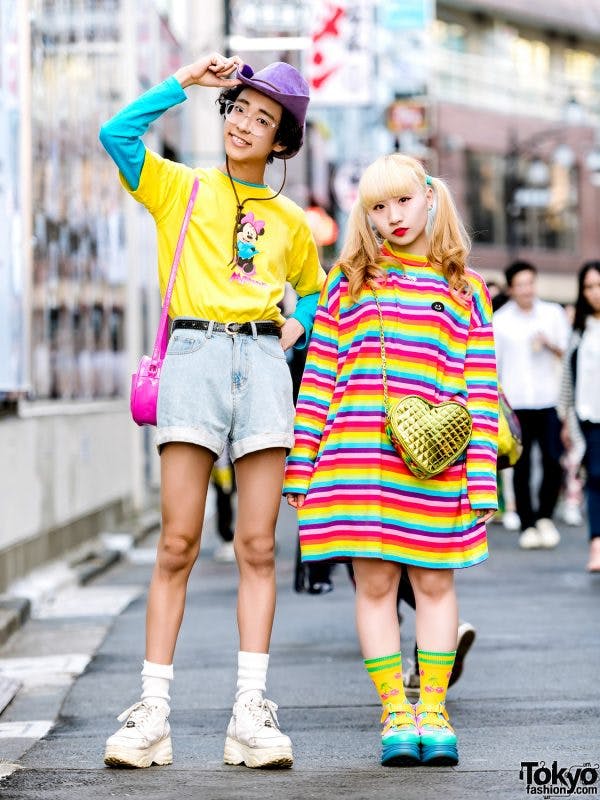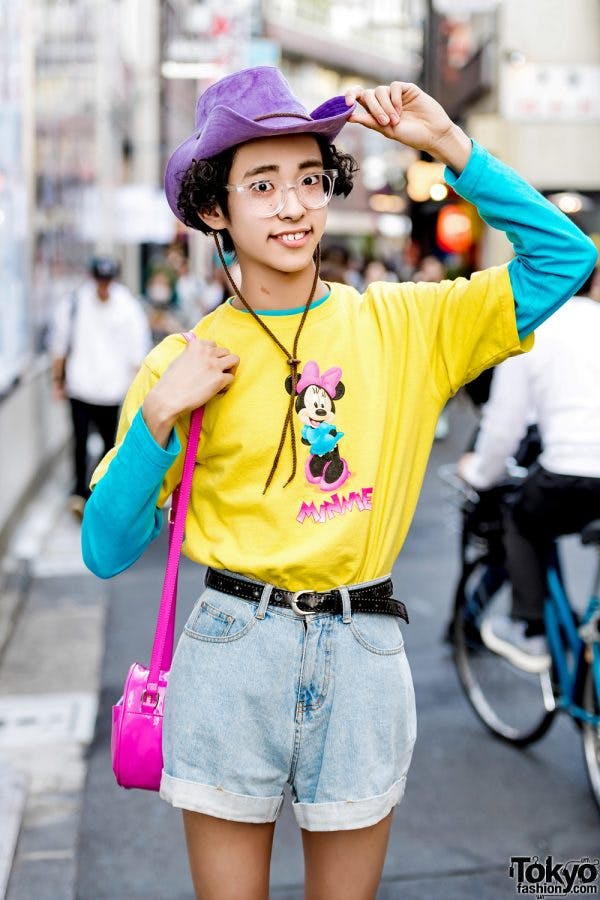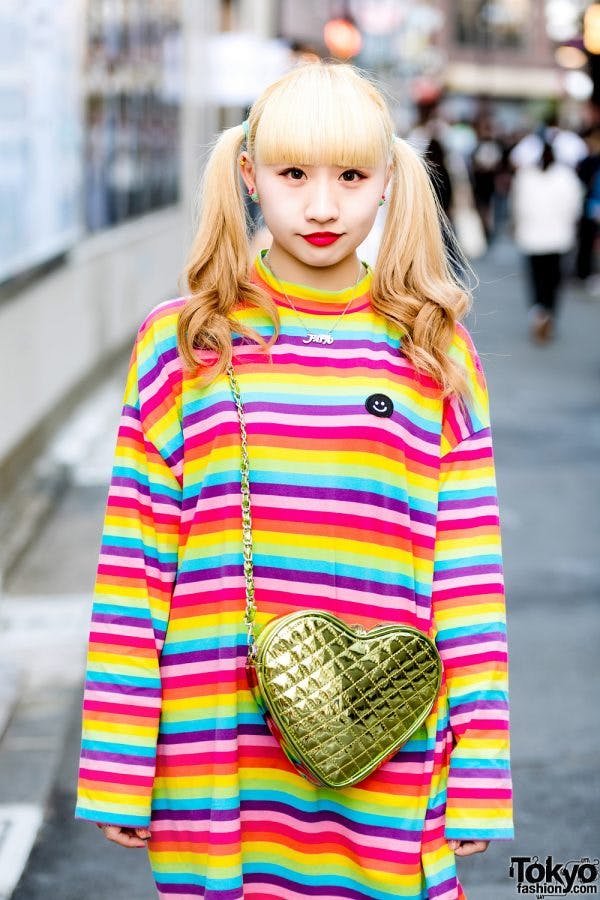 This colorful duo definitely looks kawaii! On the left is Soso, a 16-year-old student wearing an adorable Minnie Mouse t-shirt with denim shorts, on the right is Karin, a 19-year-old fashion college student dressed in a rainbow striped oversized sweater from the brand Lazy Oaf. Click here to read more about Soso and Karin.
4. Rockish kawaii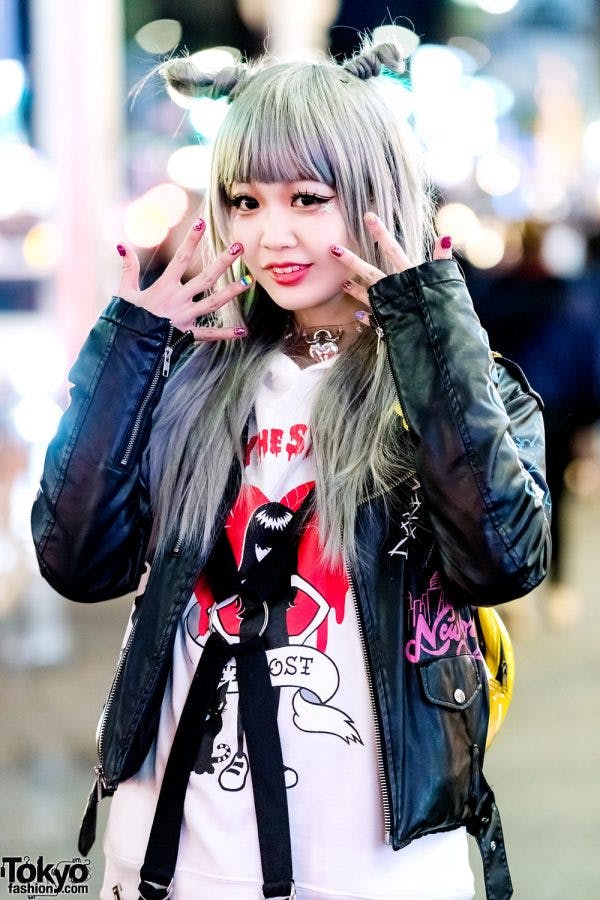 Asachill is a Japanese model and J-pop singer, even though she doesn't wear colorful clothes I still think she looks very cute! Isn't her hairstyle adorable? She's wearing a jacket from Joyrich and a hoodie and skirt from Listen Flavor. I also love her shoes and the way she combined them with tights and socks. Click here to read more about Asachill.
5. simple & stylish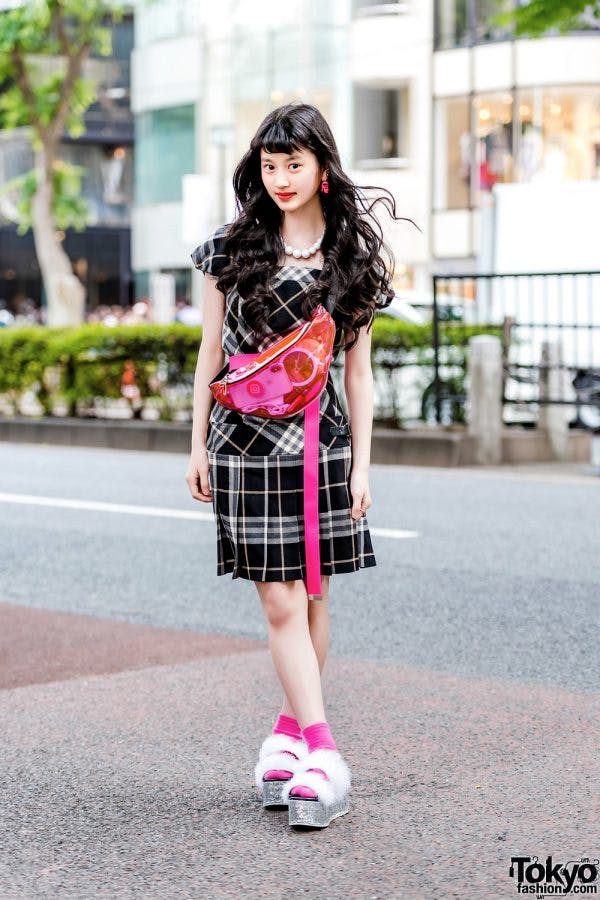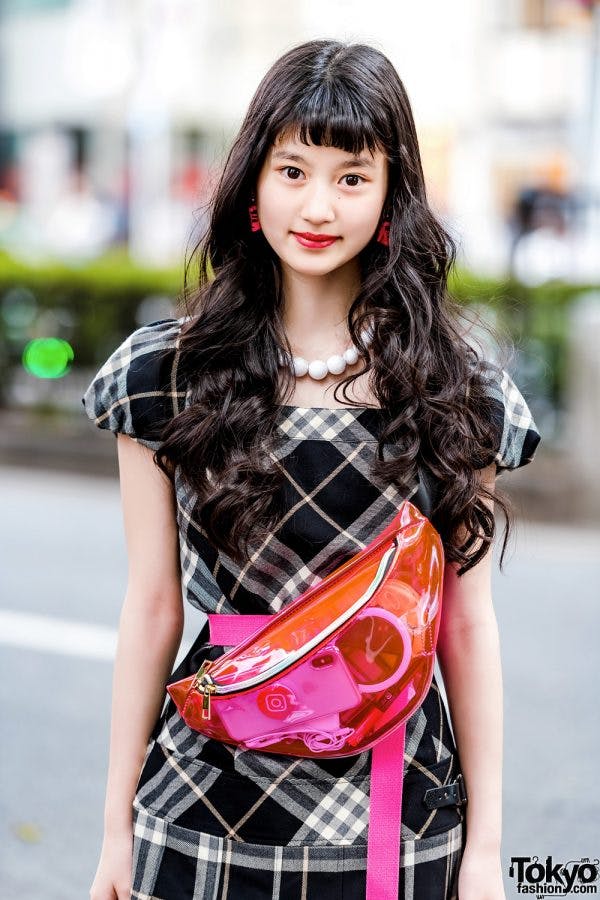 A-pon is a Japanese model and believe it or not, only 14 years old! She's wearing an elegant plaid dress from San To Nibun Ichi and added pink elements to her outfit with her bag and socks! Her fluffy shoes look adorable and comfortable too. Click here to read more about A-pon.
6. White lolita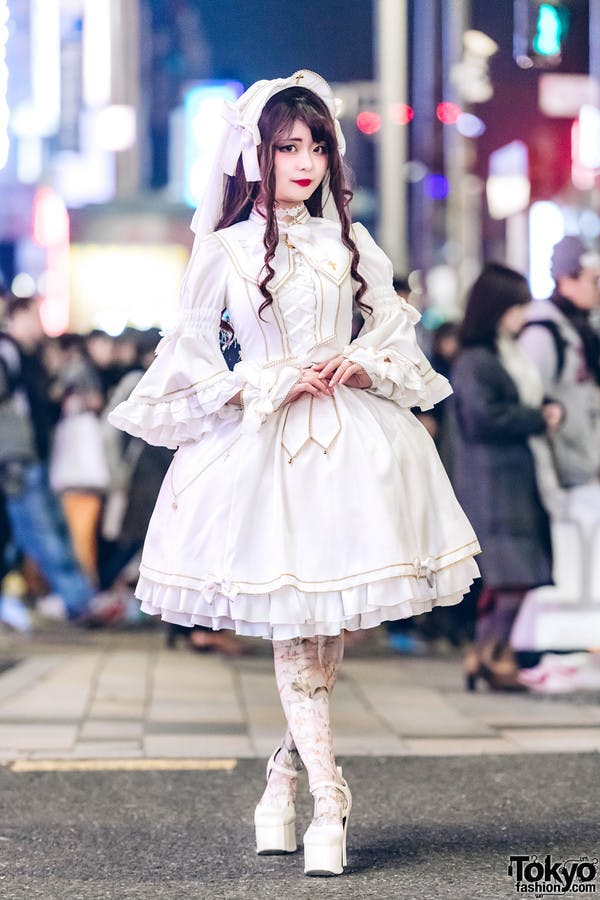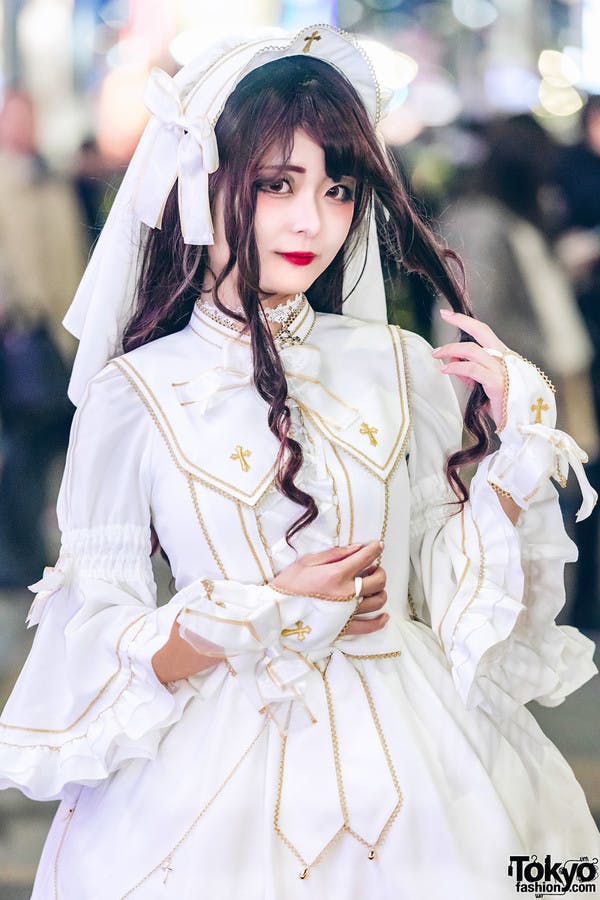 Sana is a Japanese model who often appears on Tokyo Fashion street snaps! In this picture she is wearing all white lolita fashion. Sana likes the lolita brand Metamorphose Temps De Fille and she's also wearing a dress from this brand! Click here to read more about Sana.
7. Casual cute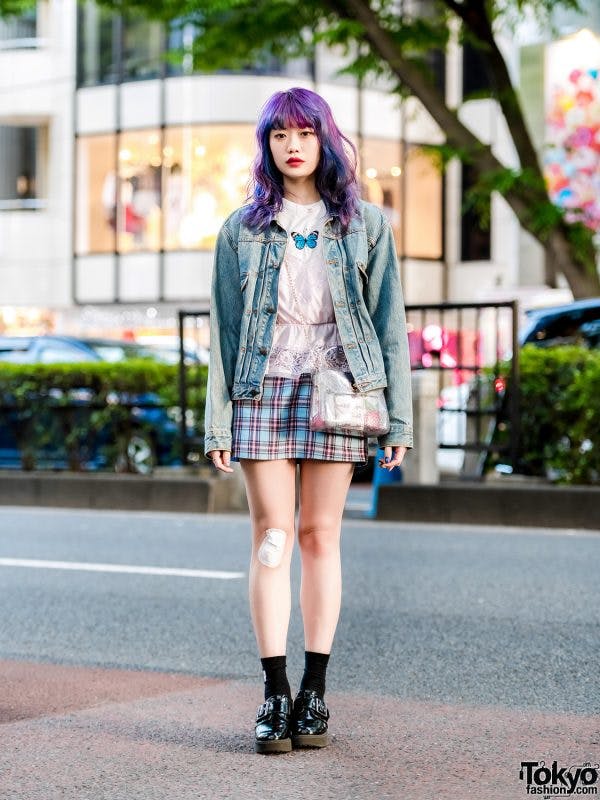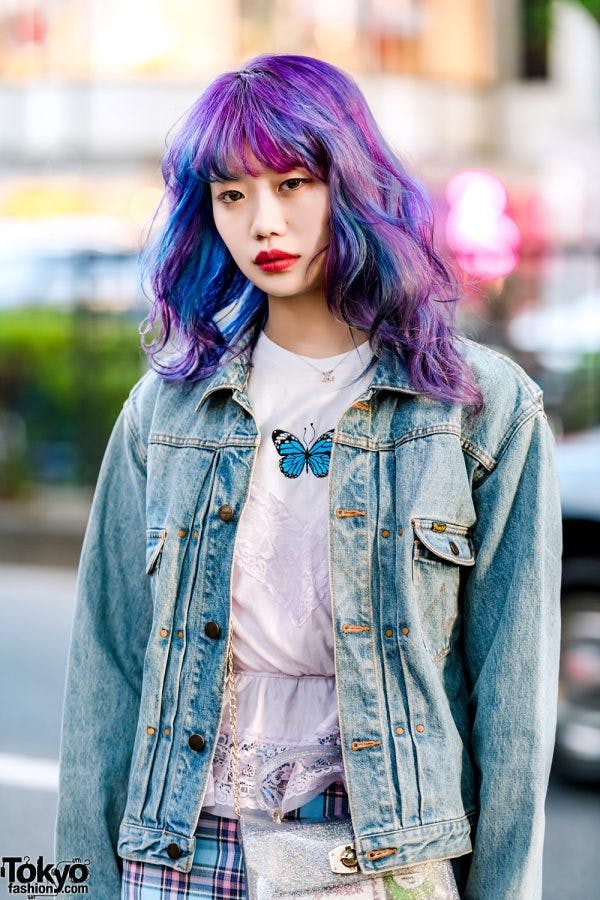 Elleanor is a Japanese style icon. Her beautiful bright colored purple and blue hair looks great with her more neutral colored clothing. Her denim jacket, butterfly t-shirt and plaid skirt make a perfect spring outfit! Click here to read more about Elleanor!
8. Pink harajuku girl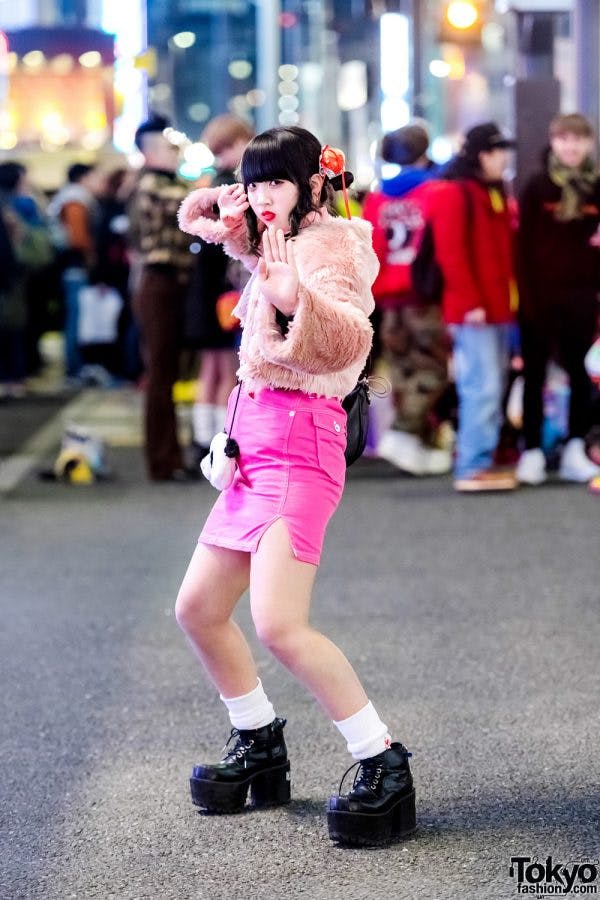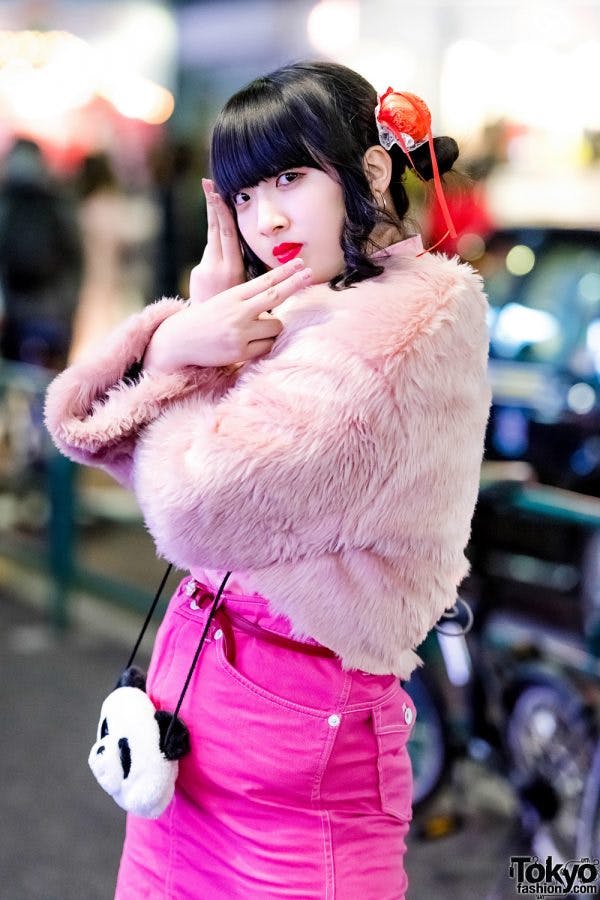 Mawoni is a 15-year old student dressed in several shades of pink! Her herstyle is inspired by Chinese hairstyles and look at her adorable panda pouch! Click here to read more about Mawoni.
9. Pastel colored harajuku girl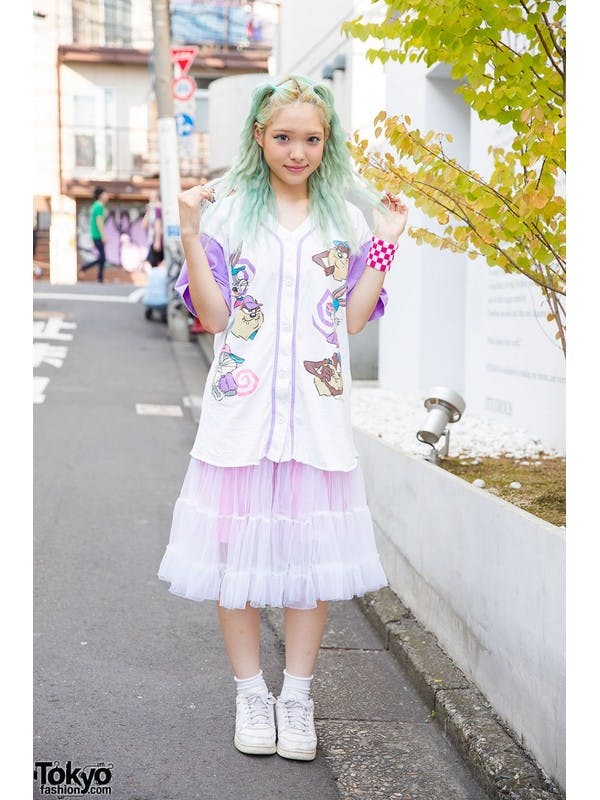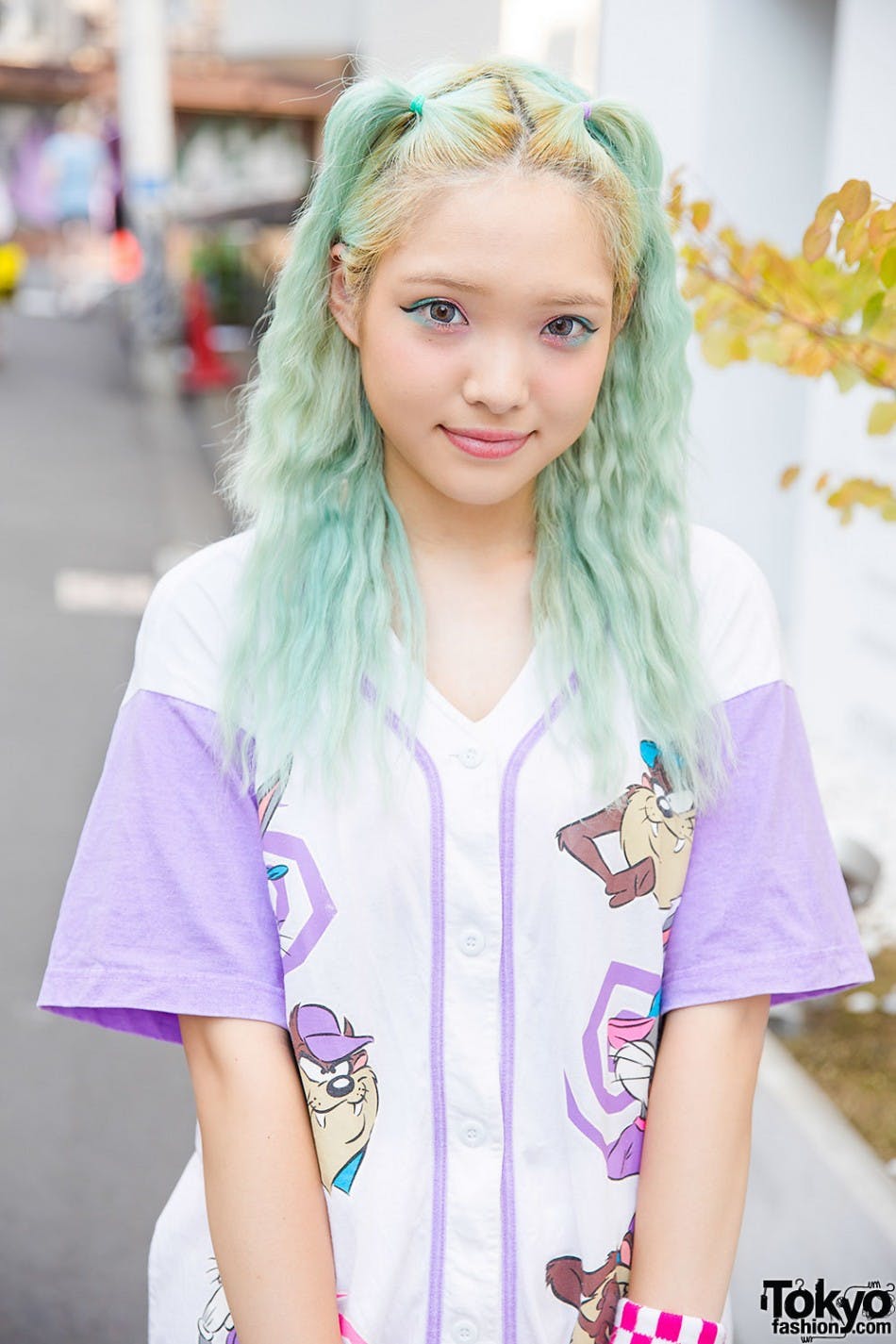 Ezaki Nanaho works at the Nadia Harajuku boutique. Her hair as well as her outfit are in cute pastel green and lilac! Even her makeup matches her clothes and hair! What do you think of her Looney Tunes t-shirt? Read more about Ezaki Nanaho here!
10 Antique & vintage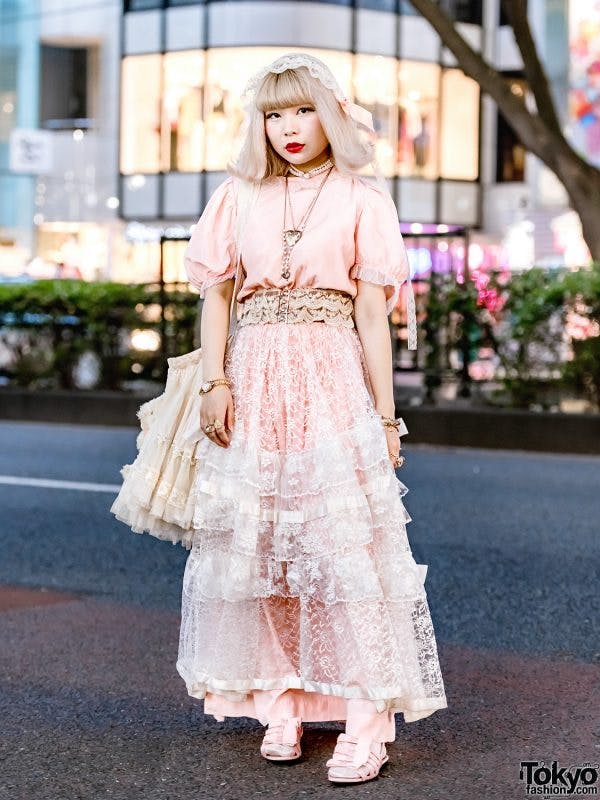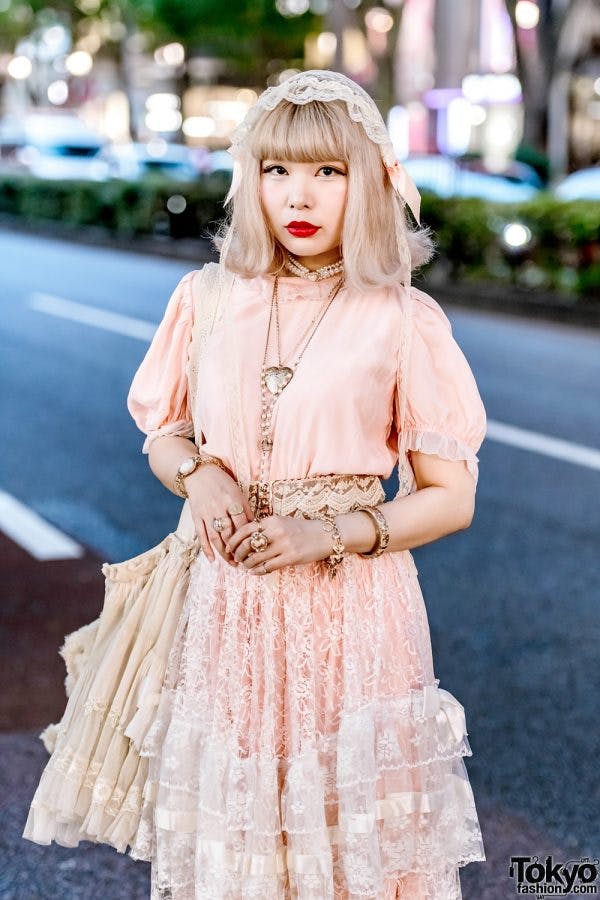 Yukarin is a Japanese fashion designer. As you can see she is also very stylish! Her peach colored clothes combined with white lace make a perfect combination. Most of the items she's wearing are from rather unknown brands. Two of her favorite brands are Curios and Anutrof. Read more about Yukarin here.
There are so many interesting fashion styles in Tokyo, which of these outfits did you think is most kawaii? What is your favorite Japanese fashion style Let us know in the comments below!
Keep up to date with all the latest Japanese beauty news coming straight from Japan by following us on Facebook, Instagram and Twitter!
Want to get a FREE Japanese beauty subscription box? Check out how to get one here!