American and Korean beauty aren't too different from each other. However, slight differences in makeup preferences sets them apart in unique ways. Koreans are known for their flawless and young looking skin. Rather than heavy makeup looks, Koreans believe in good skin care rather than a heavy makeup look. The 7 & 10 step Korean skincare routines give them a flawless and glowing look with or without makeup.
Primers
Using primers as a makeup base is common in both American and Korean makeup. However, American makeup believes in the matte finish. Thus, most of American products reduce shine and give a matte look. Likewise, American primers also work to reduce shine on the face to give your skin a smooth matte look. American primers that are generally clear and transparent do not change the skin tone. Also, the matte finish of the primers keep the skin dry. These primers are generally unscented.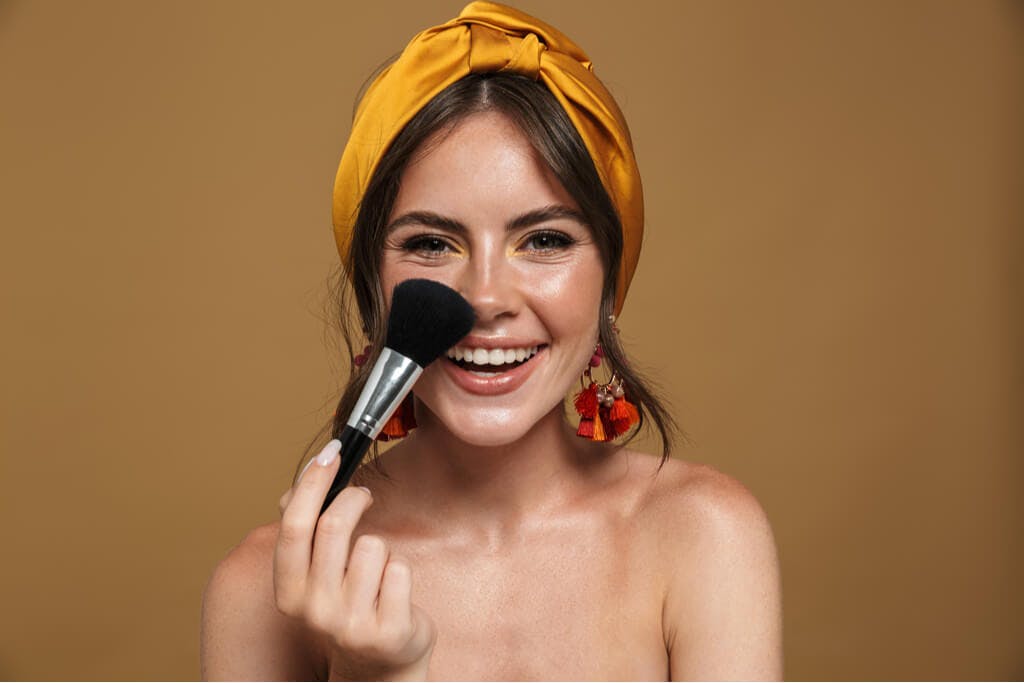 image via shutterstock.com
On the other hand, Korean makeup is known for its dewy look that makes the skin look perfect and flawless. Korean primers are more like moisturizers and require thick application to the skin. It leaves the skin feeling moisturised and looking dewy. Korean primers often come with whitening and brightening agents. It comes with different scents and is generally cheaper compared to American primers. 
Diversify your daily routine with nomakenolife! Korean and Japanese cosmetics curated in Tokyo and sent straight to your door - click below to find out more!

Foundations      
In America, foundations come in a variety of shades to suit different skin tones. Also, Americans prefer a tanned, sunny and matte look unlike Koreans. American foundation formulas are thicker and provide a full coverage compared to the Korean foundations. American foundations provide a wide range of darker and tanner shades too.  These foundations have little or no SPF content. 
However, Korean foundations are light and come in a liquid formula. The Korean foundations have a very wet and dewy finish. Korean foundations mostly come in the form of BB or CC creams. Although, Korean foundations only offer limited shades. They mainly feature extremely light and pale colors. Korean foundations always come with good SPF content with a minimum SPF 30 or higher.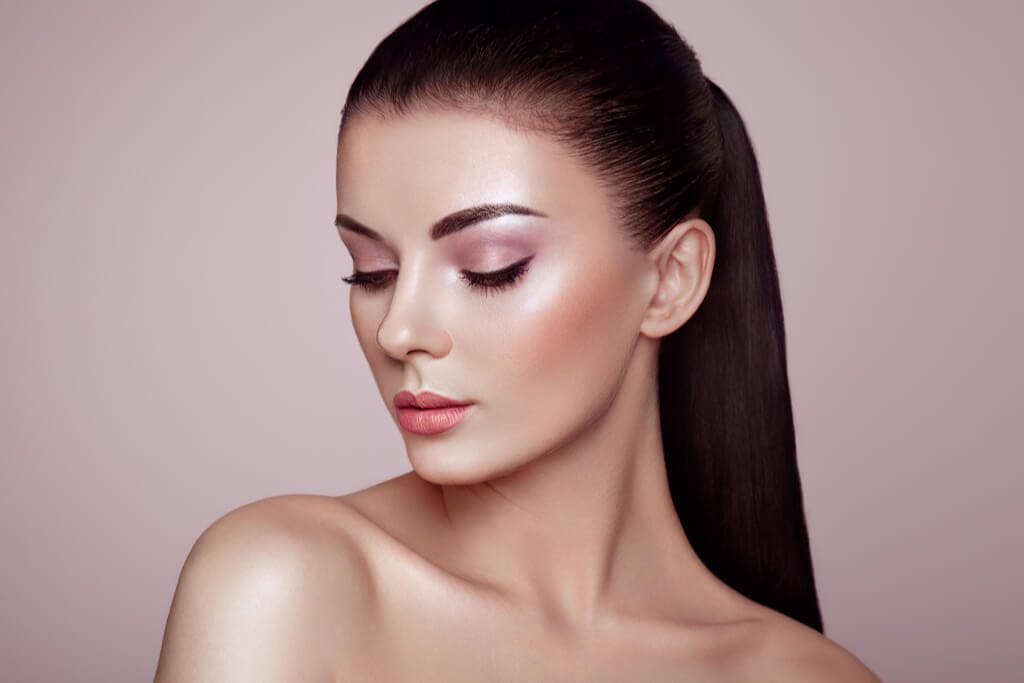 image vis shutterstock.com
Eyebrows
Eyebrows play a major role in the overall look of the face. Women are generally very particular about how they do their eyebrows as it changes the shape of the eyes and thus the look. Eyebrows are also very important for the overall makeup look. Most Americans like defined lines and dark colored eyebrows with a blended ombre. They will generally have a higher arch towards the center. 
In Korea, they prefer having a more natural and softer pair of eyebrows. They generally go for straight and fuller looking eyebrows. The Koreans also try matching their eyebrows to their hair color as much as possible to make it look more natural. 
Eyeshadows
Americans put a lot of emphasis on the eyes. They mostly use the cut creases and double eyelid concept for eyeshadows. The smokey eyes concept is also a common trend in the USA. They use darker matte colors to bring out the eyelid and lighter colors generally go in the middle to cover the entire area upto the eyebrows.
Koreans' eyeshadow concepts are slightly different from the Americans. Most Korean people do not have double eyelids. Also, to maintain their natural makeup look they add just a little color to the eyelids that brightens up the eyes. Koreans make sure to use the eyeshadows only in the eyelids and not above. Lighter shades of pink and peach are very popular in Japan.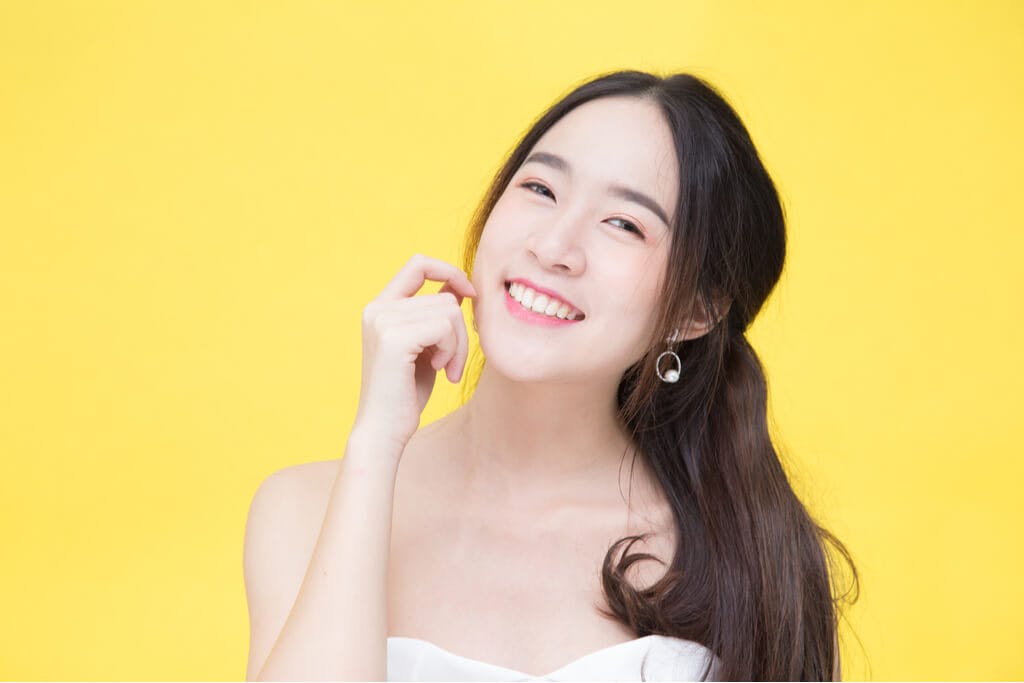 image via shutterstock.com
Eyelashes 
False eyelashes have started gaining popularity in both America and Korea recently. Long, bold lashes go well with the American bold eye makeup. American makeup experts prefer long and thick double lashes with darker colors. 
While Koreans and many other Asians have short and thin lashes, adding long, thicker and dark lashes may add too much drama to the look. Hence, Korean prefer having thinner and natural lashes compared to Americans. They often prefer lashes with lighter shades too. Koreans also add bottom lashes to make the look cute. 
Contour
Contouring is american's favourite makeup step. They contour almost all parts of the face from nose to the cheekbones to the jawline. Contouring is of prime importance in American makeup as they prefer a sharp and defined look. They also use highlighter to accentuate the sharp edges. 
On the other hand, Korean makeup does not require a lot of contour. At times they use just a little bit of contouring to define the nose line. They like the flawless, smooth skin as it is.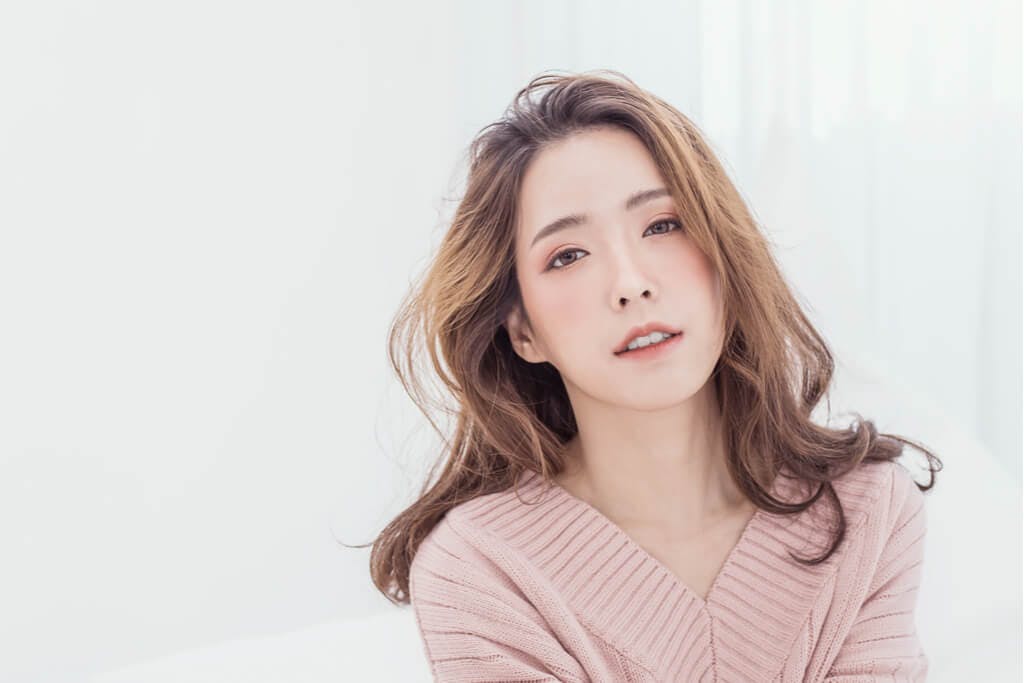 image via shutterstock.com
Blush
Americans generally use blush on the apples of the cheeks. They do not use a lot of pink blush on their face. Rather a darker bronzer is a popular choice that is used under the cheekbones.
Koreans love the brighter look. They use pink or peach blush on the top of the cheek bones. Korean blushes do not contain a lot of shimmer; they generally use matte colors for blush. 
Lips
The most important part of any makeup is the lips. Glossy lips are not very popular in the USA. American makeup requires matte bright dark or nude lips to complete the makeup look.  
Also, lip plumpers have gained a lot of popularity in America as it gives the plumpy fuller look to the lips. 
Glossy pink and peach tints in Korean makeup makes the lip look more natural and hydrated. Gradient lips are gaining popularity in Korean makeup. The lip tints are darker towards the inner side and gently spread a little to the outer portion of the lips to give it a gradient look.