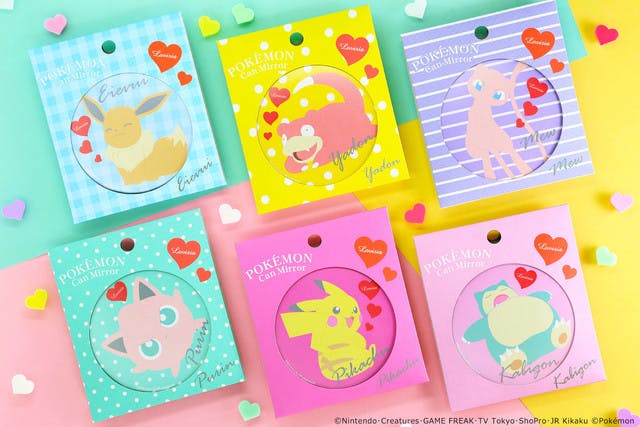 Pokemon fans, gather 'round! These cosmetic products featuring Pokemon characters are now on sale in Japan! The product line includes face masks, lip cream, lip gloss, and hand creams with adorable Pokemon-themed packaging. How exciting is this?!
Also known as Pocket Monster, Pokemon is the most popular animation series managed by The Pokémon Company. Not only the animation, the Pokemon game is also popular among fans all over the world. They are also producing countless merchandise that are extremely popular as goods and souvenir gifts; you can find some Pokemon merchandise here. Japan is a total paradise for Pokemon fans, right?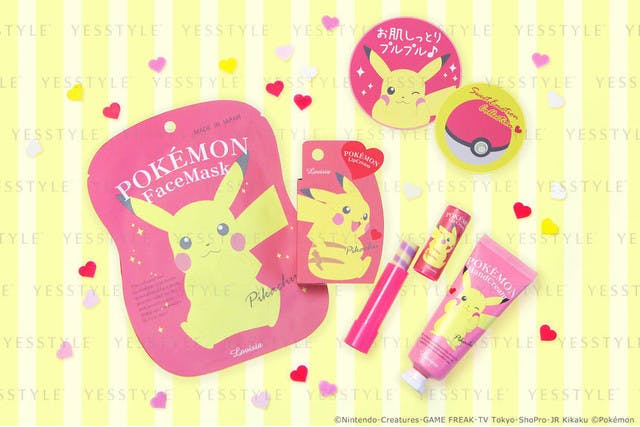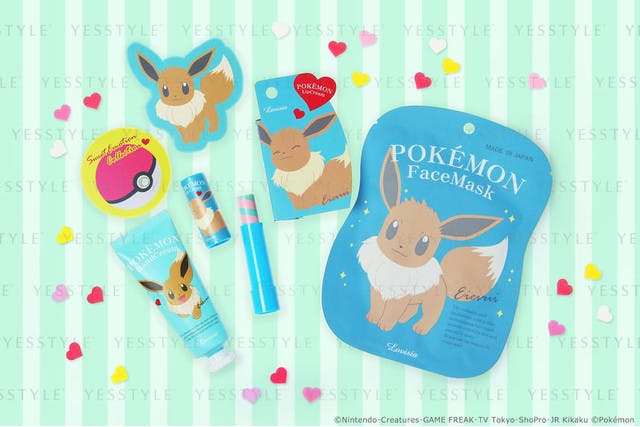 This time we're going to introduce you to another awesome Pokemon item which is has arrived in the world of cosmetics. The Pokemon Cosmetics Series by Lovisia has just launched their products featuring Pokemon characters and the first line up was Pokemon Face Mask. They are available in 6 types of popular Pokemon characters: Pikachu, Eevee, Purin (Jigglypuff), and Kabigon (Snorlax) as well as Mew, and Slowpoke!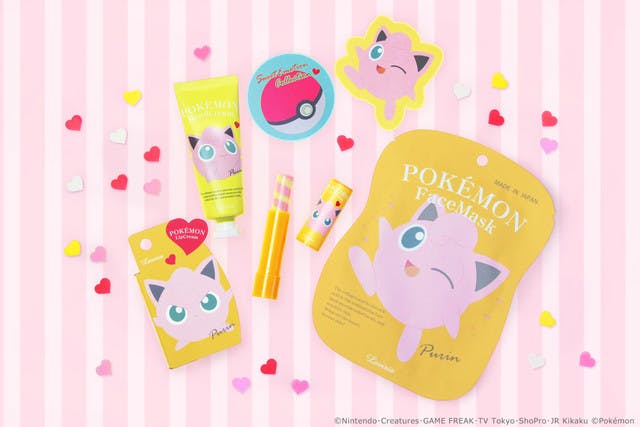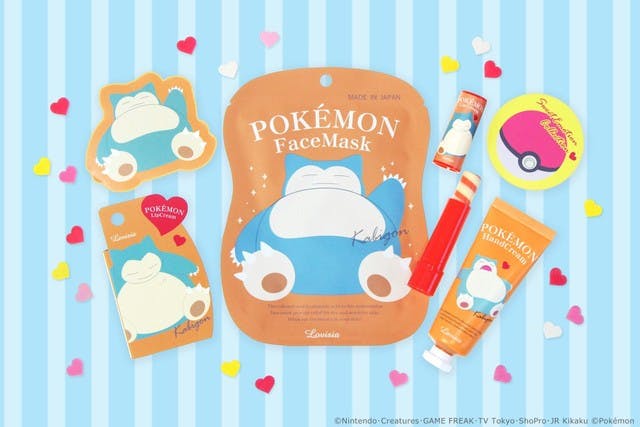 Not only the packaging is cute, but the ingredients are also top-notch! The beauty ingredients inside these masks contain Hyaluronic Acid, Collagen, and Shea Butter that hydrate and moisturize your skin, and provide relief for dry and sensitive skin. Psst, did you know that you can also buy this product from JapanHaul for only $9.07? 
The second line up is Pokemon Lip Cream. It's coming in 4 types of the same Pokemon characters as the face mask, with adorable pastel packagings. These lip creams somehow look like marble candies, which makes you want to eat it instead of applying it on your lips, lol. Anyway, the lip cream itself contains high moisturizing ingredients such as jojoba oil and hyaluronic acid that help your lips to retain moisture.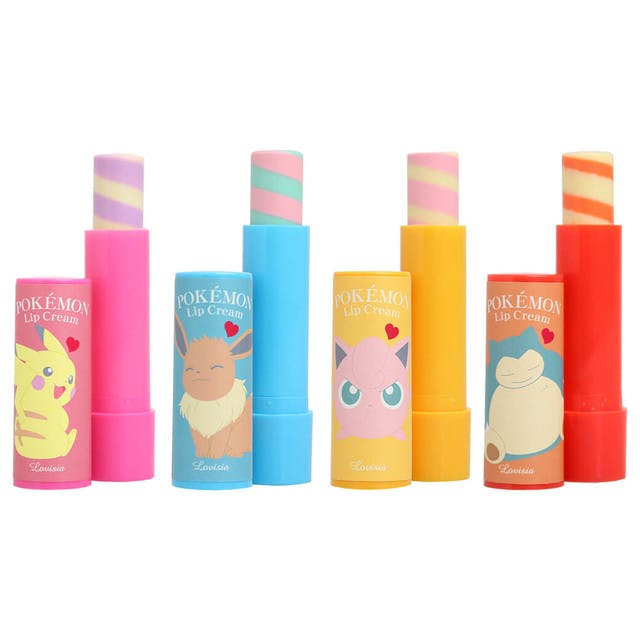 Next is Pokemon Hand Cream as the third product of this series. Once again, they have Pokemon Pikachu, Eevee, Jigglypuff and Snorlax as the packaging of their pretty hand creams. But this time, they come in different fragrance of each hand cream. Pikachu has the scent of Pink Bouquet, Green Ocean scent for Eevee, Princess Rose for Jigglypuff, and Snorlax with the scent of Pure Bubble!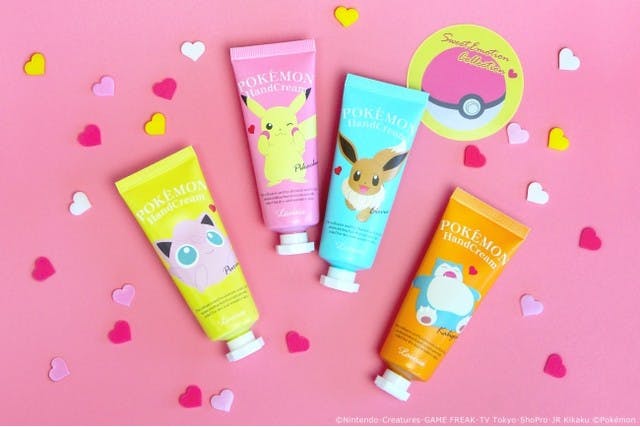 And our last recommended lineup of Pokemon Cosmetics by Lovisia is the Pokemon Candy Lip Gloss! It's a two-toned lip gloss that is available in a tiny yet adorable container with the 4 Pokemon characters printed on it. Once you open the can, you'll see the cute heart shape in the middle of this lip gloss. The heart shape is actually a pearl lip color with fruit extract, while around the heart is the gloss color. You can create ombre lips by blending the two colors on your lips. This lip gloss also smells sweet like honey, since they use beeswax as one of the key ingredients.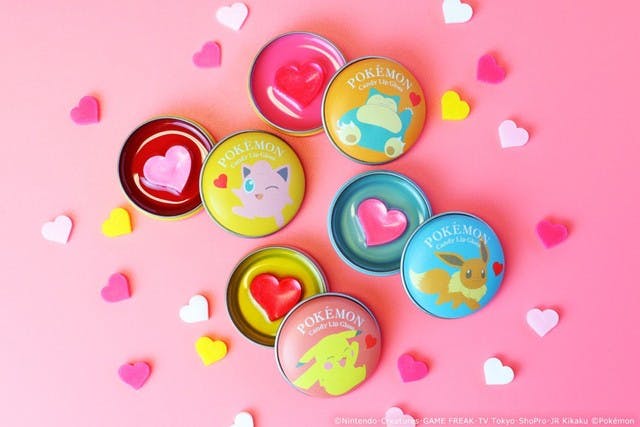 Feeling in urge to buy these products right away? So are we! These Pokemon cosmetics by Lovisia are definitely the hottest things to buy in Japan. Get them before they sold out!
Keep up to date with all the latest Japanese beauty news coming straight from Japan by following us on Facebook, Instagram and Twitter!