Harajuku is arguably most known for its bizarre and colorful fashion. However, did you know that Harajuku is also home to many diverse, cute, and Instagram worthy cafes? There are plenty of cafes in Tokyo, but Harajuku cafes really are the best, with fun themes, awesome drinks, and delicious treats from fluffy pancakes to rainbow cheese.
Here is a list of Harajuku cafes that go full Harajuku style! (Of course, we love the Harajuku Monster Cafe, but because you can read all about it on another one of our fabulous blogs, we didn't include it here.)
The Cafes at Takeshita Street
Only a minute walk from Harajuku station lies the popular and colorful Takeshita Street. Shops selling the most colorful and kawaii clothes are located on this street. Not only can you find the cutest pair of socks with Shiba Inus on them here, you can also find one of the top ice creams in Tokyo as well as delicious meals and plenty of crepes with lots of whipped cream.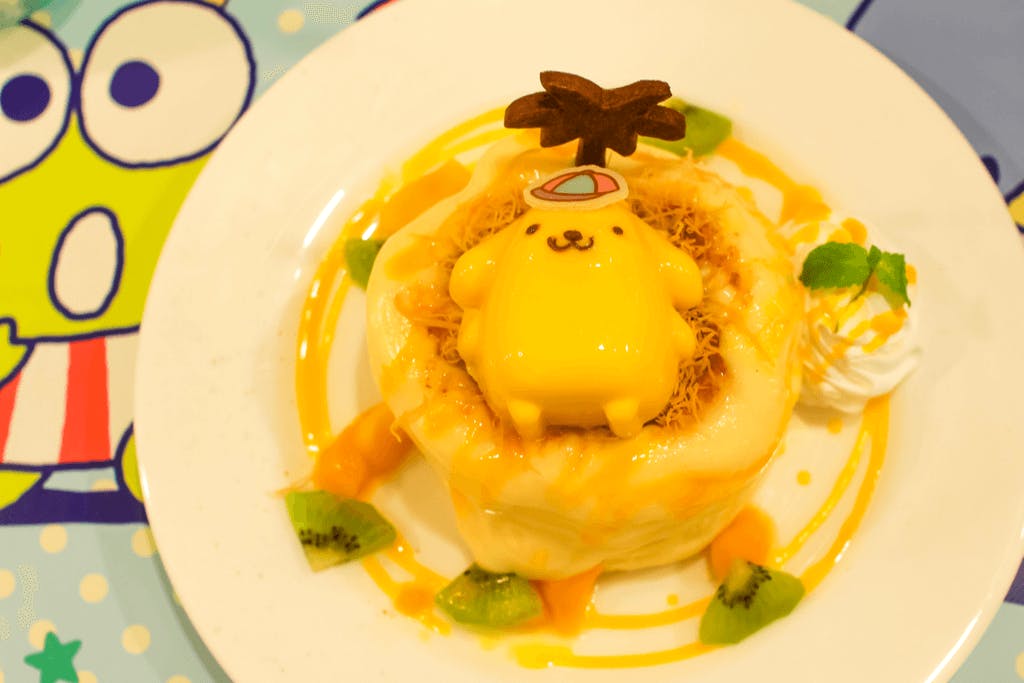 Image via Shutterstock
The Pompompurin Café is a character café based on the Sanrio character Pompompurin (ポムポムプリン). Pompompurin is a Golden Retriever dog character, and the café embodies his adorable personality. This café is probably the most kawaii (cute) with its bright yellow walls, heart-shaped chairs, and of course, Purin-themed desserts. 
Noa Café provides freshly roasted coffee, waffles, and drinks in a relaxing environment. Whether it's salad or waffles, the café provides picture perfect, Instagrammable food. This café also has a seasonal menu that provides various delicious waffles, parfaits, and even ice cream depending on the time of the year. This café provides a calm break from the liveliness of Takeshita Street. 
Repi Doll Café has a unique, different ambience than the other colorful kawaii cafes that reside on Takeshita Street. It is a more antique, Victorian style themed café that specializes in making Irish coffee. It rests on the 2nd floor, so it has a great elevated view of the busy Takeshita Street. 
They also sell various teas such as English Tea, Earl Grey, and even pumpkin flavored tea. If you're feeling adventurous, they also have apple tea, mint tea, and royal tea milk flavored cakes!
Cafes in the General Harajuku Area
While Takeshita Street is an integral part of the Harajuku experience and a definite must to experience some crazy fun shops and cafes, there are also other intriguing coffee shops and restaurants within the Harajuku area that are also worth exploring.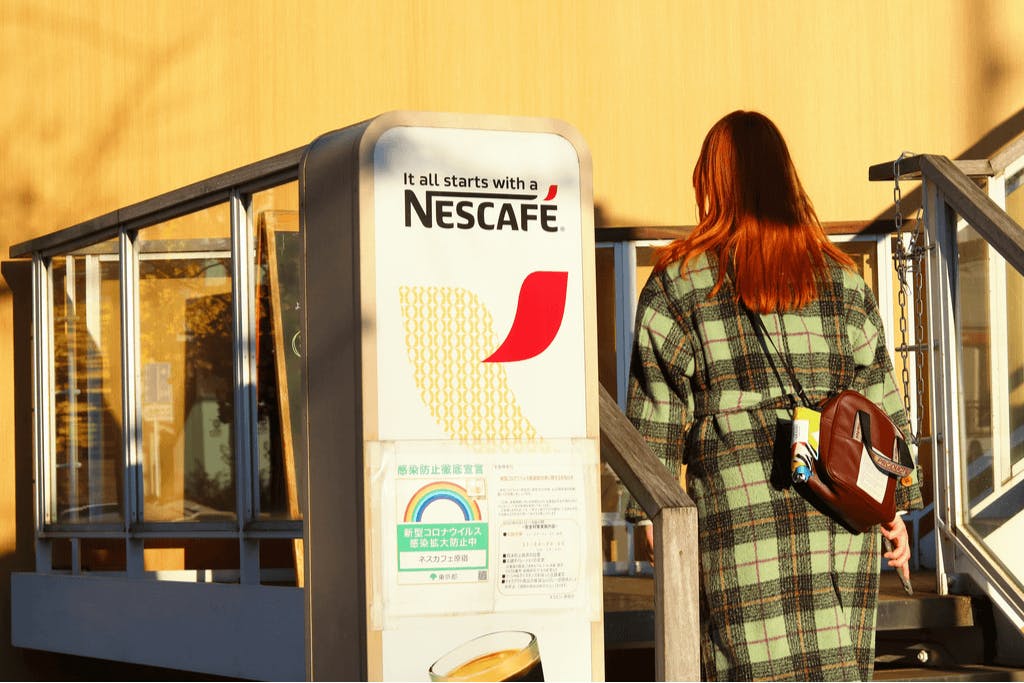 Image via Shutterstock
Double Tall Café Harajuku
The Double Tall Café is located right outside the exit of the Meiji Jingumae station. They specialize in creating beautiful espresso art. Being located on the 2nd floor, they also have an open terrace where people can sit outside and enjoy the city. Despite being known for their latte art, they also provide delicious meals and snacks such as chicken curry and even nachos.
Cafe Mori no Terrace can be found right in front of the entrance to the Japanese Shinto shrine, Meiji Jingu. The name Mori no Terrace (杜のテラス) actually means forest terrace in English, a fitting name for its wooden aesthetic and location at the base of Meiji Jingu's forest. People are able to relax and drink matcha tea (Japanese powdered green tea) here after exploring the shrine while having a wonderful view of the main Meiji Jingu torii (shrine gates). 
The Nescafe is owned by the Nestle brand, and their main purpose is to create an environment where one can be completely comfortable and sit how they choose. They also incorporate technology into the cafe. Customers order their food through a touch screen on a robot. Nescafe also hosts special events, such as having kotatsu tables (Japanese heated tables) for customers while also serving cold drinks like iced coffee. 
Harajuku Animal Cafes
Imagine a place where people can relax, drink a cup of coffee, and take a break from the real world while being surrounded by the most adorable creatures ever. That is what animal cafes are for. Harajuku has many animal cafes varying from cats to mini pigs and even snakes.
The only problem with these animal cafes is that being surrounded by the cutest animals can often distract you from actually drinking the coffee!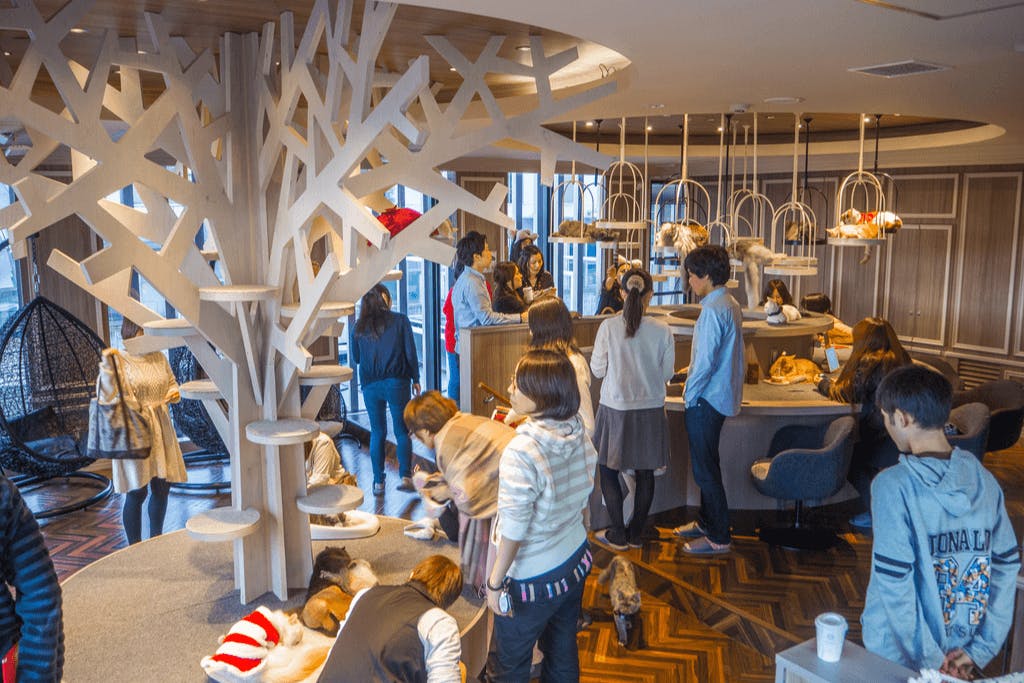 Image via Shutterstock
Located right across the street from the entrance of Harajuku station and the Meiji Jingu shrine is the most elegant cat café, fitting of its regal yet fluffy occupants. It has a spectacular view overlooking the intersection of Meiji Jingu and the famous Yoyogi Park. 
The cats have plenty of space to run, jump, and interact with people. In particular at this café, there are hanging fixtures as well as a makeshift wooden tree for the cats to climb on and perch. With the addition of the soft lighting, this cat café provides an aesthetically pleasing atmosphere. 
The Tokyo Snake Center is certainly a unique animal café. Customers here can enjoy a delicious beverage while watching snakes. The snakes are placed in glass cases at the tables where people can enjoy a cake platter while admiring the snakes' beauty. 
In addition, there is also an option to hold a snake in which the staff will let you hold one for 10 minutes. All of the snakes are non-venomous and very friendly. The Tokyo Snake Center is undoubtedly cool and a definite must while visiting Harajuku.  
Pigs are cuter than you think! At the mipig café in Harajuku, adorable micro pigs run rampant. These excitable pigs have a bunch of energy. These cuties will sit in your lap and keep you warm, and their fur is also shockingly soft. 
These pigs are well socialized, and the staff take excellent care of them. In addition, the bright colored green walls and wooden accents add to the farm aesthetic. Overall, these pigs will definitely win your heart over.
After checking out these Harajuku cafes, please be sure to visit Meiji Jingu or the famous Omotesando Hills, if you're looking for a place to shop in Tokyo! The Tokyu Plaza at Omotesando also has a Starbucks with the coolest vibe if you are looking for something familiar while eye-catching.
Which one of these cafes would you like to visit? Let us know in the comments below!