Korean makeup trends are always changing and evolving with many new tricks and beauty trends that are shaping women's skincare and makeup routines worldwide. If you look closely at any Korean girl, you'll notice that besides clear skin and rosy cheeks (as we mentioned in part one), they love anything that is sparkling and shiny to create a fresh and youthful look. 
Today, we'll share with you some of the ways Korean ladies emphasize other features of their faces: eyebrows, eyes, and lips.
Horizontal Eyebrows
Image via Shutterstock
The "standard" Korean way to draw eyebrows are pale eyebrows at the beginning and darker towards the tail. You can draw your eyebrows according to their existing shape with a light brown pencil or dark brown based on your hair color.
Step 1:  After trimming the eyebrows neatly, slightly outline the frame with faint strokes to connect the 3 points of the eyebrows: head – top – tail.
Step 2: Use brown eyebrow powder or pencil to fill the inner part between the outline you just drew. Take note to make it bold at the end and lighter at the head of the eyebrows.
Step 3: Use eyebrow mascara of the same color to brush the eyebrows and even the hairs.
Notes:
Even though it's Korean makeup, you should still try to be flexible with your eyebrow shape, basing it on your facial features. 
Horizontal eyebrows are not really suitable for square, diamond or pear faces.
If you have a chubby face, draw your horizontal eyebrows longer and darker than usual, then adjust the slightly curved tail to best suit your face.
In love with these Korean makeup trends already? NoMakeNoLife sends the latest Korean and Japanese beauty products monthly to your door, perfect for your skincare and makeup routine to achieve the effortless glowing look of Korean girls!

Sparkling Bright Eye Makeup
In current Korean beauty trends, people often prefer bright eye colors, combined with shimmer, glitter to lighten the face with a spark of "bling". It helps the eyes to stand out against the more natural look for the skin.
Colors such as orange and earth orange, or pink, peach, and earthy pink tones are used to give off a dynamic and youthful impression like tropical fruits. Shimmer eyeshadow is also popular as it adds a boost of glitter and a radiant effect to the eyes.
Step 1: For a more natural Korean eye makeup look, use the lightest color in the eyeshadow palette to cover the entire upper and lower eyelids.
Step 2: Then use a slightly darker but  same or similar tone to highlight ⅔ of the upper and lower eyelids.
Step 3: Add a little shimmer in the middle of the upper eyelid, lower eyelid, and the top of the eyes.
Recently, there is a trend of attaching rhinestones, crystals or sparkling decorations around the eyes as a highlight of the eye makeup. This makeup trend is extremely popular among K-pop girl groups such as ITZY, Twice, Black Pink, and more while they are performing on stages or doing photoshoots.
This makeup style, depending on the shapes and arrangement of the stones, can give off many vibes, like a magical or playful aesthetic.
In general, its main function is to attract attention to the eye makeup and emphasize the blush above your cheekbones. Thus, it is also good for girls to try for a special hangout or night date.
Plump Lips and MLBB Lipstick Color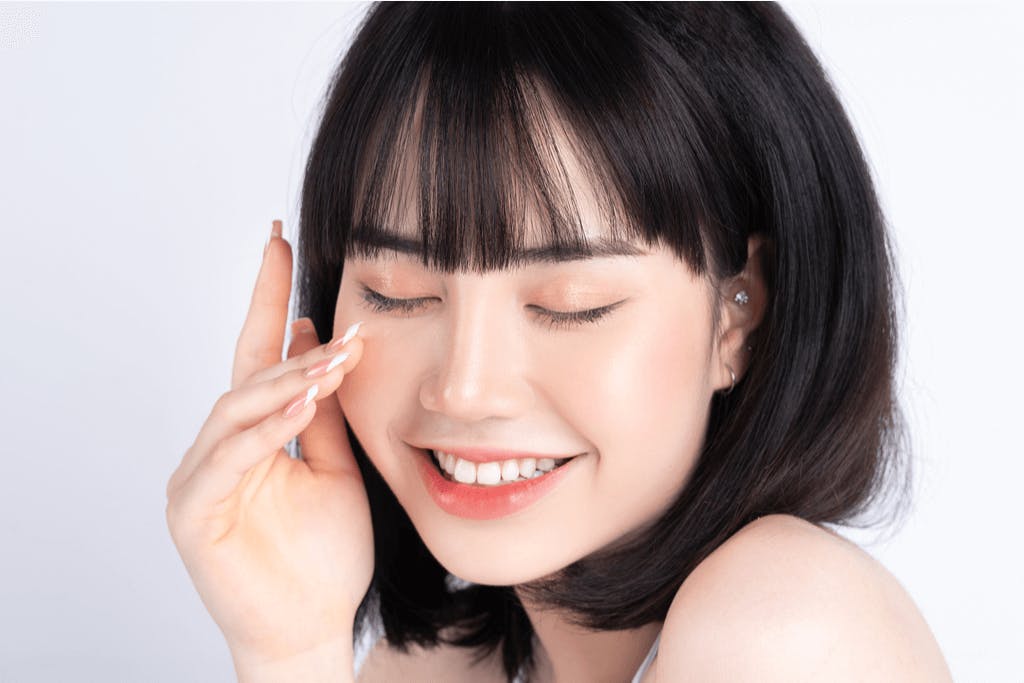 Image via Shutterstock
Instead of using only matte lipstick, K-beauty lovers prefer lipsticks with high pigmentation, soft velvet texture, and MLBB (My Lips But Better) lipstick shades. Natural lip colors such as earth red, earth pink, nude pink, and earth orange are called MLBB lipstick colors. They're diverse, easy to hit, and suitable for Asian skin tones.
Lip stains, lip tints, and lip glosses are best friends with Korean girls because they love a natural full and plump lip. Either full lip or blurred lip (gradient lip) application, Korean girls always prioritize lip care (exfoliating and moisturizing) before putting on lipstick. The MLBB look also means that you need a healthy lip, using lip products like Korean lip masks for naturally hydrated lips.
Korean lip tints are especially great for that MLBB look, even becoming popular among Japanese makeup trends these days. So, a good lip tint is a great investment for anyone looking to recreate a K-beauty look.
Other tips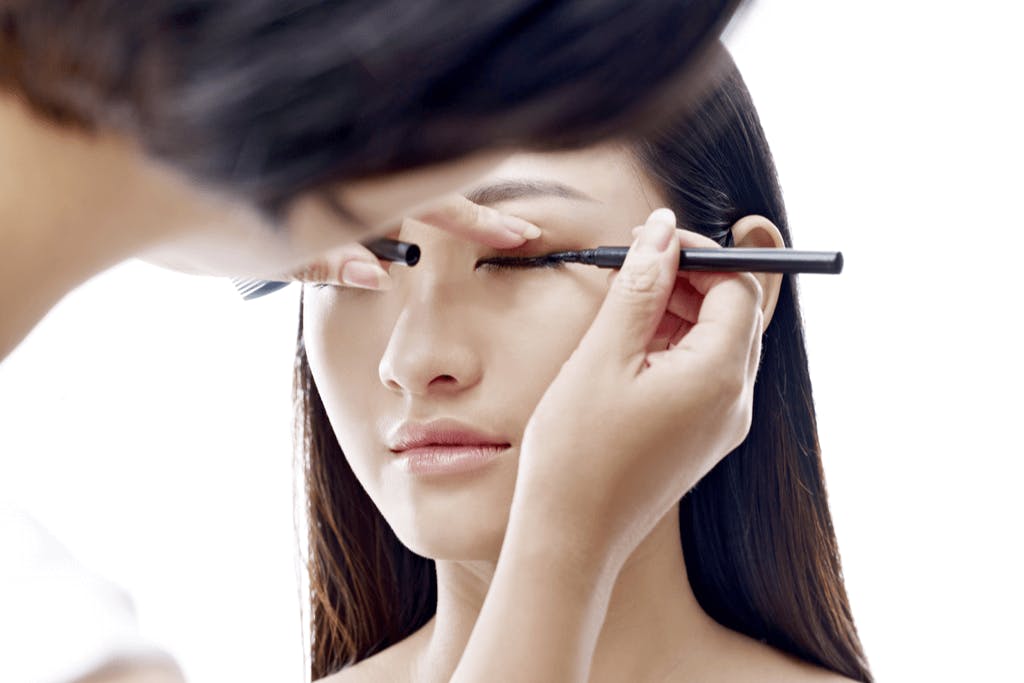 Image via Shutterstock
Eyeliner is also used to make the eye bigger and rounder but not as bold as in Western makeup. Korean girls prefer to have inner eyelid eyeliner and then draw a slightly slant line at the tail of the liner.
Like Japanese makeup trends, mascara and fake eyelashes are a must for a kawaii aesthetic (cute aesthetic)!
Contouring is not so important in Korean makeup style. Korean ladies want their skin to be healthy and glossy from the inside, making them pay more attention to skin care. Even when wearing makeup, they don't want it to appear too heavy but prefer a radiant, healthy and fresh finish.
Lastly, prioritize bright colors like peach or coral tones. Also try to use similar colors with slightly different tones for eye, blush and lip makeup to make the look as natural and avoid being out of touch. These are color-based makeup themes such as coral makeup look (using coral, apricot orange palette) or peanut butter makeup look (brown).
What other Korean makeup trends do you love? Share with us in the comment section below!