'Korean Beauty Products' has been a popular phrase on everyone's lips for a while now. The reason why? Korean products are unfailingly reliable, often containing only a few ingredients. Think of it like a Mac vs. a PC: they have all the parts you need and nothing you don't. 
For decades, Korean beauty has been about natural, simple ingredients for fresh, healthy 'chok-chok' (moist and luminous) skin. Finally, in the past few years, thanks to South Korean-Americans such as Alicia Yoon and Charlotte Cho, the world has caught up, and is looking to Korea as a major leader in skincare and beauty products alike. 
With all the choices out there, it can be a little daunting to step into the K-beauty world, so we've prepared a guide to give you an idea of the must-have Korean beauty products that are heating up the K-beauty world right now.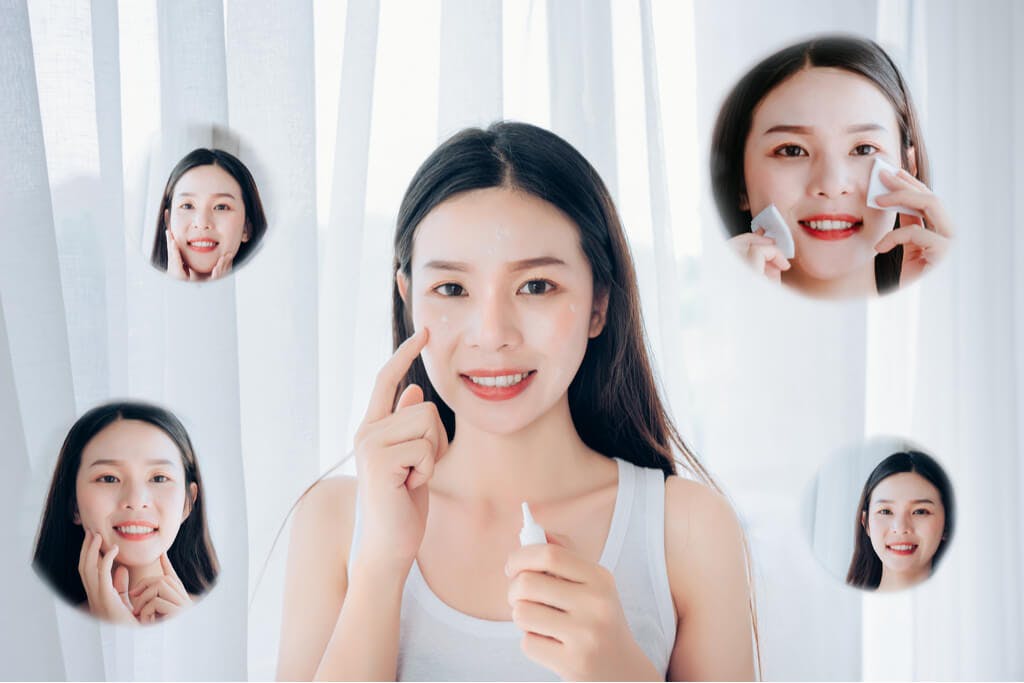 Image via Shutterstock
It All Starts with the Skin
In South Korea, makeup starts with skincare. To get that dewy 'chok chok' skin, you'll need to commit to your skin itself. Of course, to get it in tip-top condition, it's very important to identify your skin type. The main skin types are: oily, dry, and combination-type skin. 
We recommend checking your skin type and consulting with a dermatologist before committing to a new routine for your skin. If you don't have a dermatologist available, thoroughly research before trying anything. All skin is different, and it's vital to find a routine along with the Korean skin care products that suit you best. For now, here's our low-down on the 10-step skin care routine guide and the must-have, most popular products for each step.
Need some help getting Korean skincare and makeup products? NoMakeNoLife sends must-have J&K-beauty products right to your door, perfect for any beauty routine.

10-Step Skincare Routine
Double Cleanse
All K-beauty routines start with a double cleanse: two types of cleanser, twice each day.
Oil-based Cleanser
The first is an oil-based cleanser, to get your skin super clean without drying it out. Make sure you spend time massaging it in as this will get your skin supple and primed for the next steps. Contrary to popular belief, oil-based cleansers are good for oily skin, helping to clear pores and nourish the skin at the same time.
Our top Korean cleansing oil is Dear Klairs, Gentle Black Deep Cleansing Oil. Not only is Dear Klairs cleansing oil a vegan-friendly and cruelty-free Korean cosmetics option, it's great for sensitive skin and contains five types of oils: Jojoba Seed Oil, Soybean Oil, Sesame Seed Oil, Blackcurrant Seed Oil and Cranberry Seed Oil.
It will also last forever! Simply pump 2-3 times onto your hands and thoroughly massage onto your skin before washing off with warm water. 
Water-based Cleanser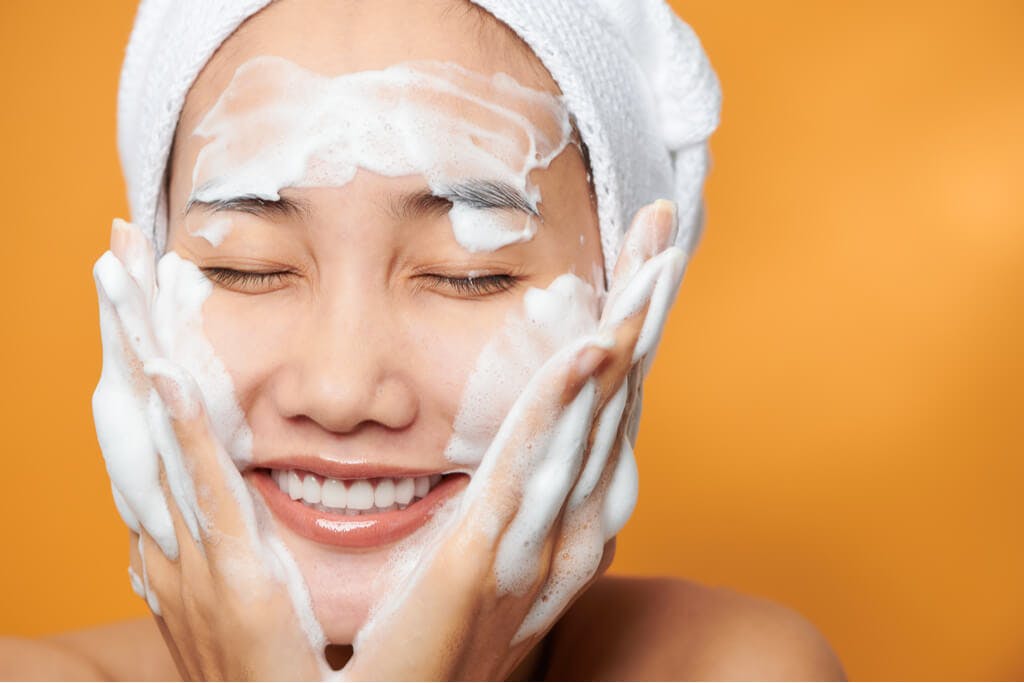 Image via Shutterstock
The second is a water-based cleanser which cleans away water-based impurities that the oil cleanser didn't catch. This second step is recommended by dermatologists, so don't skip it. You can get cleanser in many varieties such as cleansing balms and foaming cleansers.
We recommend The Face Shop Rice Water Bright Foaming Cleanser which is great for all skin types. It isn't too harsh on the skin and contains (you guessed it) rice oil.
Exfoliate 
This only needs to be done twice a week and make sure to gently massage your skin. Remember your neck, too. Exfoliation is best for skin with lumps and bumps or clogged pores. As adults, our skin should renew itself roughly once every 28 days but various factors such as climate, age, and sun damage can negatively affect this, which is why many dermatologists suggest regular exfoliation, particularly for acne-prone skin. 
Our must-have Korean exfoliator is the scientifically-backed Pyunkang Yul Facial Peeling Gel. Developed by Pyunkyang Oriental Medicine Clinic, this is the best of the best, only containing essential ingredients while being suitable for all skin types.
Two-in-one
If you're looking to reduce steps, then an honorable mention must go to Cosrx AHA/BHA Clarifying Treatment Toner. It's an acid-based toner and suitable for daily use. It also acts as a mild exfoliator, containing willow bark and apple fruit water. One reviewer on its official website wrote that "it's like magic!"
Straight to the Point...Essence
If you've heard of K-beauty, chances are you'll be aware of Charlotte Cho, the South-Korean American esthetician who popularized the infamous 10-step Korean skincare routine in her bestseller The Little Book of Skincare. Her must-have is the Missha Time Revolution The First Treatment Essence, which contains over 90% fermented yeast extract. 
Tone!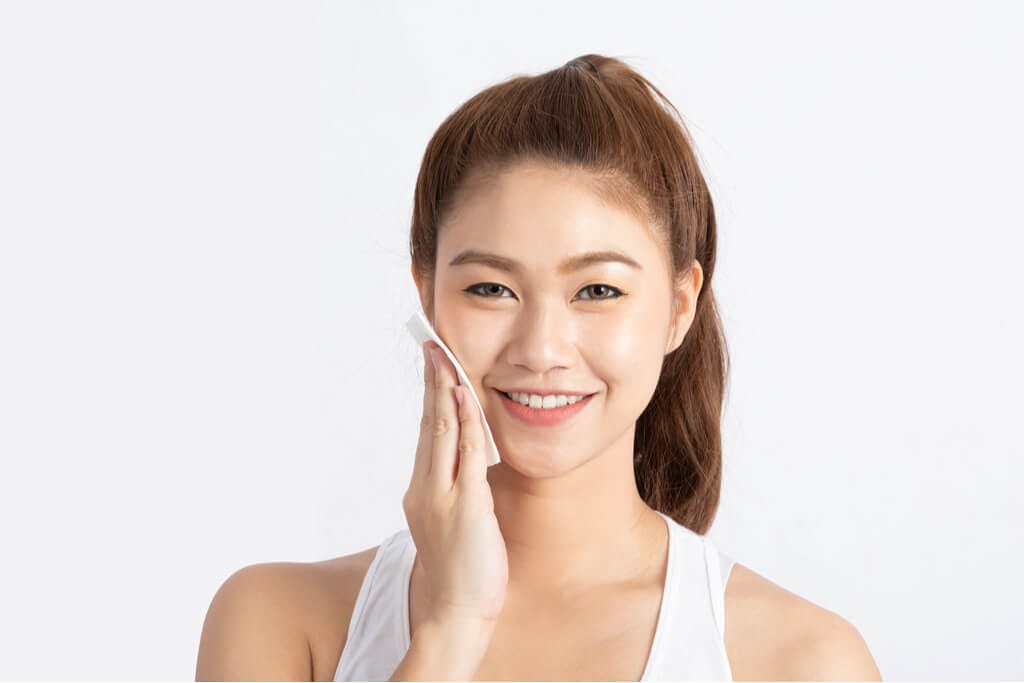 Image via Shutterstock
Tone daily before putting on your makeup. Think of toner as like a pre-primer. It preps your skin for the wear that's to come. Our must-have is Charlotte Cho's recently launched Then I Met You Birch Milk Toner. The toner contains 76% birch milk juice and has received rave reviews already, with reviewers hailing it as an instant classic.
Serum
Our must-have serum is the light SeoulCeuticals Day Glow Serum, which has an organic,  Vitamin C base and is suitable for daily use to get that beautiful, glowing skin. 
Don't Forget Your Eyes
Eyes - the skin around the eyes is the thinnest so it's extra important to give it some TLC each day. There are many types of eye serums so our must-have is a bestseller in Korea (one is sold every three seconds): AHC ​Real Eye Cream for Face. It contains hyaluronic acid - a substance that adds plumpness and hydration on top of being great for anti-aging and an anti-inflammatory. Plus, moisturized eyes help Korean eye makeup to adhere better.
Moisturize, Moisturize, Moisturize!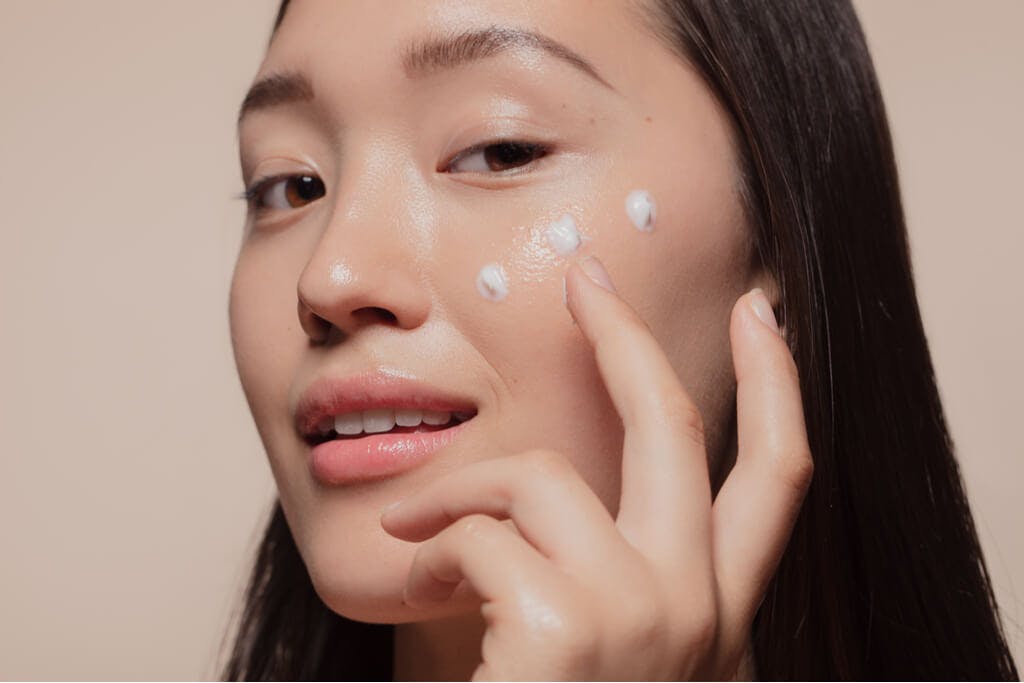 Image via Shutterstock
Day and night, moisturizing is so important to get that dewy, glowing skin and keep dry skin and fine lines away. All skin is different, so browse your favorite K-beauty site and check the one that suits your skin the best. 
For now, we recommend: Innisfree Green Tea Seed Cream. Innisfree is one of the best Korean makeup brands of this year due to their simple and natural products. The green tea seed oil is no different as the oil in all Innisfree creams comes from their own organically-certified farm on Jeju Island in Korea. 
Sun Protection
UV: you can't get glass skin with a face full of sun damage. Even if it's a cloudy day, be sure to apply sunscreen (and reapply every two hours), ideally SPF30 or above. Our must-have is the SPF 50+ Thank You Farmer Sun Project Water Sun Cream. 
Treat Time!
Weekly, give your skin a treat with a sheet face mask, popularized by K-pop mega-band BTS. We recommend the LAPCOS brand, one of the Korean pioneers of sheet masks. We recommend the variety pack below so you can try them and find the best for you.
We hope you've enjoyed our must-have Korean beauty products list. Let us know about your routine in the comments below.