Not many people would think of bath time as a communal time, or even as something special. But in Japan, baths can be a chance to relax, a chance to connect with others, or a chance to enjoy the beauty of nature. It is also a very important part of Japanese culture and traditional Japanese beauty. 
So let's take a dip into the world of Japanese bath culture.
The History of Japanese Baths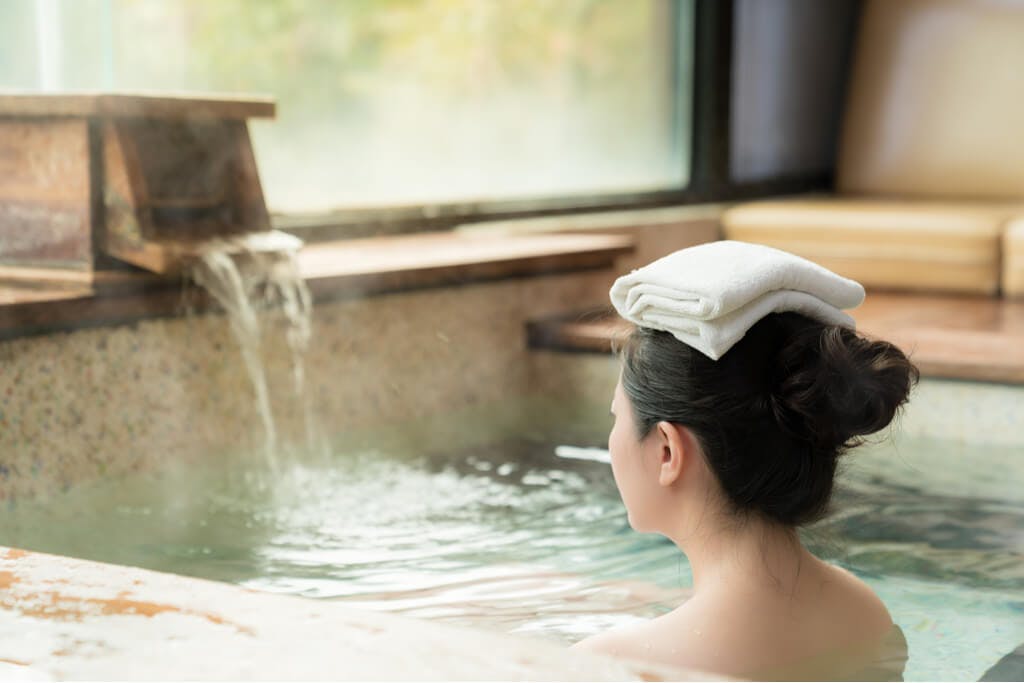 Image via Shutterstock
Japanese bath culture - be it bathing at home, at a public bath, or in a hot spring - is an important part of Japanese daily life, but also steeped in history.
The ritual of bathing was introduced to Japan alongside Buddhism in 552 A.D. To Buddhists, bathing is seen to wash away not only visible impurities but also thoughts and stress. 
The first baths were actually more like steam rooms, and it was only in the Edo period (1603-1868) that people started using traditional baths as we know them. 
Despite there now being a bath in almost every Japanese home, many homes back then didn't have baths, so their occupants went to the sento (bathhouse). Even today, as many Japanese homes only have a small bathtub, going to the sento is seen as a way to relax and  enjoy the traditional bath experience.
Looking for the latest in Japanese beauty post-bath time? NoMakeNoLife sends fabulous J&K-beauty items right to your door so you can continue relaxing.

Sentos: Community Bath Time
Sentos are located for convenience, often in the center of residential neighborhoods, to create the feeling of having a bath 'at home'. Their facilities are basic in comparison to day spas in the city and onsens (Japanese hot springs) in the countryside, and they even generally come with a place to do laundry. 
Sentos are a great way to get to know the local neighborhood and have a real local vibe. It's a place where people of all ages and walks of life can gather. You'll often find children playing alongside people chatting away with their neighbors while enjoying a soak. 
Sentos are often basic with one main bath, but some have different types of baths with varying temperatures and minerals too. Look out for ones with body jets, as these are like a water massage for those weary muscles. You might even end up in a place with an electric current bath. We dare you to try it. 
How to Use a Japanese Bath
If you go to a sento, it's recommended to bring your own amenities such as shampoo, body wash, and loofahs, as they are rarely included. You can often buy miniatures at the reception desk though. You may also want to bring two clean towels, one for washing and one for drying, as some facilities charge for towels.
In sentos (as well as hot springs and day spas), male and female bathing areas are separated and you must get naked before you enter the bath. It's a great way to become comfortable with your body, and trust us, even if it feels weird to be in your birthday suit in front of strangers, you'll quickly forget any qualms when you're in the bath itself. 
Before entering the water, you MUST wash your body thoroughly at the small showers located near the entrance. It's not just part of tradition, it helps to keep the water itself clean. Avoid standing during your shower to limit the amount of splashback. Stools are provided, so you can use it freely and wash while seated.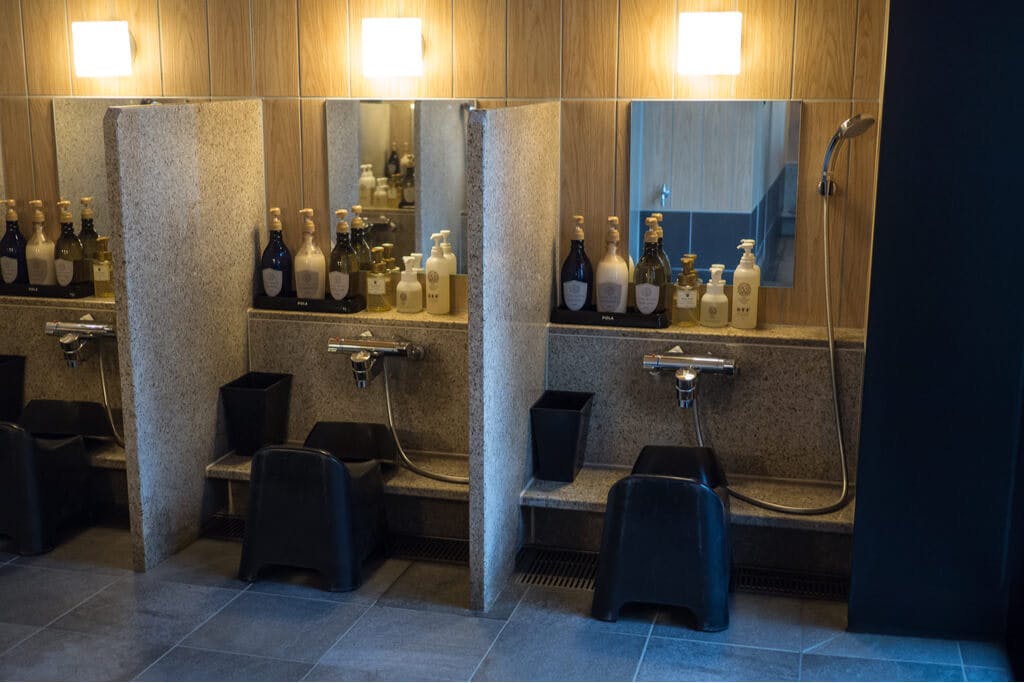 Image via Shutterstock
Once thoroughly scrubbed and rinsed, you're free to experience any of the baths in the room. You could even ask a local if they have a recommendation. Some locals love cold water baths after the hot water ones.
Feel free to get out when you're ready. You'll have to keep your towel by the door (there's often a shelf for you to do this) so you can pre-dry yourself before heading back to the locker. You may also want to prepare any Japanese skincare essentials you might need beforehand so you can trap in those minerals and moisture from the bath.
A great thing about sentos is that, by law, they allow tattoos, so even if you are inked head to toe, you can enjoy a good soak.
Onsens: Baths and Nature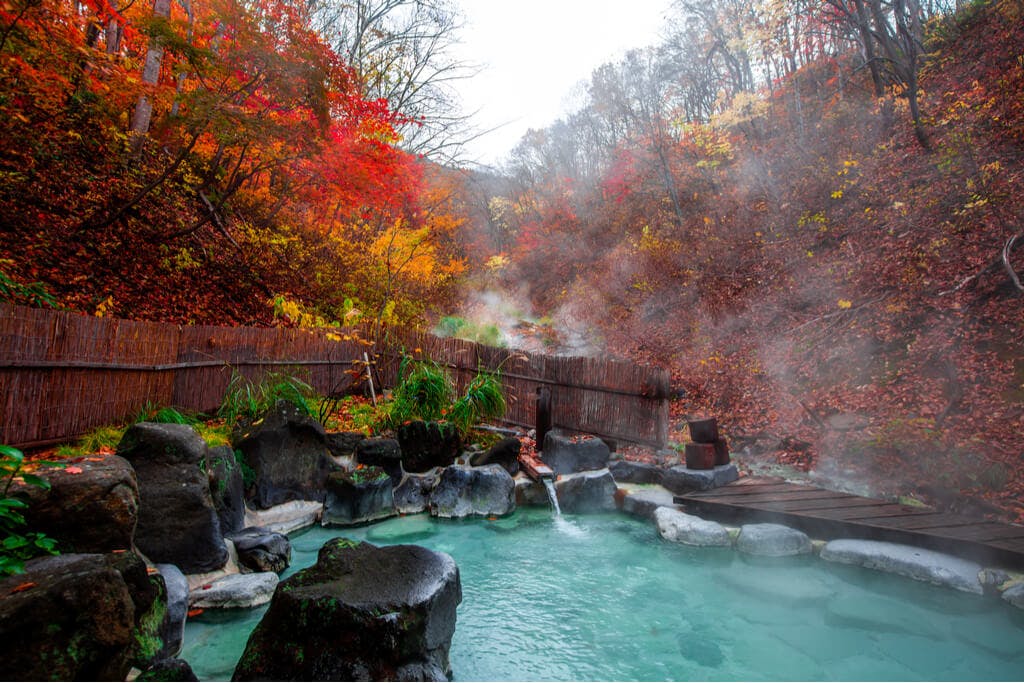 Image via Shutterstock
The other popular type of bath, and the more tourist-friendly of traditional Japanese bathing, is a hot spring called an onsen. While the sento is seen as more of a daily habit, the onsen is a little more extraordinary. 
The requirements for onsen bathing water are high - the water must be rich in certain minerals and chemicals, and a minimum of 25℃ (77℉), so you can be sure that your body will be thankful after an onsen trip. Onsens are often located close to the source of the hot spring so you'll often find them in the countryside, sometimes in jaw dropping settings like in a forest in the mountains or overlooking the sea. 
An onsen is often designed for a day trip, so people go to onsens with their friends, family, or even alone. However, some onsens are part of traditional Japanese inns where you can enjoy a soak, a traditional Japanese meal, and a relaxing night.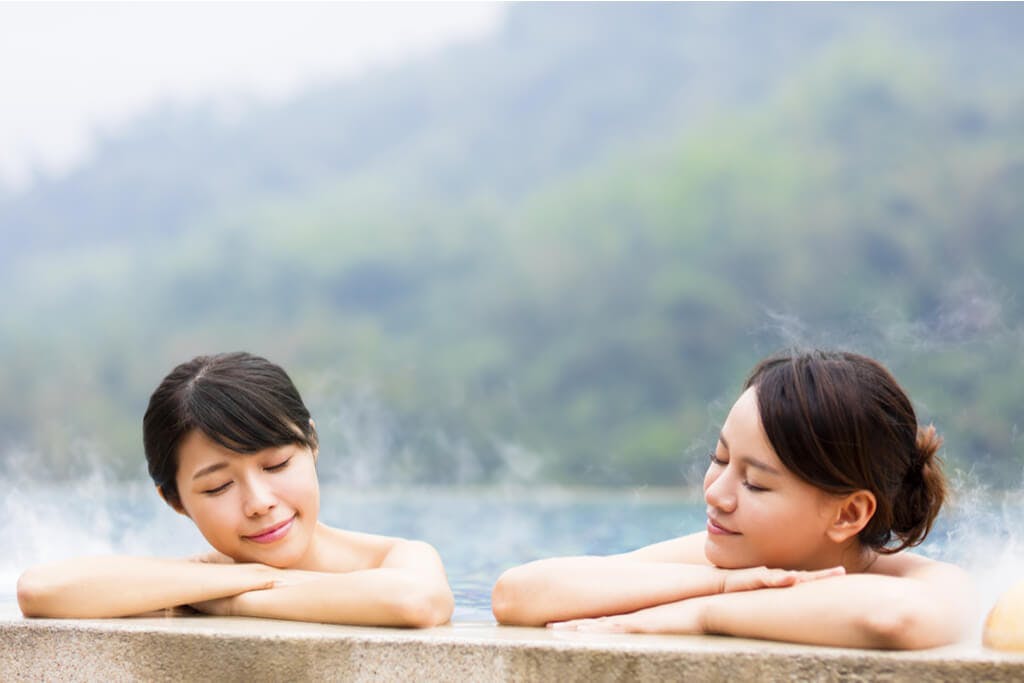 Many onsens also provide small face towels as a souvenir, with the onsen's logo or symbol on it. Some people even collect the small towels to remind them of an onsen trip, just like people who collect magnets from their travels!  
In an onsen facility, there can be many types of baths that vary greatly. Normally, there will be both indoor and outdoor baths, the outdoor being called rotenburo (open air baths). The great thing about onsen is that the rotenburo often comes with a breathtaking view thanks to the fantastic countryside or seaside locations . 
Rotenburo in secluded forest locations let you look up at the trees as you enjoy bathing in hot, mineral-filled water. Other rotenburo overlook the ocean, so you can look into the horizon as far as your eye can see. Some famous rotenburo are popular winter locations where you can see a beautiful winter wonderland from your bath.
As Sylvia Plath famously said: "There must be quite a few things that a hot bath won't cure, but I don't know many of them." So the next chance you get, soak away those troubles with a Japanese bath.