The 90s was the golden age of Japan's fashion scene. At the time, Japanese high-fashion brands, like Comme des Garçons and Yohji Yamamoto, were taking their place on the world's runways. Simultaneously, an explosion of fun and colors was sweeping through the streets of Harajuku. Here are 9 fashion trends from the '90s that, if you love Japanese fashion, you need to know!
Decora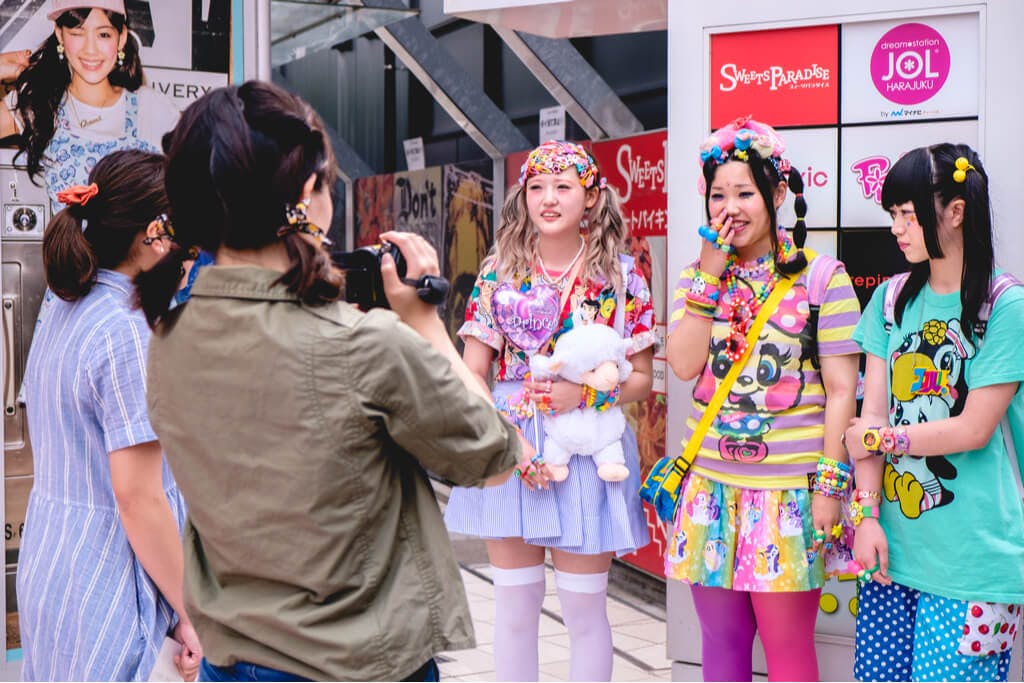 Image via Shutterstock
From the late '90s to the early 2000s, a new, vibrant style appeared in Tokyo: Decora. This style's mainstays include the use of vibrant colors, cartoon character motifs, and an overabundance of 90's accessories (think plastic bead necklaces or Japanese hair accessories like barrettes). Playful and fun, decora quickly established itself as a staple of Harajuku fashion, and is still one of the top Japanese street fashions today.
Kogyaru or Kogal
Inspired by schoolgirl uniforms, the kogal style is characterized by short, pleated skirts and slouchy knee socks. Accessories included Burberry scarves and designer goods (often knock-offs), as well as cute items, like cell phone charms. This Tokyo fashion was mainly adopted by teenage schoolgirls who would hang out in areas like Shibuya and Harajuku. 
One of the most popular pastimes for kogals is taking photos at purikura (fun Japanese photo booth). During the trend's heyday, polls found that kogals were likely to visit purikura once a week.  During the late 80s and early 90s, the style veered towards a kawaii aesthetic, but as the decade wore on it trended more towards the sexy.
Want to stay up on the latest trends in Japanese and Korean makeup trends? NoMakeNoLife sends the latest J&K-beauty items straight from Tokyo right to you!

Shibu Kaji (Shibuya Casual) 
Shibuya Casual is a mainstream style that came into fashion in the early 1990s. It was popular with private high-school and college students, for whom Shibuya was a major recreational hub. The trend was all about pairing classic, basic staples like blue blazers, Levi's denim clothing, and Louis Vuitton bags for an elegant, understated look.
Fure Kaji (French Casual)
The introduction of French brand Agnes B to the Japanese market led to a wave of interest in French fashion. Inspired by the elegance of the streets of Paris, this style is similar to the Shibuya casual look, but with a French flair. The color palette of this style is either simple monotones (black, white, and beige), or the red, white, and blues of the French flag. Common staples include berets, trench coats, and striped shirts.
Paragal (Paradise Girl)
Paragal became popular in the early 1990s. Meaning "paradise girl", the style took inspiration from resort styles popular in LA at the time. The clothing of this style was more revealing and skin-tight than the usual Japanese clothing, defying social norms in a unique expression of femininity. The paragal style later evolved into the more extreme gyaru style which became popular in the early 2000s.
Visual Kei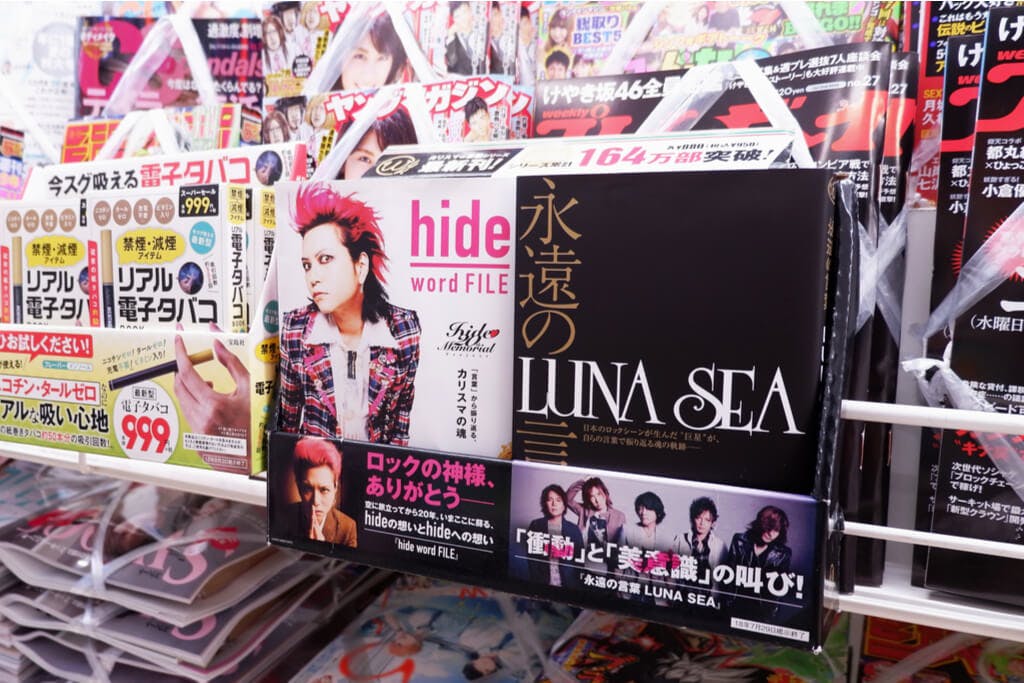 Image via Shutterstock
Visual kei began in the 80s, inspired by the look of bands like X Japan, Buck-Tick, Dead End, Luna Sea, D'erlanger, Color, and Glay. The members of these bands wear flamboyant costumes, paired with smoky makeup, colored contacts, dyed hair, and complex hairstyles. Visual kei, as a style, seeks to emulate this performance wear, although the streetwear version tends to be slightly less excessive. 
In the 90s, visual kei became more mainstream, as the bands themselves found mainstream success. As the style grew in popularity, new sub-styles appeared based on region and style variations, like Nagoya kei, angura kei, and ouji kei.
Urahara Kei
This fashion style was named for the Urahara area in the backstreets of Harajuku, where several big-name Japanese brands launched in the 90s including GOODENOUGH (Hiroshi Fujiwara),  UNDERCOVER (Jun Takahashi), Neighborhood (Shinsuke Takizawa), WTAPS (Tetsu Nishiyama), and A Bathing Ape (NIGO). 
These rebellious streetwear brands, bringing Americana and hip hop inspiration with a uniquely Japanese twist, launched the Japanese street style we know today. Characteristics of Japanese street fashion include graphic tees, military-inspired workwear (like cargo pants and vests), logo hoodies, and heavyweight denim.
Lolita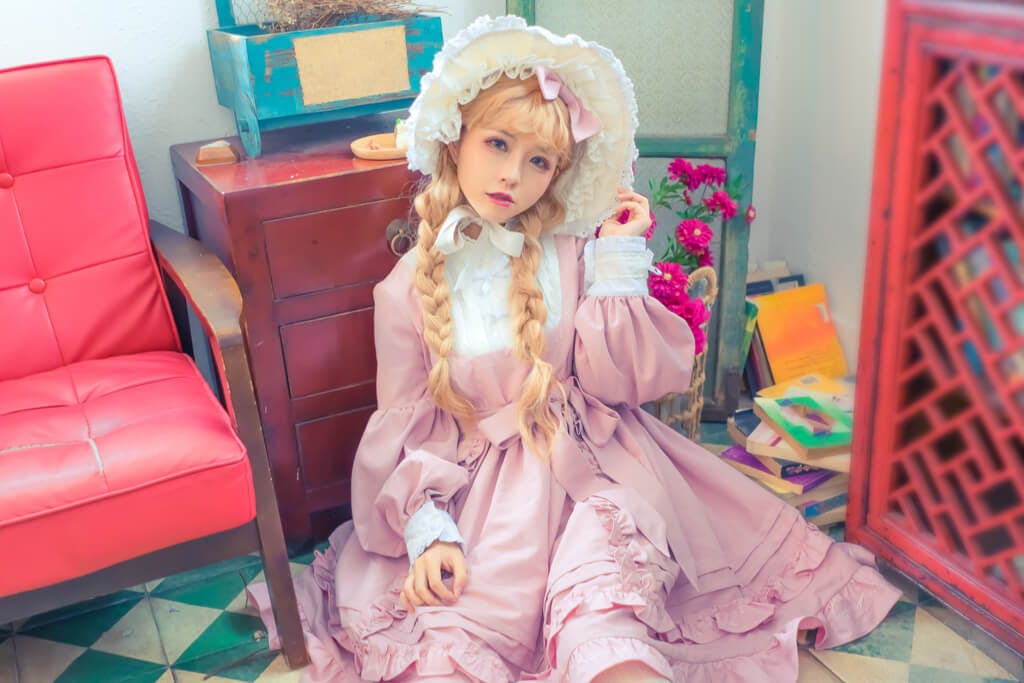 Image via Shutterstock
Lolita is inspired by Victorian and Rococo fashions, but adapts them to create a child-like or doll-like appearance. The style is characterized by knee-length dresses, poofed out with petticoats and worn with knee-high socks. The lolita fashion trend began in the 1970s, but during the 1990s, the style became more clearly defined. It also earned the name it is known by today. 
During this decade, established brands like Angelic Pretty became more popular, while new brands like Metamorphose launched into the market. Each brand had its unique take on the subculture. With the expansion of the subculture, lolita became divided into many sub-styles, including gothic lolita, casual lolita, hime (princess) lolita, and pirate lolita. It is still inspiring quite a few iterations of cute Tokyo street fashion to this day.
Karasu-zoku (Crow Tribe)
Karasu-zoku began in the 1980s as the complete opposite of kawaii fashion. The style is characterized by black clothing with oversized, unisex silhouettes. The clothes were designed to shroud the body, making the wearers look like large crows. However, not just any black, oversized clothing would do, members of the karasu-zoku took particular pride in being able to purchase high-fashion pieces. 
Japanese fashion designers Issey Miyake, Yohji Yamamoto, and Rei Kawakubo all launched avant-garde brands with this aesthetic. These brands were not only popular with followers of the crow tribe, but revolutionized high-fashion around the world.