Many K-Beauty brands are known for their makeup and skincare, but hair care is equally important. Using the best products suited to your hair type will help make your hair smoother and softer. If you are a fan of Korean hair care products or want to learn more about this part of K-Beauty, here are ten Korean hair care brands to get you started.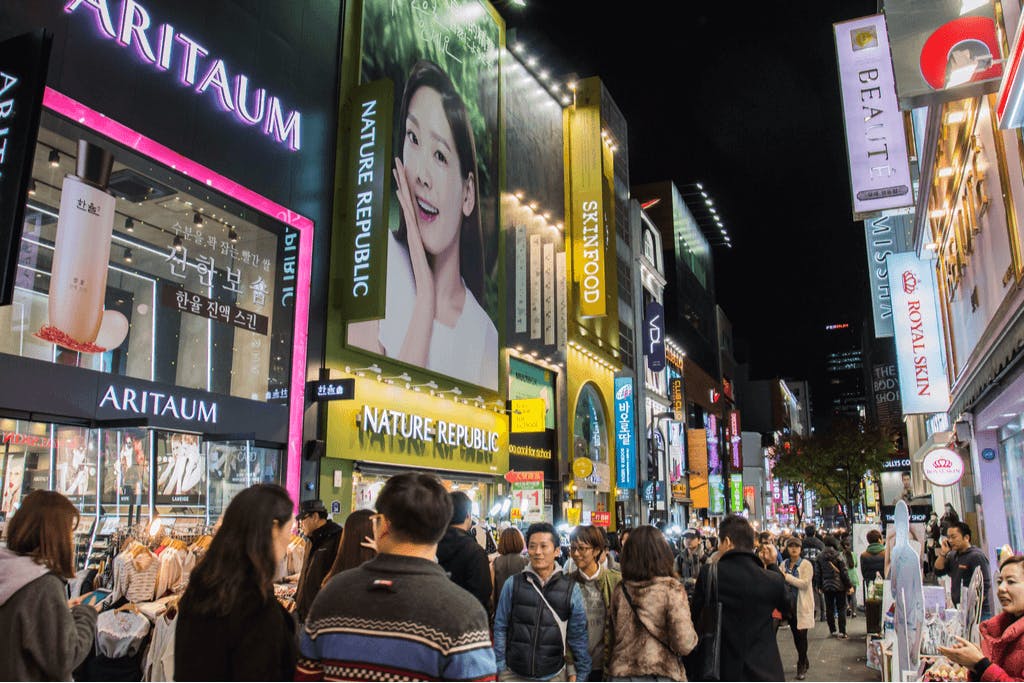 Image via Shutterstock
Whamisa
Whamisa is a Korean beauty brand that uses high-potency certified organic ingredients to create natural skincare. Its brand emphasizes organic, cruelty-free, and vegan products. They have pioneered skincare fermentation technology, natural preservation, and botanical formulations over the course of more than ten years of research. This also applies to their hair. 
This Korean hair care brand produces 100% natural and sulfate-free treatments for all hair types. One popular product is the Organic Seeds Shampoo that has fermented ingredients such as barley, soybean, and oats. For additional benefits, it is infused with hair strengthening natural cedarwood and bergamot essential oils. This is a brand that will meet all the needs of your hair using only natural components.
Mise-en-scène
Mise-en-scène is a professional Korean hair care brand that specializes in treating hair damage, smoothing hair, and styling. Mise-en-scene actually translates to "setting the stage," referring to how everything in a film comes together in front of the camera. As a result, they promote "directing" one's own hair destiny and striving for perfection. 
In collaboration with hair artists, Mise-en-scène has created products for healthy hair and beautiful style. One of their most popular products is the Perfect Repair Hair Serum, which is infused with argan oil, repairing dry and damaged hair. It's been a best-seller in Korea since 2011.
Looking for a way to make your hair silky with these Korean hair care brands? NoMakeNoLife delivers the latest Japanese and Korean beauty products, from makeup to hair and skincare, from top brands like Mise-en-scène and TONYMOLY right to your home! 

innisfree
Innisfree is a natural beauty brand that is based on creating products from the nature on the South Korean island of Jeju. This is another Korean hair care brand that uses natural ingredients. 
Innisfree promotes natural beauty and focuses on delivering a natural and clean approach to skin and hair care. Green tea, orchids, and even volcanic ash are some of their popular natural ingredients. Their most well-known hair care products include camelia, green tea, tea tree leaf oil, and cypress water. 
This brand also aspires to provide beauty solutions at affordable prices, and it has a large following not only in Korea but also internationally. They also help the environment by advocating a green lifestyle and running eco-friendly campaigns.
TONYMOLY
TONYMOLY is a fun and playful brand that delivers high-quality ingredients in unique designs that channel a kawaii aesthetic (cute aesthetic). TONYMOLY stands out from the crowd by combining innovative concepts with high-quality, low-cost items. Its brand sells cruelty-free Korean cosmetics products as well as being a Korean hair care brand that sells quality hair masks. 
One such popular hair product is the Haeyo Mayo Hair Nutrition Mask which is made to look like a mayonnaise jar but smells like shea butter, vanilla, and macadamia nuts. It helps to fix damaged and dry hair. 
Nature Republic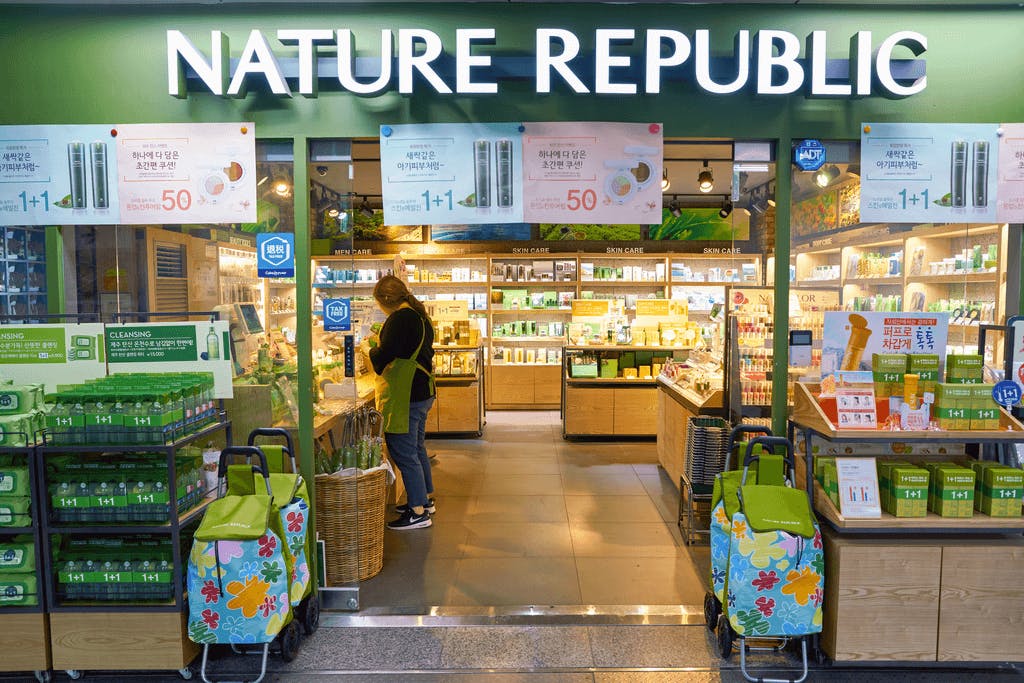 Image via Shutterstock
Nature Republic is a Korean hair care brand as well as a cosmetics brand. The brand likes to embody the theme of nature, as its name suggests. This brand has simple and clean packaging with an image of nature and the product's main ingredient. 
It provides a wide choice of hair care products at affordable pricing so that everyone can enjoy its products. The Argan Essential Deep Care Hair Pack is one of its most popular hair care products. 
They also provide herbal shampoos that help to prevent hair loss and cleanse the scalp of excess sebum. The brand's overall goal is to share the gift of nature. It claims itself able to research natural products without copying others while keeping Nature Republic's position as the market leader in natural cosmetics.
Etude House 
Etude House is a colorful and dreamy brand that wants to make cosmetics a fun daily routine rather than a boring chore. Customers can use the brand's products to have fun while discovering their own unique beauty.
 Etude House is not only an affordable Korean cosmetic brand but also a Korean hair care brand that makes beauty dreams come true. Color hair treatment and the Silk Scarf Double Care Hair Mask, an oil treatment for permed and colored hair that promotes healthy texture and shine, are among their hair care products. 
Amos Professional
Amos Professional offers high quality professional salon coloring, perm, scalp care, and styling products available. Its brand is targeted at more professional salon styling, and it is regarded as Korea's number one salon hair care brand. It was even used to create runway hairstyles during the Hera Seoul Fashion Week.
Elizavecca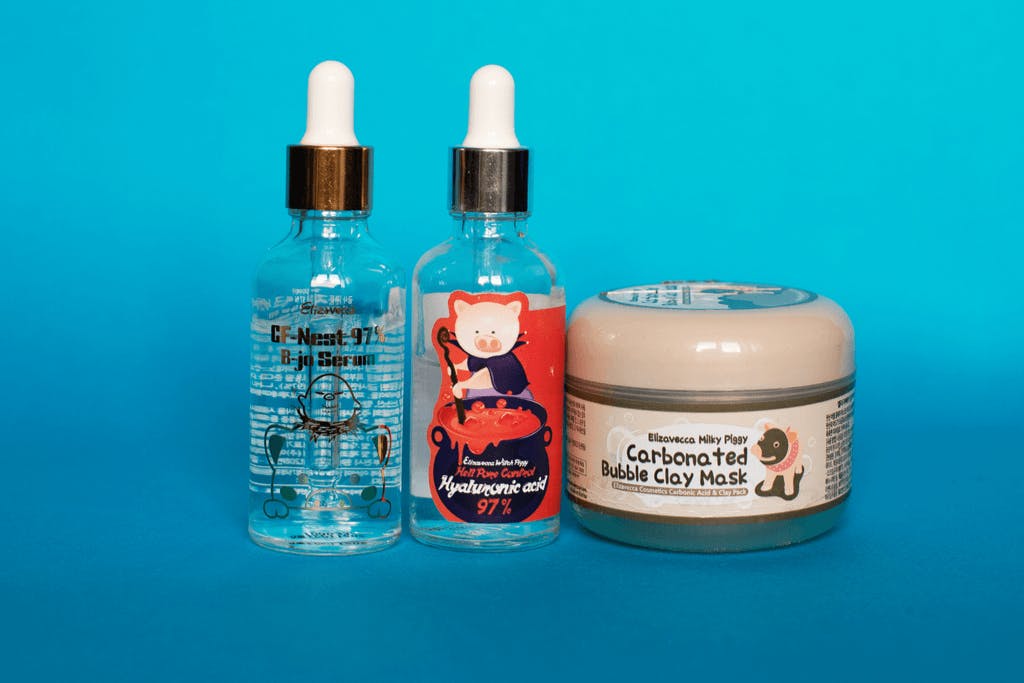 Image via Shutterstock
Elizavecca is a popular cosmetics and hair care brand that promises to make your skin care regimen more enjoyable. As much as possible, the brand focuses on being environmentally friendly, such as using non-toxic recyclable materials such as glass bottles instead of plastic. Even better, Elizavecca is well-known not just in Asia for its high-quality, low-cost products, but also in the West for its inventions. 
Did you realize, however, that they also provide fantastic hair care products? 
The Milky Piggy Carbonated Bubble Clay Mask is well-known in the K-Beauty community, but have you heard of the Milky Piggy Collagen Coating Protein Ion Injection? This pig collagen treatment is rated as the best mask among Korean Hair Care Products. It protects hair from damage while also supplying nutrition. Plus, the herbal ingredients aid in the resiliency of the scalp, as well as making hair softer, smoother, shinier, and bouncier. 
Holika Holika
Holika Holika products have eye-catching packaging that appeals to young, stylish people. The brand offers low-cost, high-quality items that are created using the best components. This Korean hair care brand has products made with Vitamin B to help treat damaged hair.  
Biotin hair loss control shampoo is also a part of the brand's hair care. Holika Holika's ultimate goal is to offer fun, practical beauty products that enhance natural beauty. Holika Holika also happens to be one of the best Korean makeup brands.
Aromatica
Aromatica really emphasizes sustainability over all, aiming to protect the environment with love and respect. They prioritize sustainability and use 100% recyclable packing to reduce reliance on raw materials. 
The Rosemary Root Enhancer and scalp treatment, as well as the Organic Golden Jojoba Oil, are among their silicone-free, vegan hair products. They also provide aloe vera gel that is organic and soothing.
Have you ever heard of these well-known Korean hair care brands? Did you know that some of the most well-known K-Beauty brands also sell high-quality hair care products? Let us know if we missed any of your favorite brands or if you have any recommendations of your own in the comments section below!