K-beauty has never failed to amaze the beauty world with its high-quality skincare products as well as many new makeup trends inspired by K-pop. Korean makeup trends tend to emphasize a natural, lovely, and radiant glow in every small detail: skin, eyes, blush, and lip, and are easy to apply to our daily routine. 
If you haven't heard about it yet, today we'll catch you up on some of the latest makeup trends in Korean beauty you should know!
Glass Skin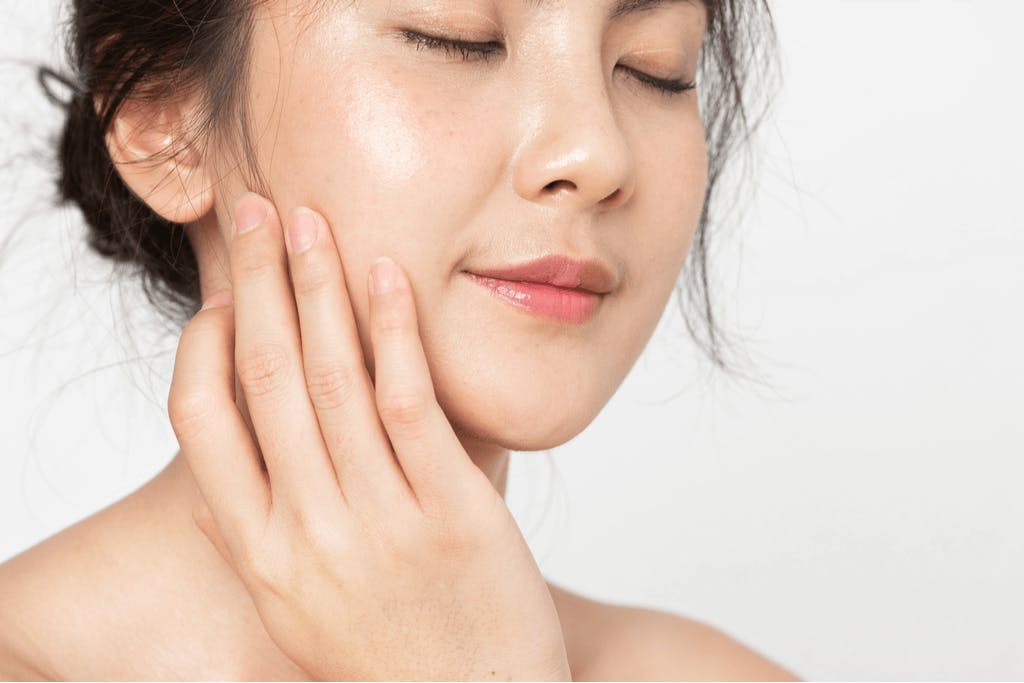 Image via Shutterstock
Koreans believe that beautiful skin is not just white and clear, but also smooth and shiny. So, it's easy to understand why Korean women are fascinated by the glass skin idea. The core to this makeup look is the lesser the layers, the better! If you have to put on many layers, it's best if each layer is as thin as possible.
Like the bare face effect popular in current Japanese makeup trends, glass skin makeup focuses on using a thin and light foundation the same color as our skin or one tone lighter for a natural look. However, cream foundation, which usually results in a matte mochi-skin finish, is not recommended. Generally speaking, products with thick properties, poor solubility, and high stickiness are not friendly for Korean makeup style.
Instead, a moist and liquid foundation is the best choice as it will create a moisturized, glowy skin with radiant finish that reflects light naturally.
If your skin has less blemishes, you can use BB cream or CC cream as this kind of foundation is loose, easy to blend, and doesn't cause tightness to the skin.
In fact, cushions are must-have Korean beauty products when it comes to foundation for a K-beauty look. K-beauty has always been known for wide ranges of cushion suitable for many skin types and skin problems that you can choose from. Korean girls love cushion as it contains water activity to help plump the skin and create a healthy shine, perfect for a glass skin look.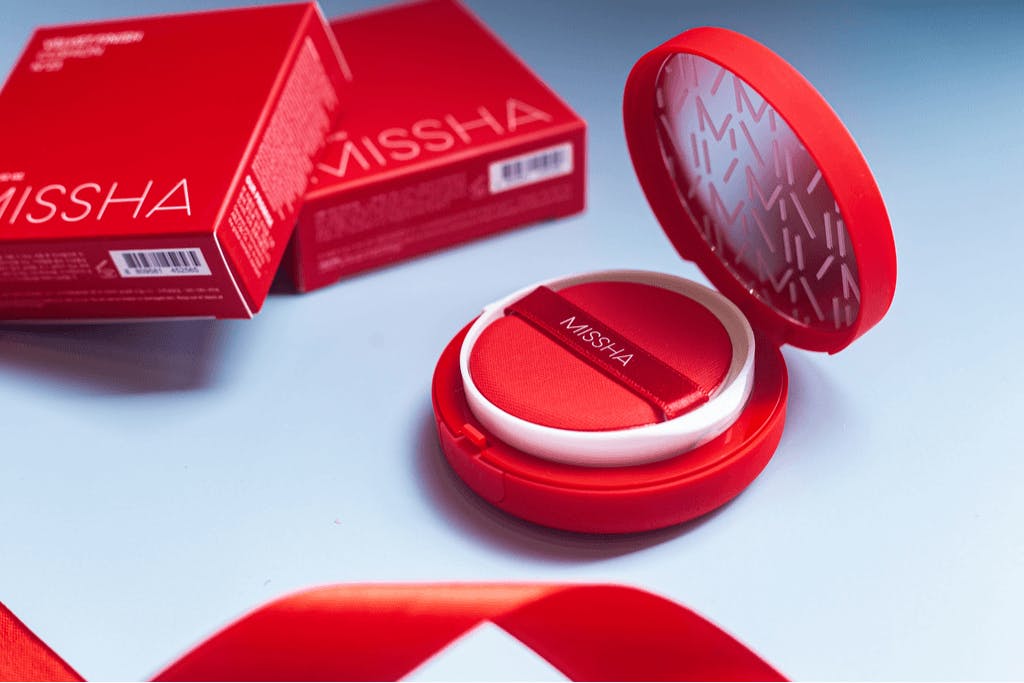 Image via Shutterstock
Notes:
No matter what kind of makeup look you are trying on, a rule of thumb is to always have a thorough skincare routine from cleansing, toning, moisturizing to sunscreen. Having naturally healthy, glowing skin with less defects will help reduce the time and efforts you have to put on the foundation step. 
Also, providing enough moisture to the skin will make your skin smooth and shiny – the core to a glass skin makeup look. If you need help with moisture, check out these Korean products for dry skin that can help restore your skin.
Want to revitalize your skin to have this natural glowy look but don't know where to start? NoMakeNoLife sends the latest Japanese and Korean beauty products monthly to your door, perfect for your skincare and makeup routine to achieve an effortless glowing look!

Step 1: After your basic skincare, apply a light primer layer to even out the skin tone, cover pores, and smoothen the skin's surface.
Step 2: Apply cushion or your foundation, BB cream, or CC cream of choice from the forehead, down the T-zone, cheeks and chin. Don't forget the hairline, ears, and chin bone, as well as the neck areas to avoid skin color deviation.
The point here is to use a moist sponge with a beveled edge to help the foundation blend in evenly, especially on the sides of the nose or corner of the eyes, and avoid cakey makeup. Also, remember to dab the sponge gently, do not rub it!
Step 3: Use a moderate amount of concealer for areas that still need more coverage. However, not many Korean girls use concealers for glass skin makeup because most Korean cushion foundations also have the effect of concealing blemishes.
Step 4: Apply setting powder on areas that get oily easily, such as the T-zone. Powder is important for both dry and oily skin as it helps your foundation last longer.
If you have oily skin, don't skip this step. But if you have to, try to choose a cushion foundation with oil and sebum control to avoid over-shininess.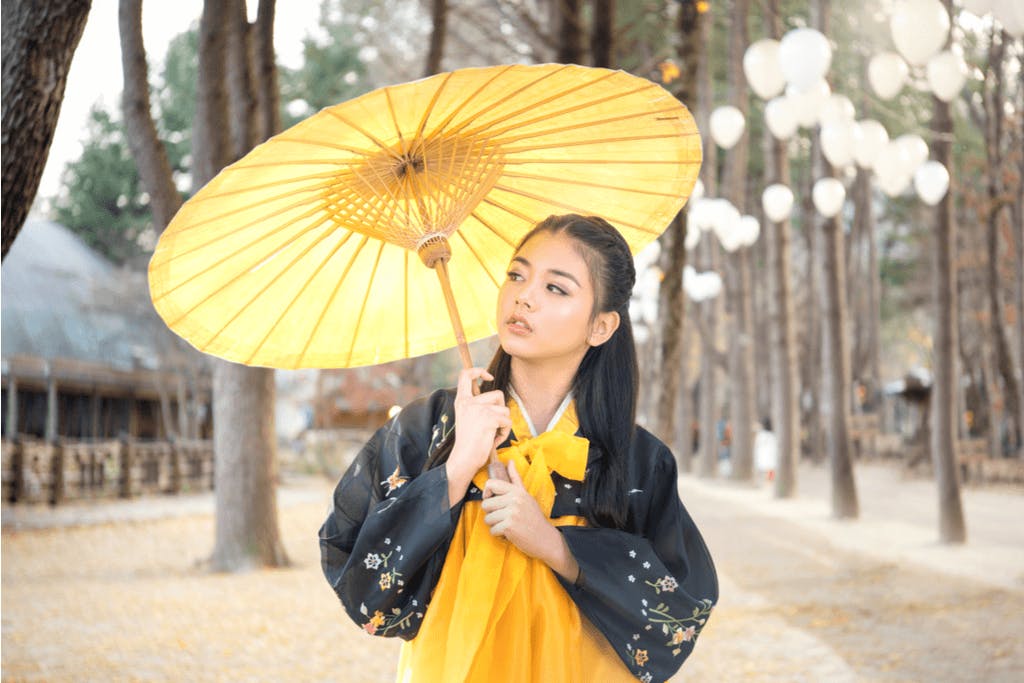 Image via Shutterstock
Hangover Cheeks and Rosy Cheeks
As the name implies, apply the blush under the eye areas and across the bridge of the nose to create a natural drunk cheek effect.
On the other hand, rosy cheeks have long been popular in Korean makeup styles as much as in Japanese makeup styles. Just go in a circular motion around your cheek bones and spread it gently towards your nose, then apply multiple layers until it is as bold as you want!
Korean blushes generally have very gentle colors like pink and orange tones to help the makeup look natural but still fresh and youthful. Plus, it's easier to put on many layers to our own liking. For girls with lighter skin tones, blush colors like peach blossom or coral orange will look good; but if you have a naturally yellow skin tone, choose coral pink!
One more important note, you should not be greedy with blush colors, apply the powder very lightly and evenly on the cheeks, apply each layer one by one until the color appears in harmony with the whole face makeup. As we recently found out, K-pop star Jeon Somi likes to use blush as her 'wow' point, so you can too!
Notes: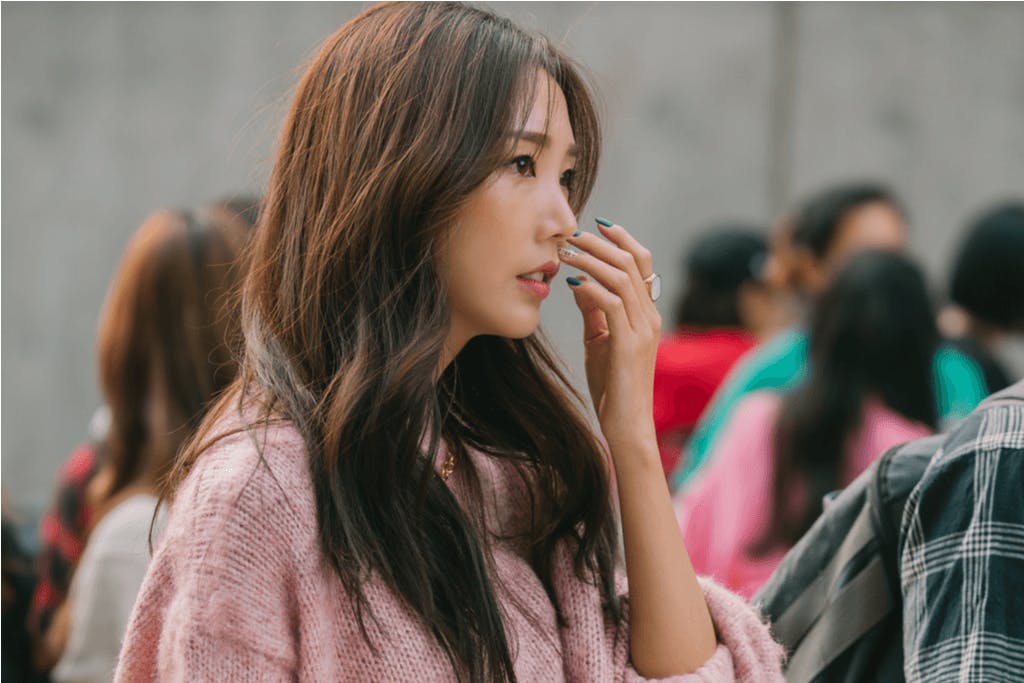 Image via Shutterstock
If you want to appear cuter or a little bit more "artistic" with the hangover blush, use a brown eyeliner or pencil to dot some freckles around the blush areas. This beauty trend is also favored by K-pop girl idols a lot, like Jennie from BlackPink.
Glass skin that reflects light will have a natural bit of radiance and glow will act as the perfect base for the other parts of the face to shine, especially when accompanied by lovely bright cheeks.
Check out Part Two for the rest of the look!
What Korean makeup trends do you use in your looks? Share with us in the comments below!