On top of the vibrant K-beauty look and the attractive, bold Western look, Japanese makeup trends have always been popular, especially with the Asian female community. Not too colorful or complicated, with just a few simple steps, anyone can easily get the natural, delicate, and gentle look Japanese women love. Let's take a look at the most common features of Japanese makeup trends with us!
Light Foundation for a Bare Face Effect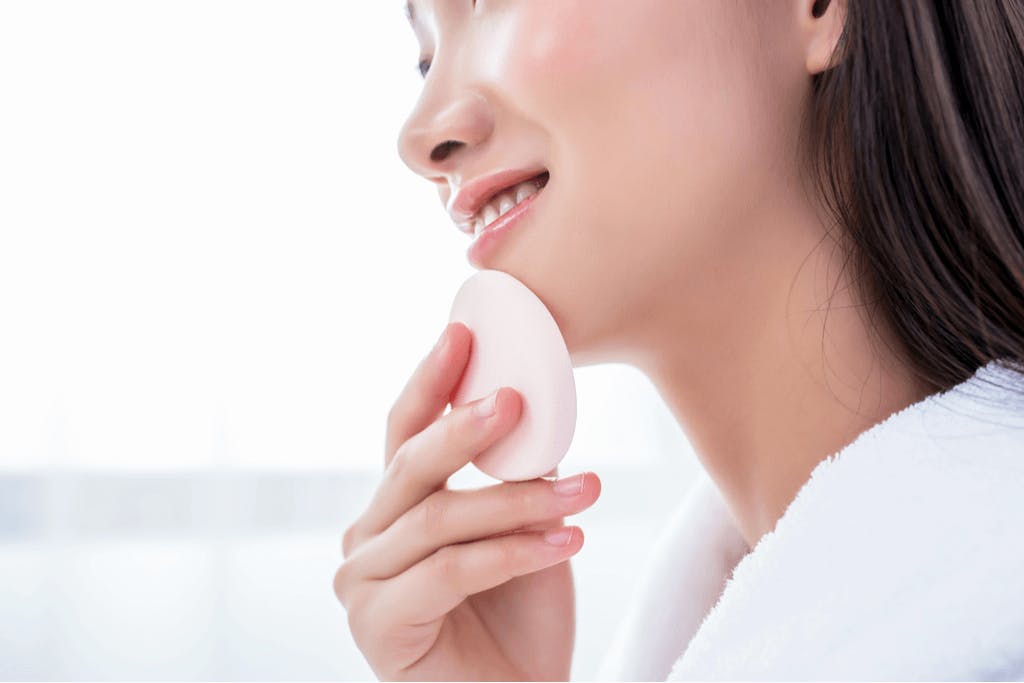 Image via Shutterstock
Unlike the full coverage base makeup look in the West, Japanese girls prefer a thinner makeup base with as light coverage as possible. Generally having clearer skin with less skin defects could be the reason, but Japanese makeup style emphasizes naturalness. So, a liquid foundation with lighter coverage and a base close to your real skin tone is used to create a natural matte finish and long-lasting base for the rest of your face makeup.
First thing first, you have to thoroughly prep your skin with skin care products, which Japan has many of. Skin lotion and moisturizer are the two most important steps in a Japanese skincare routine. Moisturizing your skin before putting on makeup is the secret to preventing the foundation from caking afterwards.
Also, don't forget to put on sunscreen and a primer as it will make your skin smoother and pores less visible. Plus, sunscreen is just good for sun protection in general. Japanese lotion and Japanese sunscreen are usually really high-quality and something to check out if you haven't already.
Instead of using a high moisture foundation, try using a matte foundation with light or medium coverage. It's best to use an appropriate amount of foundation–not too thick– to enhance the natural beauty of your skin. Apply with a moist sponge or brush to blend in your base well.
If your facial imperfections, such as dark spots or fine lines, haven't been covered yet, you can use concealer two tones lighter than your skin tone to cover them. A small tip is to apply concealer by dabbing it onto your skin instead of smearing it, which may lead to caking.
Next, use powder to set on any areas that often get oily, like the nose, cheeks, or forehead.
Want to try these Japanese makeup trends to refresh your style? NoMakeNoLife sends the latest Korean and Japanese beauty products monthly to your door, including all the makeup items you'll need to achieve a Japanese makeup look!

Let Your Natural Eyebrow Shape Stand Out
Japanese girls don't like horizontal eyebrow makeup like Korean girls, nor sharp edges like in the West. Eyebrows done with Japanese style makeup have a natural appearance with slightly curved eyebrows, clearly presenting the motto of "Simple is the best".
This eyebrow style is easy to draw and fits with almost any face shape. Just trim your eyebrows neatly, use an eyebrow pencil or powder to draw along the natural curve, and brush them with an eyebrow brush. It's recommended to use colors that match with your hair color such as dark brown and chocolate brown. For girls blessed with a more defined eyebrow shape, you just need to brush them into place.
Highlight the Eyes in a Simple Way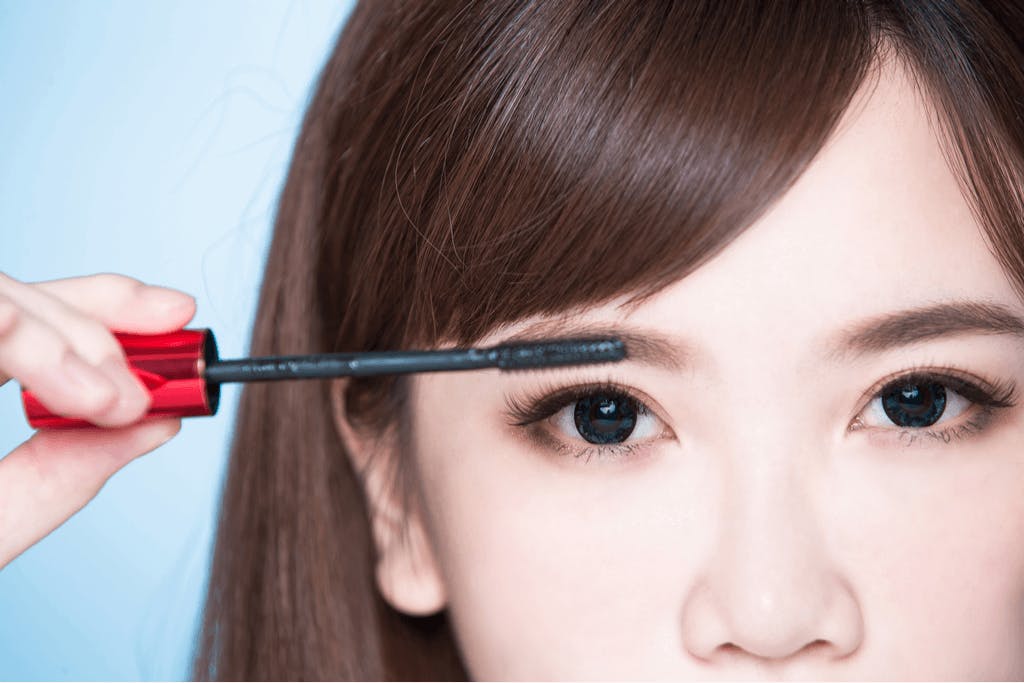 Image via Shutterstock
You don't have to cover your eyes with fancy colors because Japanese makeup can be very minimal. Japanese women apply eye makeup lightly and focus on making the eyes look big, round, and deep.
With current Japanese beauty trends in mind, they mostly use muted browns to blend the eyelids and a little dark brown to highlight the upper and lower lashes. If you want your eyes to stand out, add pearls, shimmer, or glitter on the eye bags and above the upper eyelids to make your eyes look shiny. That being said, trends are moving toward adding just a splash of color.
For daily makeup, some skip the eyeliner step while others use a brown powder or brown eyeliner to draw a thin liner along the natural shape of the eye and blend it. When it comes to eyeliner, a puppy dog eyeliner is more suitable than a cat eyeliner for a Japanese makeup look.
Japanese girls also lean towards items that make the eyes look naturally round and big, while still managing to show depth in the eyes. So, they don't draw sharp eyeliner like in Western styles, nor do they use bright eyeshadows as much as in Korean makeup, but eyelash curlers and mascara are a must! 
Japanese girls also like to use false eyelashes for a boost of curl and thickness. They also sometimes use contact lenses, with or without color, to help the eyes look bigger and brighter, or use an eyelid stimulator for a double eyelids effect.
Make a Point with Blush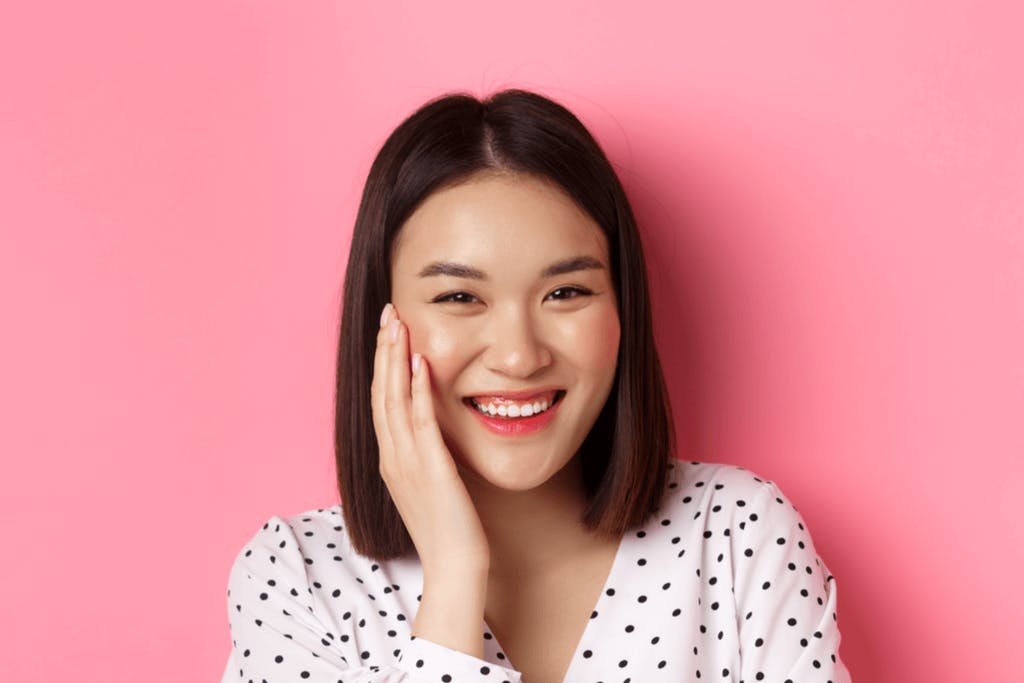 Image via Shutterstock
The eyes, eyebrows, and base use a more natural makeup look, but Japanese girls make a very clear point with their cheeks. This is a unique characteristic of Japanese-style makeup that is also usually known as "drunk" makeup. The cheek blush is what Japanese girls don't mind going over a little with brighter colors.
They often choose peach, coral or lotus pinks, which are very gentle but still radiant and outstanding. The key here is to apply blush little by little and evenly in a round shape on both the cheeks and under the eye areas until the color comes out in a natural harmonious tone on the face.
You can also apply a little blush on the tip of your nose and spread around the cheek areas to create a drunken cheek effect. Combined with the natural base makeup, rosy cheeks will brighten up your face and create a pure and lovely impression. This makeup style has also become an extremely popular makeup trend in Asia.
Plump Lips with Feminine Colors 
Japanese girls love a naturally plump lip with bright colors like tropical fruit. Lipstick trends in the J-beauty industry often focus on promoting a pair of natural-looking lips, so bright red or deep colors like wine red are rarely used in everyday makeup. Refreshing, cute lip colors like coral, orange-red, and baby pink or lip gloss are still the top choices for a Japanese makeup style. Nude colors are also a familiar choice for a more mature look.
To apply lipstick for the best effect, apply lip balm first. Then, apply lipstick evenly to the whole lip, or apply to the center of the lips, using a brush or your fingertip to spread it to the outer. Last, apply a little bit of lip gloss for a juicy, plump lip effect. Japanese and Korean lip tints are also popular in the J-beauty world.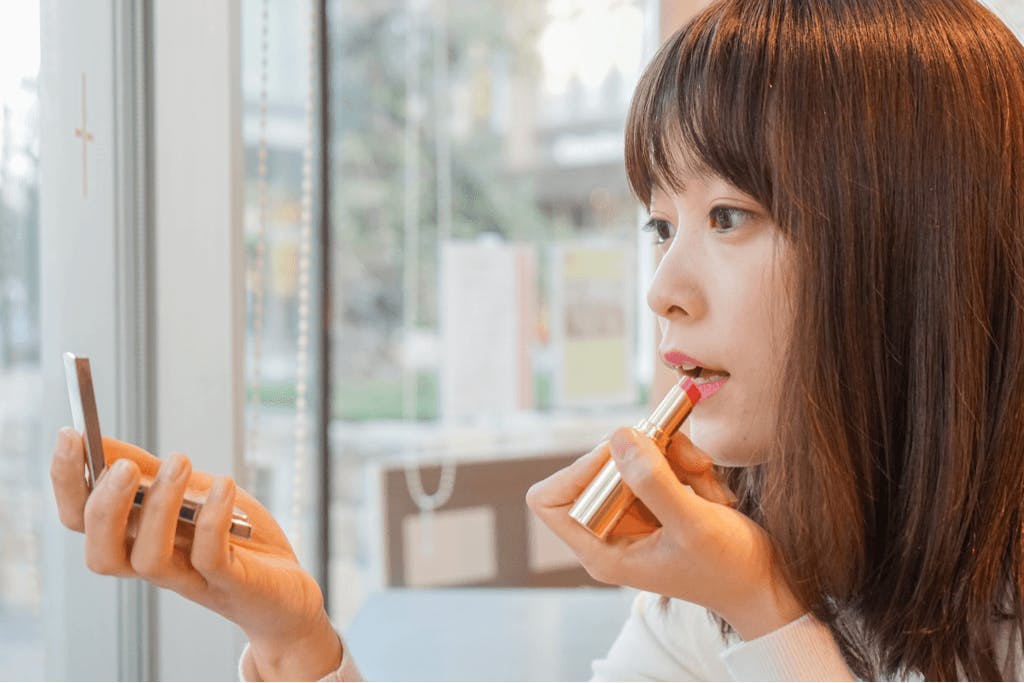 Image via Shutterstock
Final Tips
There is usually not much shading on the face, if there is any at all. Japanese makeup  prefers emphasizing the eyes, cheeks, and lips instead. Compared to the West, Asian people's faces are usually not as sharp as, being rounder and less angled. For Japanese beauties, highlighting the cheeks, eyes, and lips is enough to bring out their natural beauty and pure charm by emphasizing their natural features.
The Japanese beauty style simplifies the makeup steps to focus on the true beauty of your face. That's why this style of makeup is impressing the beauty world. If you're a busy girl who doesn't have much time to put on fancy makeup but still want to look gorgeous, why don't you try these Japanese makeup trends? We bet you'll fall in love!