If you don't know BT21, they're the cute characters made by the members of the Korean boyband BTS. The band joined LINE Friends' Creators initiative to create eight different designs that would become the BT21 characters: Tata, Mang, Chimmy, RJ, Koya, Cooky, Shooky, and Van. These characters have taken on a whole life of their own with tons of merch, including amazing BT21 makeup and skincare products.
By partnering with different makeup and skincare brands, they've created high-quality products with kawaii (cute) packaging featuring themed characters. They are not only adorable but also practical and functional. Let's check out the best products BT21 has to offer K-beauty enthusiasts.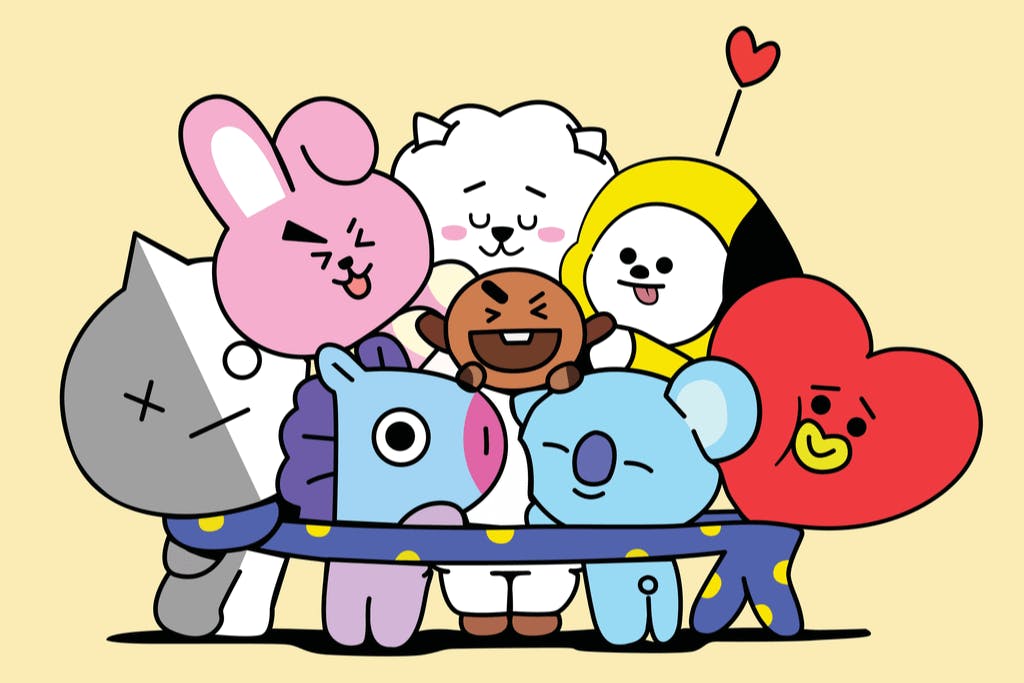 Image via Shutterstock
BT21 x VT: Eyeshadow Palette
VT Cosmetics, a K-beauty leading brand, has partnered with BTS to create eyeshadow palettes featuring 14 beautiful shades to rock any makeup look from natural to bold with a range of different finishes from matte, shimmer, and glitter. By using matte and neutral colors, it is possible to achieve an everyday look, while using glitters and shimmer shades allows you to create a glam look. 
The formula even promises to be long-lasting with sebum control. The eyeshadows are also pigmented, smudge-free, and free from fall-out. 
VT Cosmetics x BT21: Art in Blur Pact
Another staple from VT Cosmetics' collaboration with BT21 is their blur pact that contains calamine powder, which controls sebum and oil, leaving your skin smooth. This product actually blurs your pores and brings long-lasting softness and moisture, creating a flawless base for your makeup look. It is perfect for use throughout the day to make your makeup last longer and to get rid of any oiliness.
Love all things K-beauty (BT21 or not)? Check out NoMakeNoLife! NoMakeNoLife sends the latest in Japanese and Korean beauty, makeup, and skincare right to your door straight from Tokyo and Seoul, so you can enjoy a K-pop moment at home!

BT21 x The Crème Shop: Lip + Cheek Chic Stick 
The eclectic beauty brand called The Crème Shop created a lip and cheek stick that, besides being very hydrating, adds a soft kiss of color to your face. It's easy to wear and apply as well as being practical to bring for a trip as a 2-in-1 product, being used on cheeks as a blush or on the lips as a tinted lip balm.
It contains hyaluronic acid to hydrate and give a dewy glow as well as vitamin E that nourishes and brightens skin. Who doesn't love a makeup product with skincare benefits?
Want to check out more products from this iconic cartoon group? Check out these BT21 products!
BT21 x Vice Cosmetics: Aura Blush and Glow Duo
Vice Cosmetics products are known to be cruelty-free, paraben-free, and vegan. With that in mind, they have released a 2-in-1 compact containing their famous powder blush and highlighter. 
It has a buildable formula that lets you achieve your desired vibrancy, and delivers soft, subtle shades to bold pops of color. It has a silky texture that goes on easily, blends smoothly, and leaves a seamless finish. It can also be used for targeted illumination or an all-over radiance. So if you want to look like a glowing goddess, this is the right product for you. (They even have a glow lip.)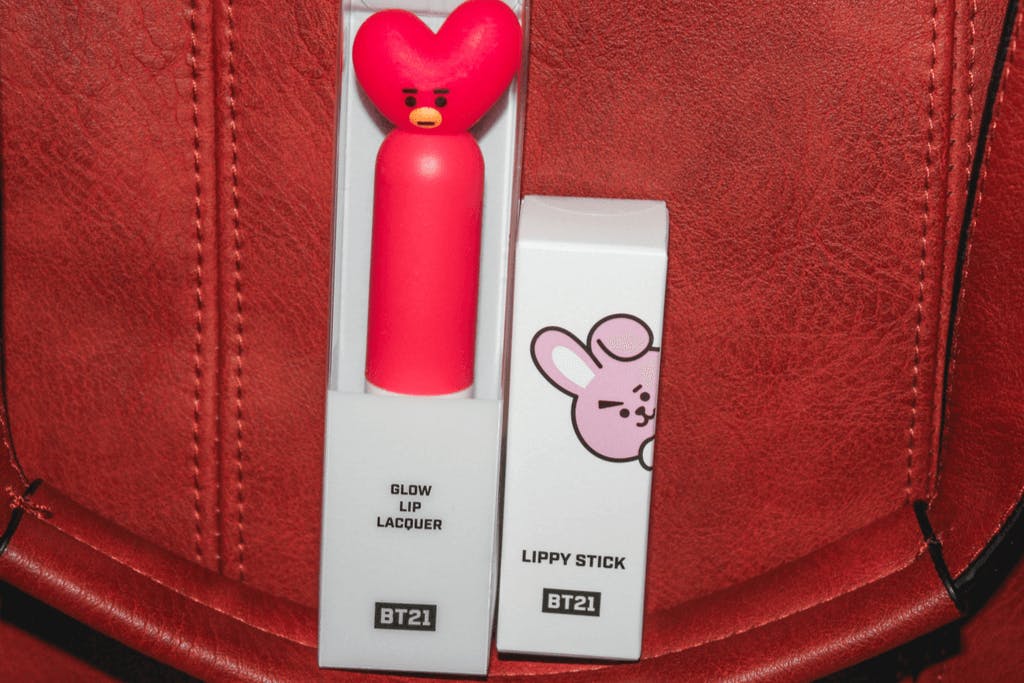 Image via Shutterstock
BT21 x Vice Cosmetics: Cooling Fit Sun Cushion
This product really has it all! It's not only great for brightening and anti-aging, but it also protects your skin from UV lights. The secret to young and wrinkle-free skin is to protect your skin from the sun, and this product has powerful sun protection.
The creamy texture is non-sticky, and it cools as it is applied. It pampers your skin by locking moisture without a white cast. It's even perfect for sunscreen touch-ups throughout the day.
BT21 x Vice Cosmetics: Rich Whip Cleanser
This rice whip cleanser gently removes makeup without stripping the skin. Its rich, creamy texture effectively cleanses and moisturizes the skin. The texture of this cleanser is so creamy, like whipped cream, and transforms into rich bubbles after being blended with water.
You will fall in love with this rich yet delicate cleanser after just one wash, leaving your skin refreshed and replenished.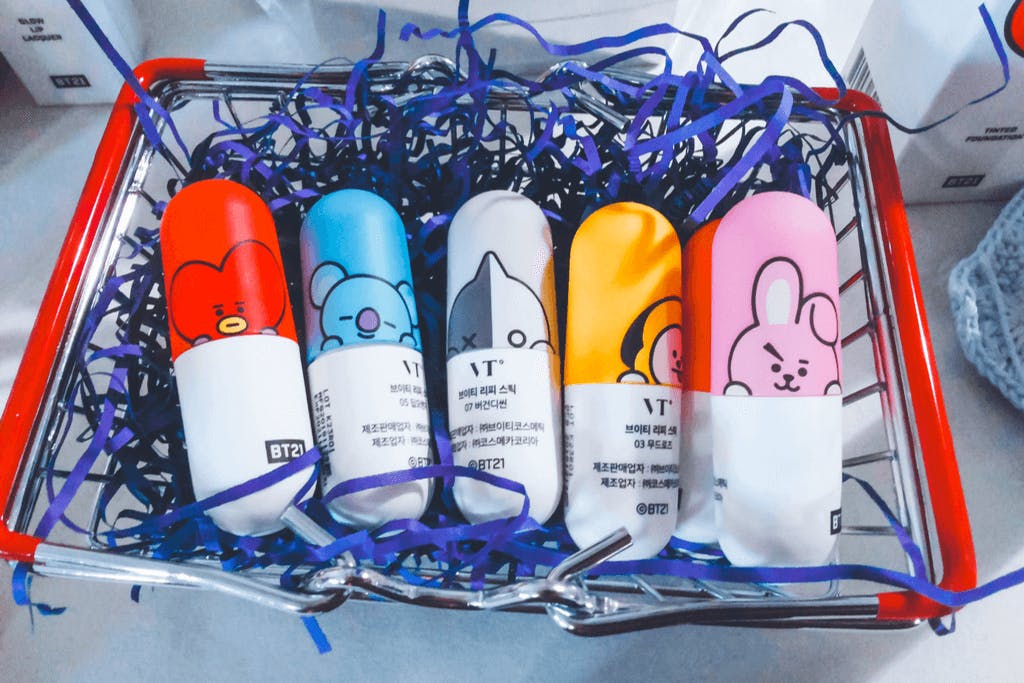 Image via Shutterstock
BT21 x The Crème Shop: Essence Sheet Masks
You may have heard of these masks from our best Korean sheet masks blog and we definitely love them. The Crème Shop has come up with the cutest sheet masks that feature the BT21 characters printed on the mask. Each character targets a skin concern that helps to treat your skin for a radiant and nourished complexion.
A favorite is Mang's magical face mask that treats and prevents acne. With this face mask, the only breakouts that will be happening are on the dance floor. It will leave you with a K-pop star's flawless skin with the combination of salicylic acid, tea tree oil, and niacinamide to smooth skin and relieve skin inflammation.  
BT21 x The Crème Shop: Under Eye Patch
Say goodbye to dark and puffy under-eye circles! If you want to brighten your under-eye area, this is the right product for you. It promises to reawaken tired eyes by smoothing, reducing puffiness, and hydrating the under eyes.
Infused with collagen, chamomile, and cucumber, the hydrogel under eye patches are meant to both rejuvenate when you're tired and calm you when you're a little too active. 15 minutes is all it takes to give the appearance of a good night's sleep and soothed skin.
Have you tried any of the BT21 makeup or skincare collection? Let us know in the comments below!