With Valentine's Day just around the corner, you're probably thinking of what to do with that special someone. So, we rounded up some of the best date spots in Tokyo for you and your better half or Bumble Date to enjoy. The best part is that little to no planning is needed - just select one of the below and head over! You're welcome.
Dating in Tokyo 
Dating in Tokyo can be tough as the city is so big, there are so many options, and sometimes lots of pre-planning is required! We've included a mix of places that need a little advance planning alongside on-the-day quick fixes.
Food Tour
Why not head out on a food tour? There are many different types of food tours, so you are guaranteed to find something you'll like, even for the most fussy among us. 
Shibuya All You Can Eat Food Tour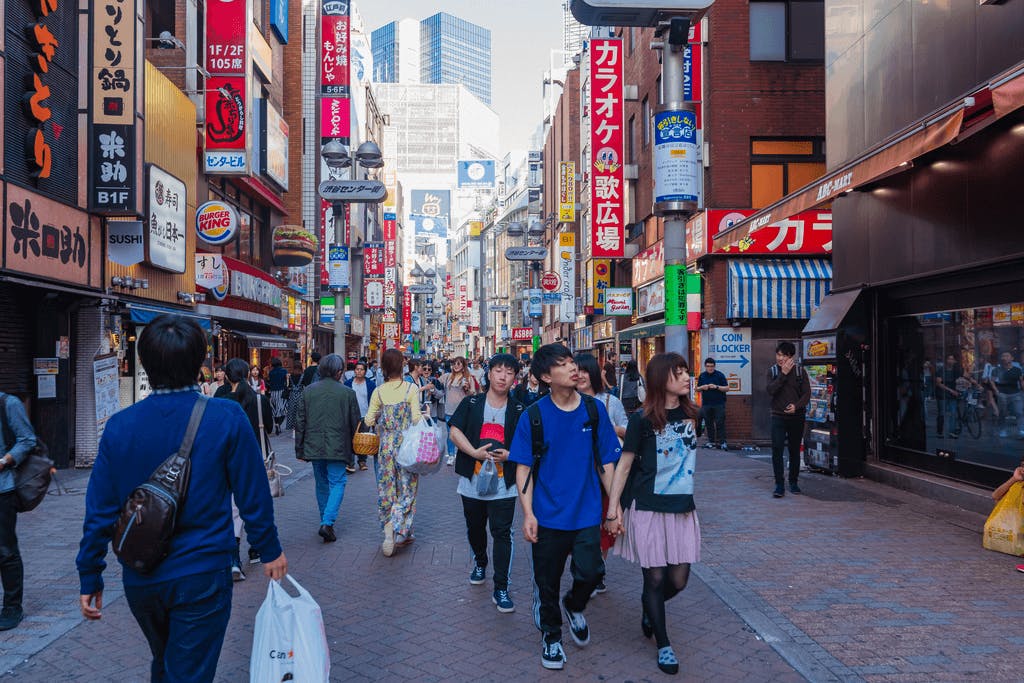 Image via Shutterstock
Shibuya is the sub-culture hub of Tokyo and a must for any bucket list. With so many shops and restaurants, it can be a little daunting to work out which place is the best. Take the stress out of your date by heading out on this All-You-Can-Eat food tour by the local Washoku Club (Japanese food club). It covers all the bases, from sushi and yakiniku (Japanese barbecue) to okonomiyaki (a savory Japanese pancake) and takoyaki (octopus balls). 
A great option for couples who have bottomless appetites!
Need a look perfect for a day or night out on the town? Check out NoMakeNoLife! NoMakeNoLife sends the latest and cutest Korean and Japanese beauty products right to your door, so you can get ready to hit the town!

Tsukiji Fish Market Food and Culture Walking Tour
Held in the famous Tsukiji Fish Market, this tour introduces visitors to the culture of Japan's most famous fish market. The market has been open for over 80 years and is the first place that top sushi chefs head to when getting their fish for the best sushi every morning.
The tour includes sushi, a fish cake, and even sake and Japanese tea - a great value for your money and more than enough to please any Japanese food fan.
Get High… Up!
What is more romantic than gazing out, just the two (or three+, depending how you swing…) of you, over the top of the world? A romantic date idea is to visit some of Tokyo's highest landmarks. 
Tokyo Skytree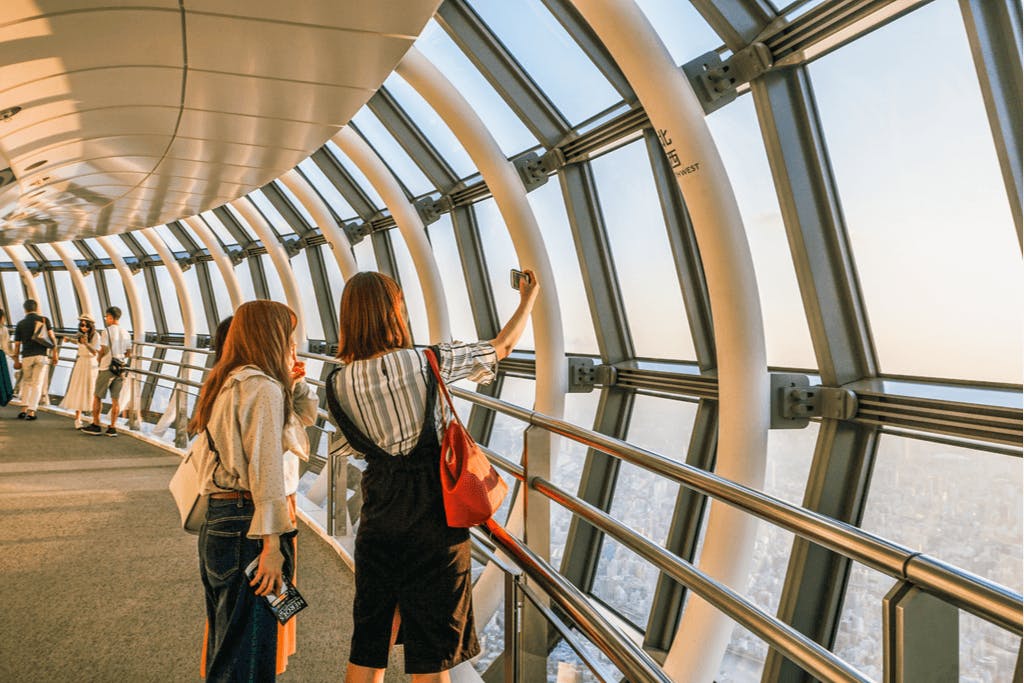 Image via Shutterstock
Tokyo Skytree is the tallest tower in the world, at 634 meters high. It took four years to complete and has 29 floors including an observation deck, and can be seen from across the city. It is located within walking distance of Asakusa - so you can head over to have dinner when you've finished admiring the views, depending how the date is going.
The Skytree also has its own restaurant if you are feeling flush, which serves a mix of Japanese and French cuisine, eaten while looking out over some incredible views.
Tokyo Tower 
A budget and slightly more casual version of its cousin Tokyo Skytree, Tokyo Tower is the second tallest structure in Japan, standing at 332.9m tall, with 15 floors. Tokyo Tower is a replica of the Eiffel Tower in the most romantic city, but over 1000 feet taller than the original. There are two observation decks in Tokyo Tower, with views over the city and even to Mt Fuji on a clear day.
Insider Tip: 
If you are strapped for cash then head to the ​​the 45th Floor of the Tokyo Metropolitan Government Office Observation Deck main building in Shinjuku. It's both free to enter and stands at 202 meters, so it can give you great views of this downtown area. Shibuya Sky is also an option to see an amazing view of the big city.
Amusement Parks
For the thrill seekers among you, we suggest an amusement park date. 
Disneyland & DisneySea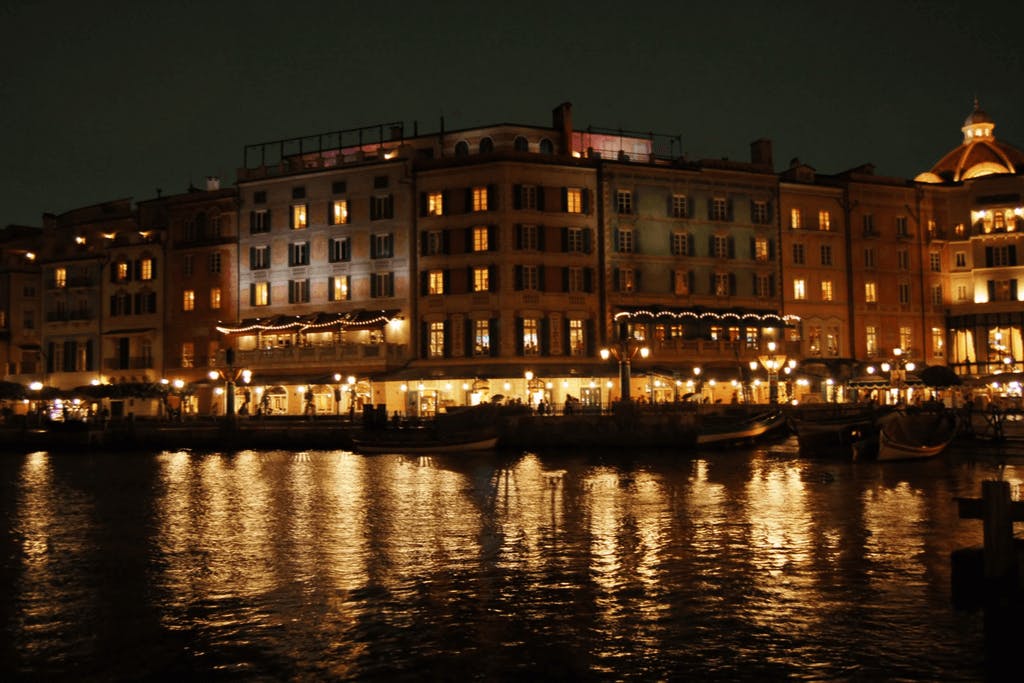 Image via Shutterstock
From high school to adulthood, Japanese teens know Disneyland as the perfect date spot. It is basically a rite of passage to visit with their first loves and have a romantic selfie wearing Mickey or Minnie ears in front of the famous Disneyland gates. 
Disney fully capitalizes on the idea of theme parks as romantic date spots, so couples will find various opportunities to take Instagrammable photos and eat food together. DisneySea even allows adults to enjoy a drink together around their super romantic Mediterranean Harbor area.  
Sanrio Puroland
Sanrio's most famous character is Hello Kitty, so sometimes this amusement park is known informally as Hello Kitty Land. Here, visitors will find a pastel-colored world in which it is easy to spend at least a half day with their favorite Sanrio characters, like My Melody and Kuromi. 
Closer to the center of Tokyo than Disneyland and at a wallet-friendly price, it makes for a great date spot, with hearts, ice cream, and pink decor in abundance. 
Cultural Spotting
Here are some great date spots for those culture lovers out there! 
Mori Contemporary Art Museum
An art gallery located in Roppongi Hills - a shopping area with twinkly illuminations year-round - 'the Mori' is one of the largest and most famous art galleries in Japan, featuring a variety of exhibitions by artists from Japan and around the world. 
For a great date night idea, why not head to the Mori for one of their late-night openings and then stroll around Roppongi Hills to admire the lights? A great day-time date will see an afternoon of art gallery-ing followed by a coffee at one of the great local coffee shops.
Rainbow Bridge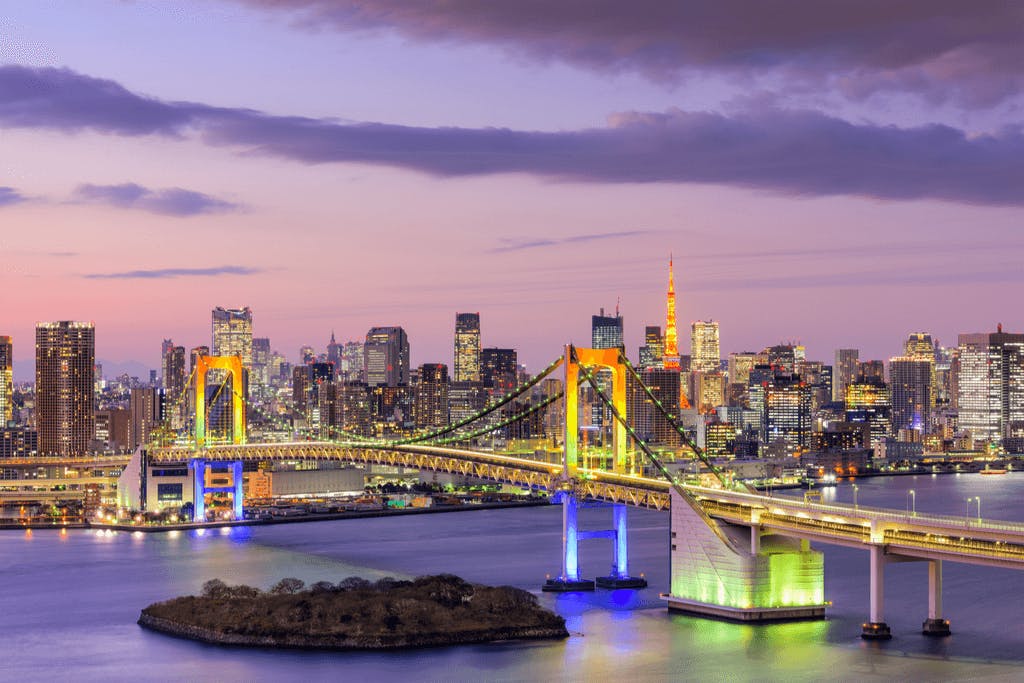 Image via Shutterstock
Another date night idea is the Rainbow Bridge in Odaiba. Originally called the Tokyo Harbor Connecting Bridge, its rainbow light-up became so famous that it is more commonly known as the Rainbow Bridge. At 798m, it is popular to walk down as a couple, taking around 25 minutes. 
The best idea is to start at the Shibaura side and head into Odaiba, where couples can head to the Teamlab digital art museum.
Traditional Japanese Style 
For couples who like to relax, a good idea is to head to an onsen (Japanese hot spring) and enjoy Japanese bath culture. Popular since the Edo Period (1603-1867), hot springs often have great, traditional Japanese style food, or 'washoku', which couples can enjoy together after relaxing in the hot spring. 
There are plenty of hot springs in Tokyo, so no matter where you are, a quick search will reveal one close to you.
Let us know how your date night goes and what your perfect date looks like in the comments or tag us on Instagram.