Japan LOVES onsen (Japanese hot springs). It's no secret that Japanese bath culture is huge, and many Japanese people love to soak in natural hot springs. There are almost three thousand onsen towns scattered across Japan and over 25,000 onsen throughout the nation. But exactly what is an onsen? 
Let's find out what makes a hot spring an onsen, and all the different kinds available to you!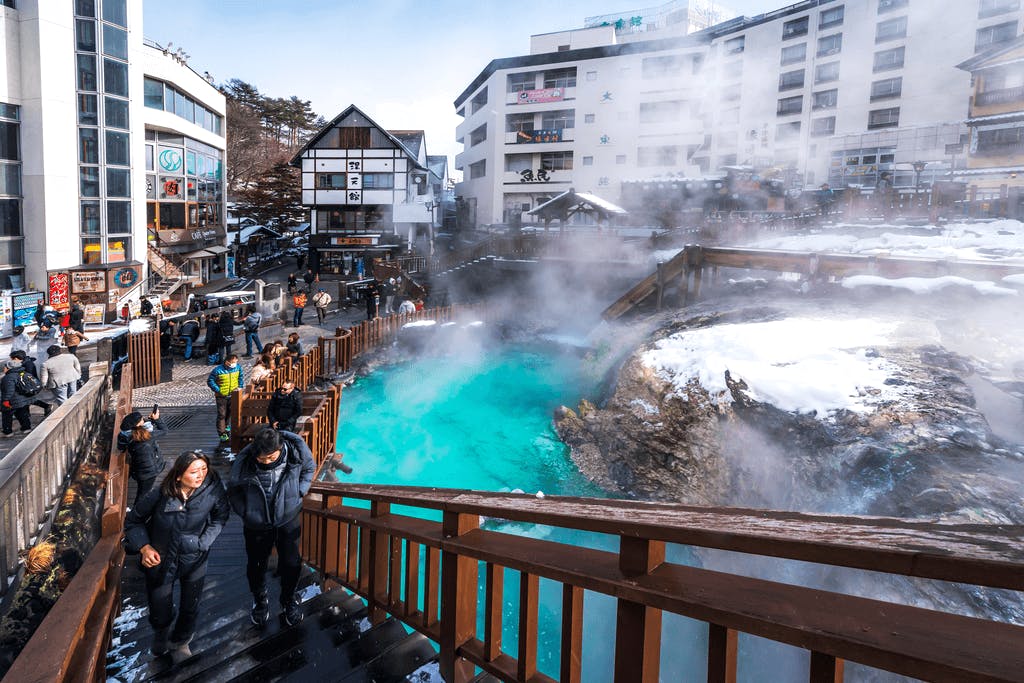 Image via Shutterstock
What is an Onsen?
A hot spring, or public bath, can only be called an onsen under certain guidelines by the Japanese Hot Spring Act (onsenho). For most people, when they think of the word 'onsen', they tend to think of a generic outdoor bath with steaming hot water, but if you look at the definition in the Japanese Hot Spring Act, there are two requirements.
Water, water vapor, or other gases gushing out from the ground can be called onsen if they are at least 25℃ (77℉) in temperature. They can also gain the title by having a certain amount of one of 19 mineral substances.
Every hot spring features its own unique attributes including chemical composition, temperature, color, smell, taste, and texture. Due to these qualities, onsen in Japan are categorized into ten different types.
Can't treat yourself to an onsen trip? No problem! Treat yourself to some amazing Japanese skincare products from NoMakeNoLife! NoMakeNoLife sends the latest Japanese and Korean beauty and skincare products right to your door, perfect for a spa day!

What Kinds of Onsen Are There?  
Simple Onsen (tanjunonsen)
Simple onsens get their name from their low mineral content and are often misunderstood as low-quality onsen. They lack odor, color, taste, and any special health benefits, although the heat of the water might actually boost your metabolism. They feel mild and gentle against the skin and are commonly found all throughout Japan.   
Sulfur Onsen (iousen)
Sulfur onsens contain 2mg of sulfur per 1kg of hot spring water, thus earning its name. They're cloudy and have a distinct stench of rotten eggs. Despite the smell, sulfur onsens are actually quite pleasant and expand blood vessels and arteries. Many Japanese people say that they also help alleviate symptoms of chronic conditions like bronchitis, diabetes, and high blood pressure. 
This type of onsen is also said to be beneficial to those that want to clear their acne and skin blemishes thanks to its high sulfur content. Much like the Hakone onsens, many sulfur types are located close to volcanic areas, so they're popular for tourists.
Chloride Onsen (enkabutsusen)
There are three types of chloride onsen: sodium, calcium, and magnesium. They are also known as "warming springs" because the chloride left on the skin helps prevent sweat from evaporating. This helps your skin retain heat – especially useful in the winter! The chloride in the water is also said to help heal cuts and burns, increase blood circulation, and improve both energy levels and physical health.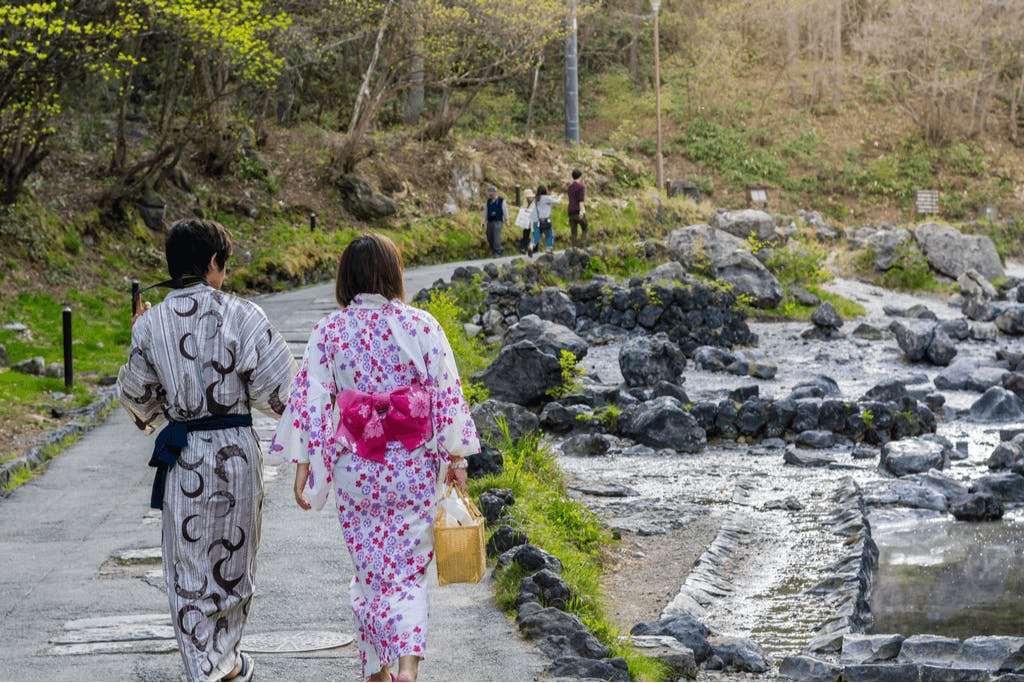 Image via Shutterstock
Acidic Onsen (sanseisen)
Acidic onsen are hot springs that have a pH level of 2-4 and are sour in taste. The acidic properties of the water provides an antibacterial effect and promotes a higher metabolism. It  also peels off dead skin cells and has a tightening effect for loose skin. However, those with sensitive skin should stay away from this type of onsen.
Hydrogen Carbonate Onsen (tansansuisoensen)
Often called Bijin no Yu, or Beautiful Women's Bath, this onsen is especially popular among women for its skin-beautifying effects. When you take a bath in this hot spring, your skin produces more sebum and leaves a smooth feeling. Other health benefits include healing cuts, burns, chronic skin diseases, and more.
Sulfate Onsen (ryuusanensen)
Also classified into three types – magnesium, calcium, and sodium – this type of onsen is most known for its wide range of healing properties. All sulfate springs have a therapeutic effect on injuries and promote artery health. Sodium sulfate onsen are especially helpful for those with high blood pressure while people with joint pain may seek out calcium sulfate springs. Another benefit is that it moisturizes skin, acting like a skin toner.
Iron Onsen (gantetsusen)
Iron onsens are characterized by their intense reddish-brown color in the water that occurs when iron is exposed to oxygen over time. Iron hot springs can usually be simplified into two categories: carbonated and sulfuric. They can be especially helpful for people who suffer from anemia, menstrual disorders, or joint pain.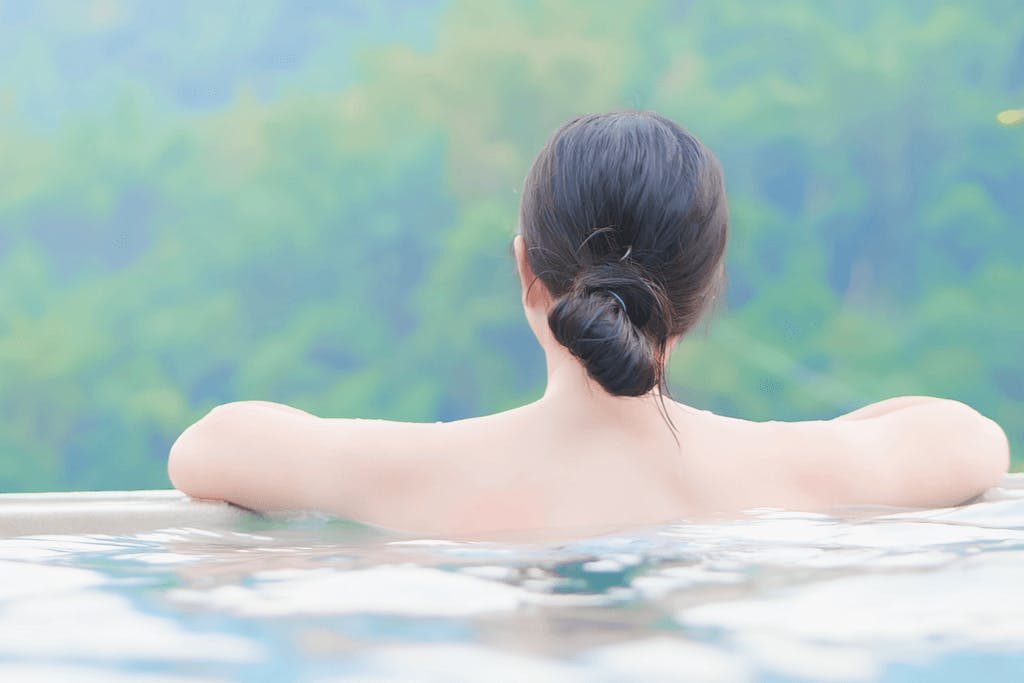 Aluminium Onsen (ganaruminiumusen)
These onsen contain a higher number of aluminium ions than others and the water in these onsen can taste quite bitter in comparison. These onsen are usually sought out by those who suffer from chronic skin diseases as well as those with chronic stomach illnesses.
Carbonated Water Onsen (tansensen)
Also known as "Ramune no Yu" or "Ramune Hot Springs", this hot spring is named after the famous carbonated Japanese drink ramune. The same carbon dioxide bubbles in the drink will stick to the surface of your skin for a period of time after bathing in these onsen baths. 
Carbonated water onsens are hard to find in their pure form, and are often associated with hot springs carbonated with hydrogen and iron hot springs. Nagayu Onsen in Oita Prefecture features two sources of carbonated water onsen and is famous for its relatively high temperatures. People love these for their beauty and detox purposes.
Radioactive Onsen (hoshanosen)
Perhaps the most surprising and controversial type of onsen, the water in these hot springs contain trace amounts of radioactive elements like radium, mercury, radon, and more. While many people tout the health benefits of it, there are also those that warn against the adverse effects. 
These hot spring baths are constantly monitored according to the guidelines of the Nuclear Safety Commission. This controversial type is supposedly useful for those suffering from several conditions like high blood pressure, artery issues, chronic skin disease, or muscle and joint pains.
Did you know about the differences between each onsen? Which onsen do you want to try the most? Tell us about which onsen's health benefits you think would suit you best!