Upon entering a Japanese department store, or even a convenience store, you may feel daunted by the choice of makeup. There are so many brands and varieties to choose from as makeup is very popular among Japanese women, especially those inspired by idols and J-pop stars. Japanese beauty products are even popular among men, with male J-pop idols being featured on the front cover of the most popular female magazines in Japan. 
There are various types of Japanese makeup styles, and this article will introduce a main look which is popular in Japan right now, especially among makeup artists. This style is called nachuraru meiku, or 'natural makeup'. Today, let's learn how to achieve this makeup look.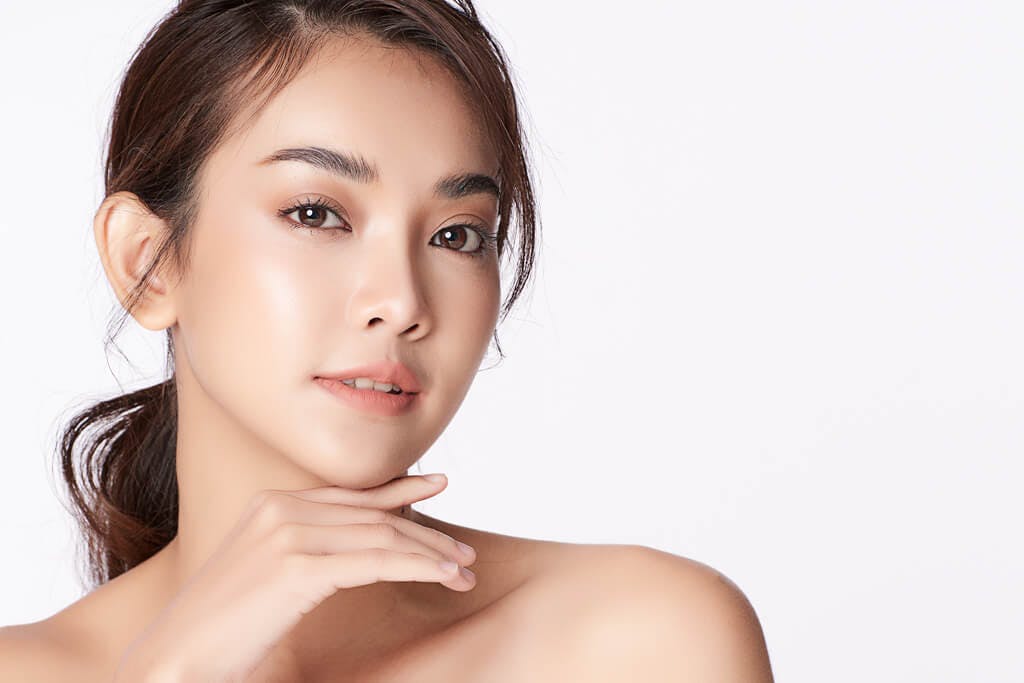 Image via Shutterstock
Some of Japan's Current Makeup Trends
In general, Japanese women value skin brightness as a part of traditional Japanese beauty, and you can often find whole sections dedicated to skin-whitening products. On the other hand, there are also many great products which offer sun protection that can benefit everyone, like Japanese sunscreens or primers. 
Japanese women also often prefer a daily look that stays fresh-looking, so they don't use much heavy makeup. Popular brands among Japanese women, like Shu Uemura and Natural Beauty Basic, highlight the 'natural' look trend with makeup as minimal-looking as possible, even if this is not the case. 
Here are our steps to achieve a flawless natural Japanese makeup look, popular among Japanese makeup users and Japanese influencers like Tomori Arata.
Need some Japanese makeup for your own makeup looks? NoMakeNoLife sends Japanese and Korean beauty items perfect for any look straight to your door.

Step One: Primer 
No makeup look can even get started without applying primer first to give yourself the perfect base for your makeup. Make sure that you choose a primer that is right for your skin and gives you coverage according to your own skin problems. In Japan, there are many types of primer, often containing sun protection. You can find primers for acne, primers for freckles, primers for redness, and many more.
Step two: concealer 
The next step is to put on a good concealer. Using your fingertips, apply it under the eyes at the eye bags and around the nostrils. The trick is to apply it as thinly as possible. Don't overdo it!
Step three: foundation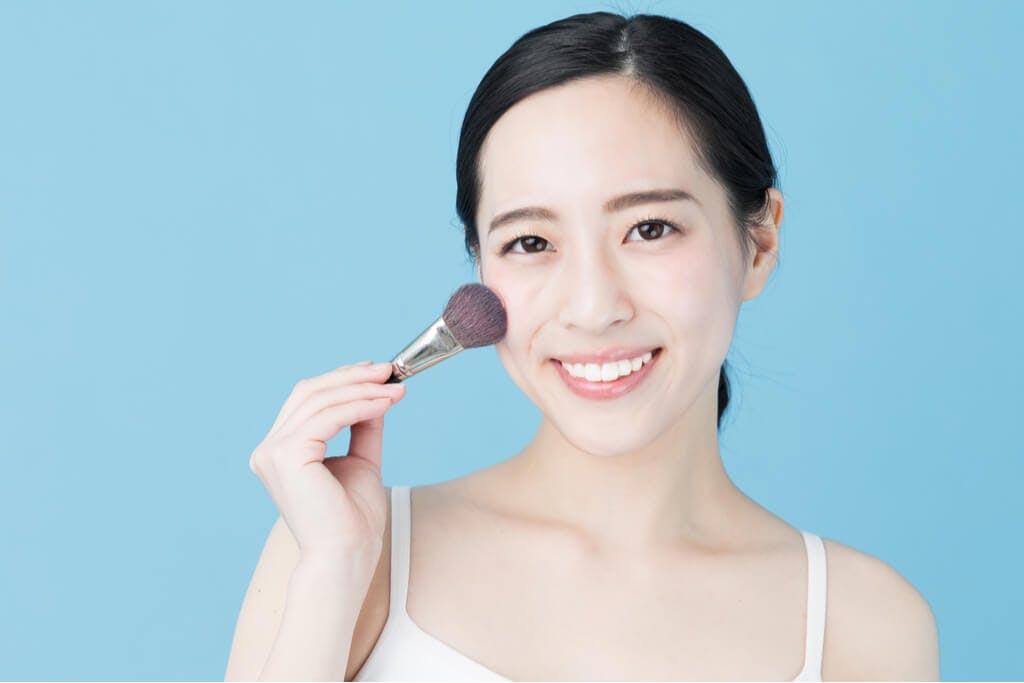 Image via Shutterstock
For foundation, we recommend a powder type, as you'll already have decent coverage with the concealer and primer. As with the concealer, Japanese women (and men) like to keep it light! We moisturized at the start too, so make sure that you don't overload your skin. Apply with a brush.
Step Four (optional): highlight
Subtle contouring has seen a surge in popularity lately. If you use it, apply the highlighter on your nose, cheekbones, lip bow, and below your lips. 
Step Five: Eye Makeup
Next, onto eye makeup! When searching for Japanese eye makeup products, we advise finding something which is smudge proof so you have that day-long coverage with a small amount of product. There are three parts to this step, so follow along. 
Step one is shadow. Japanese women are big on eyeshadow in natural shades. Make sure you use a palette in various shades because this look requires more than one. The key is to apply a darker shade close to your lash line like a thick eyeliner, and shade it out into a lighter shade on your lid, heading from the tear duct to the corner. 
Step two is eyeliner. Instead of black, brown eyeliners are the trend right now. It gives a softer effect than the traditional black eyeliner and the idea is to 'hide' the eyeliner, rather than emphasize it. A stroke on the waterline of your eyes is enough. Does it look subtle? 
The last step is lashes. Make sure you use an eyelash curler! Heat it up a little with a hairdryer to get the maximum effect. When done, you want to use a dark brown mascara to go from the base of the lash to the top. Do this smoothly to avoid lumps.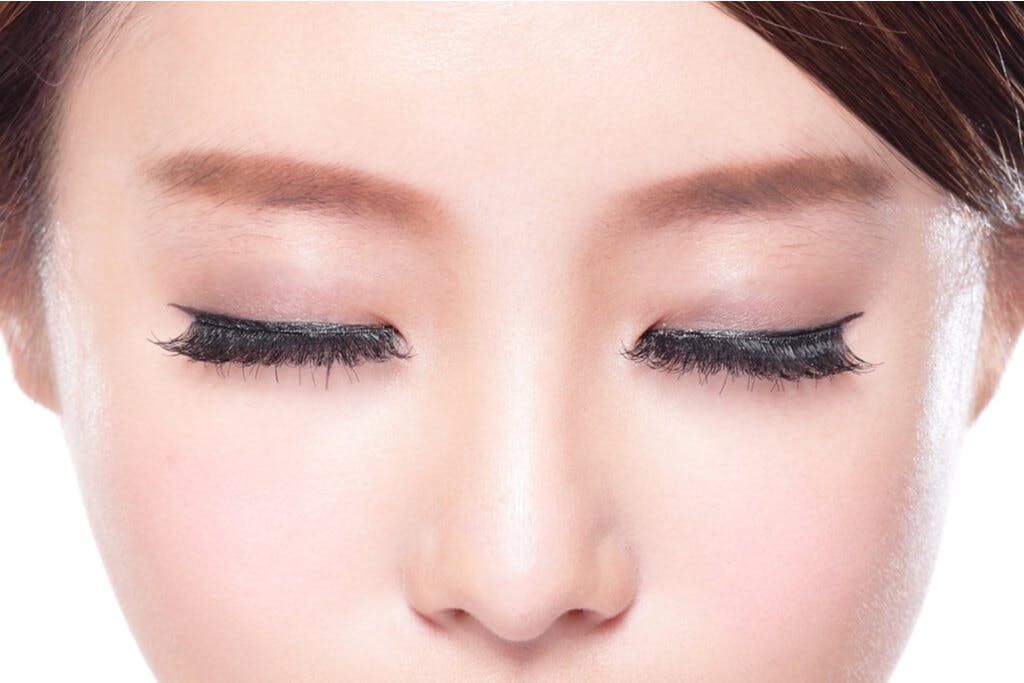 Image via Shutterstock
Step Six: Cheeks 
For cheeks, pick a slightly shiny, pearlescent blush over a matte one to create a natural highlight and glow. To keep the look natural and fresh, apply blush only to the part of your cheeks below your eyes, the apples of your cheeks. Don't pull it out to the ears. 
Step Seven: Lips
For lips, make sure you pick a shade that fits well with your natural lip color. A good way to check is by biting your lips and seeing how red they come up. This will be your recommended lip tone! Rather than applying straight from the stick, put it onto your finger and dab from there. Not only does this warm up the lipstick so that it blends better to your lips, it also creates a softer, gentler look. 
Step Eight: Eyebrows
Don't forget to do your eyebrows! It's important to follow the contours of your natural eyebrows. Why ignore something that is already there? As with the eyeliner, use a brown tone for a subtle effect. There are four steps for eyebrows, so let's check it out. 
The first step is to brush them. Use the spiral brush on the end of the eyeliner to define the natural shape. 
Then, use an eyebrow liner. Add color in a sweeping motion, inner to outer corner. Don't go too heavy!
Next is applying an eyeshadow. Using a brush, add some shadow in a shade close to the eyeliner tone. 
The last step is eyebrow mascara. Use eyebrow mascara very lightly to blend and add the finishing touches. Follow the hairline of your natural eyebrows. Sweep upwards for the center, and sweep away towards the ears.
Finished! 
You now know how to achieve the popular Japanese 'natural makeup' look. Next time you try it out, take a pic and tag us on Instagram: #nomakenolife.