In the cosmetics world, Japan has long been known as a sheet mask paradise for their high quality, versatility, and extreme affordability. Japanese sheet masks have become essential items in any daily skincare routine and are even said to be the secret to Japanese women's well-known radiant, smooth skin regardless of age. 
If you are a newbie to this beauty must-have or are looking for one to add to your winter skincare routine, this article is all you need to know about Japanese sheet masks.
Why Use a Sheet Mask?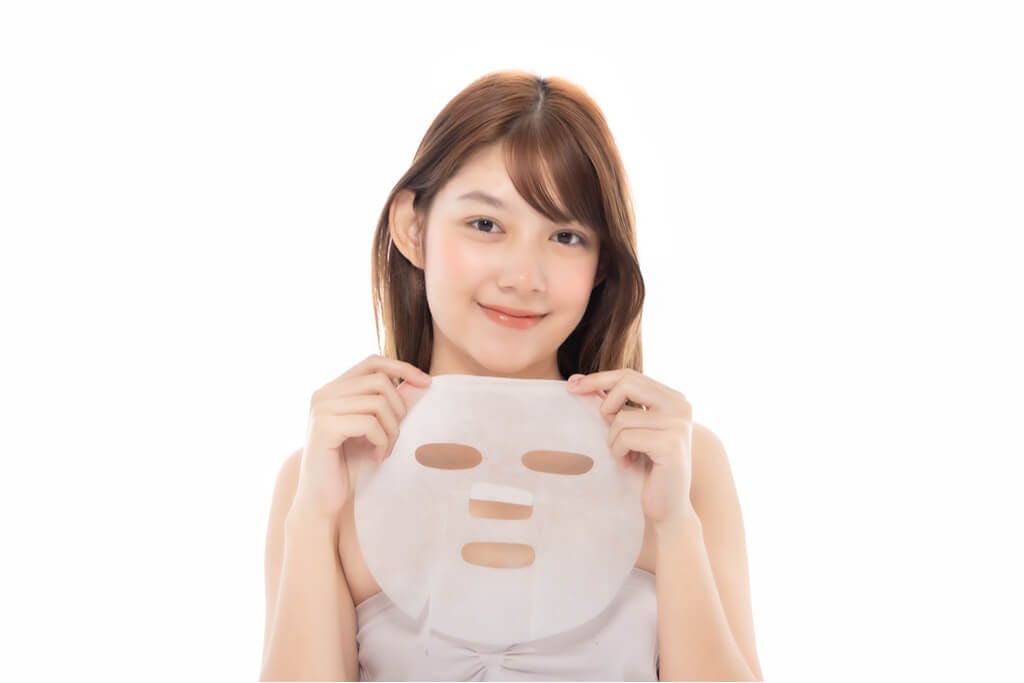 Image via Shutterstock
Sheet masks are, simply put, masks made of paper, cotton, or non-woven fabric that are enriched in skin-nourishing ingredients and essences. Japanese sheet masks in particular are popular for being compatible with all skin types, simple, and can be beneficial in many areas. such as moisturizing, anti-aging, brightening, or even pore minimizing.
A full seven-step Japanese skincare routine (eight including a sheet mask) usually goes in this order:
Double Cleansing → Toner → Essence → Serum → Eye Cream →Sheet mask → Moisturizer or lotion.
All you need to do is place the mask on your face, relax, and take it off after the time written in the package (usually around 10 to 15 minutes).
Sheet masks can be used as a daily skincare product, but they can also work just by using them once or twice a week. So, you can change the frequency of your sheet masks use depending on the condition of your skin and your budget.
Looking for affordable and effective Japanese skincare products to nourish your skin for the upcoming winter? NoMakeNoLife sends the latest Korean and Japanese beauty products to your door for healthy, glowing winter skin.

How to Choose a Sheet Mask
Although sheet masks in general are suitable for all skin types, choosing the right sheet mask according to your skin's needs is more likely to make your money and effort worthwhile. Here are some important factors to think about when choosing a sheet mask:
Skin type: Knowing your skin type (dry, oily, combination or sensitive) and what problems may come with that can help you to find a suitable sheet mask with the right ingredients for your skin.
Ingredients: Although Japanese sheet masks are often made with natural and gentle ingredients that even suit sensitive skin, understanding what ingredients will do wonders to your skin type (or the opposite) will give you the most bang for your buck.
Tips for Choosing the Right Sheet Mask For You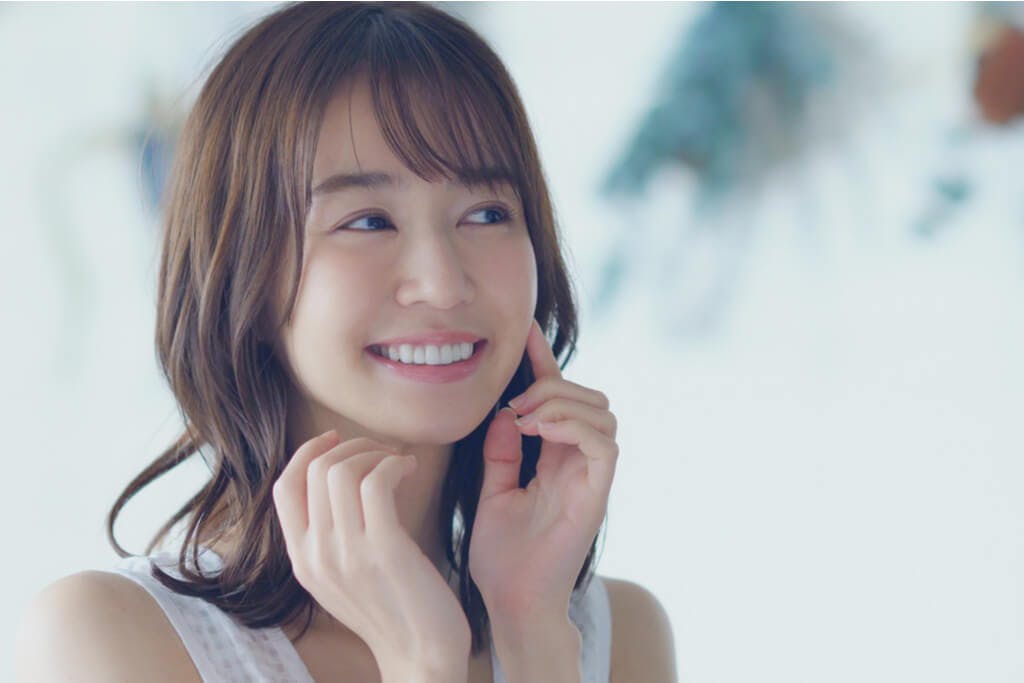 Image via Shutterstock
Dry skin
The most suitable facial masks for dry skin contain lots of moisturizer that will penetrate deep into your skin's layers to leave an intense moisturizing effect long after use. Some ingredients you should look for are:
Emollient: works to soften the skin and lock in moisture to minimize moisture loss. It is commonly found in olive oil, shea butter, and other fatty acids.
Humectant: helps promote the retention of water by pulling water to the top layer and keeping it there, which gives the skin a plump and healthy look. Some well-known moisturizing ingredients are hyaluronic acid (HA) and glycerin. Additionally, aloe vera and lactic acids are also effective humectants in increasing the elasticity of the skin.
Skin Barrier: ceramides and fatty acids are two main components making up the skin's barrier layer. Choosing a mask rich in both will help build up your protective barrier and prevent moisture from evaporating.
Avoid chemical ingredients such as parabens, propylene glycol. or alcohol and other preservatives as they will make dry, sensitive skin become drier or even cause allergic reactions.
Japanese facial sheet masks for dry skin:
Keana Nadeshiko Rice Mask is 100% made from Japanese rice that not only reduces skin stress but also restores skin elasticity and shrinks pores. The rice oil and vitamin E in this mask will also refresh the skin and keep it soft for a long time. It's perfect for that mochi (Japanese rice cake) skin look.
Lululun face masks have been recognized around the world as some of the best-selling Japanese face masks. There are many versions of this inexpensive sheet mask brand with a variety of functions, such as the pink ones made for intense moisture care, or the special Lululun precious red for moisture and anti-aging.
The Minon Amino Moist Face Mask is specifically designed for dry and sensitive skin as it offers 9 types of hydrating amino acids and hyaluronic acid to provide intense hydration and maintain your skin barrier. If you are just stepping into the world of Japanese facial sheet masks, this one could be a nice one to start with.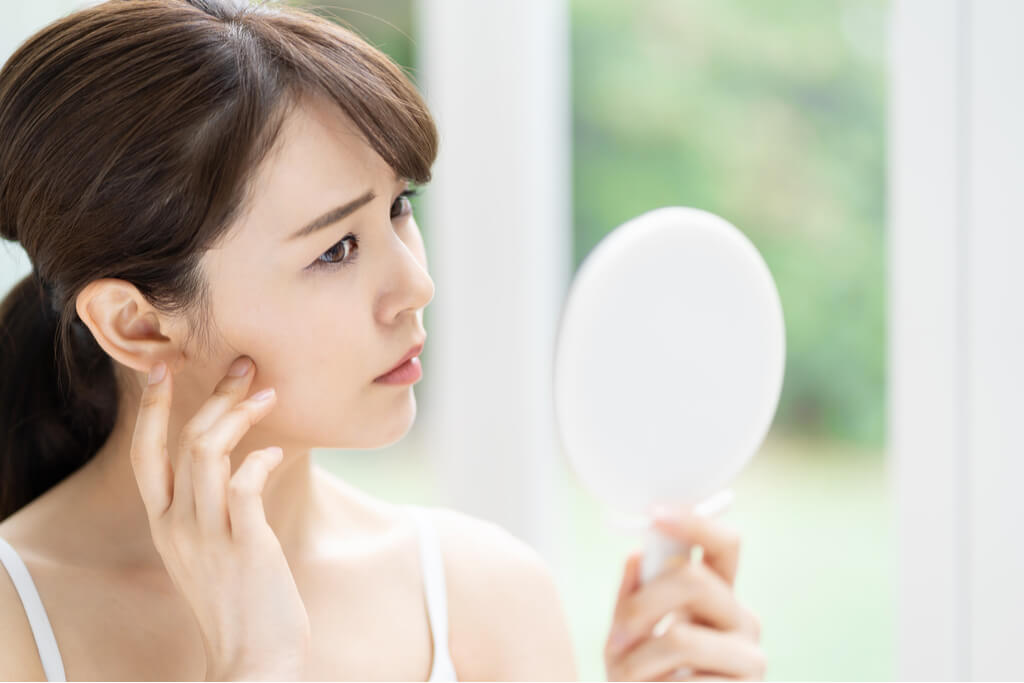 Image via Shutterstock
Oily and acne-prone skin
The myth that facial sheet masks are not for oily skin is absolutely wrong. Thanks to the versatility and variety of sheet masks available in the Japanese beauty market, sheet masks for oily skin are not hard to find. Since general skincare products for acne-prone skin are usually made with oil control, light moisturizing, or acne treatment in mind, the same ideas should be followed when it comes to your sheet masks.
Japanese sheet masks for oily and acne prone skin:
Kose Clear Turn Essence Hyaluronic Acid Facial Mask for acne-prone skin's main ingredient is hyaluronic acid – a gentle moisturizing agent that doesn't generate excess oil or clog pores. Acne-prone people can rest assured when using this mask that lightly moisturizes your skin and fights against acne. It comes in a yellow package, so you can't miss it.
The Hadabisei Moisture Penetration Mask is a 5-sheet mask pack from the famous acne skin care brand – Kracie. This mask works amazingly to reduce acne scars as it contains anti-inflammatory ingredients, vitamin C, and green tea extracts.
The Rohto Melano CC Intensive Repair Face Mask comes in a 20-sheet box that is specially formulated with highly penetrating vitamin C derivatives. It helps to fade dark spots and acne scars while controlling the production of melanin to reduce pigmentation.
For Everyone Else
Good news for all those normal skin folks out there. You don't have to spend too much time choosing a sheet mask for your skin type. You can choose a mask to fit your own needs, like moisturizing, brightening, or anti-aging. Facial sheet masks using ingredients like placenta extract, or vitamin C, are great for both brightening and anti-aging.
Other ingredients, such as retinol, vitamin C, or collagen, are some of the indispensable ingredients for healthy, youthful skin.
Quality 1st All in One sheet mask Moisture is an all-in-one that can work as a toner, serum, and moisturizer by combining 35 kinds of beauty ingredients, like hyaluronic acid and baby collagen. It works perfectly as a day mask for busy mornings or a nice refresh for the skin in between breaks.
Transino Medicated Whitening Face Mask EX is a wonderful multifunctional facial mask for preventing aging spots, melanin production and inflammation. It also softens and moisturizes the skin with plenty of ingredients such as vitamin C and kelp extract.
Tips for using sheet masks: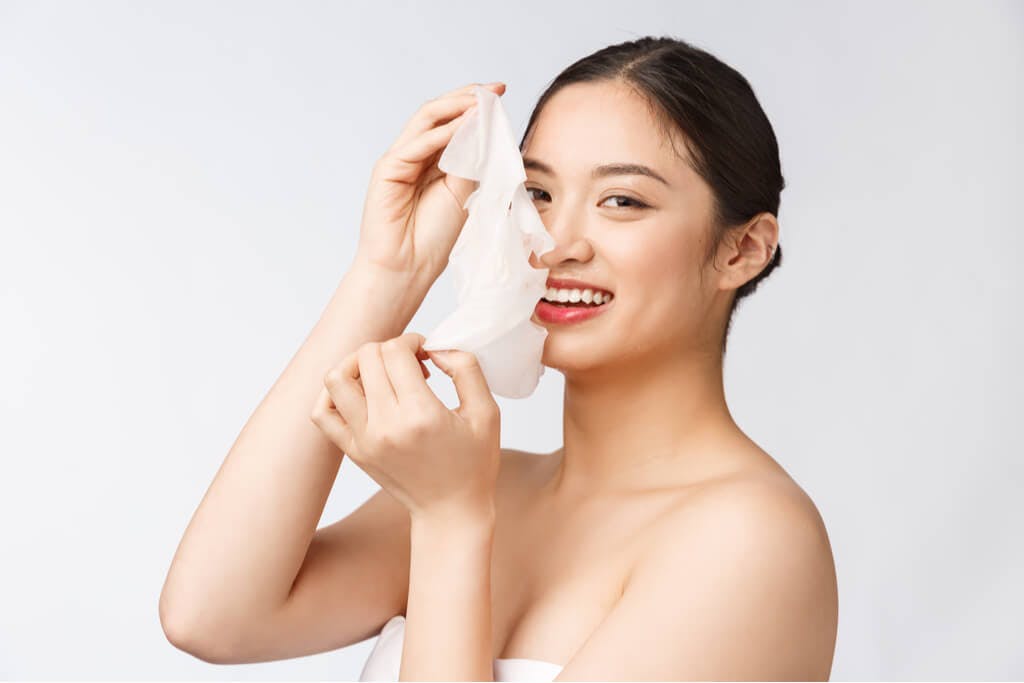 Image via Shutterstock
The best time to use a sheet mask is after bathing because the body is warm and the blood is circulating more smoothly. This is when the ingredients in the mask can most easily absorb into the skin. Using a sheet mask in your morning skincare routine before applying make-up is also recommended to avoid a cakey makeup look, especially in cold weather.
Before using a facial mask, double cleansing the skin with makeup remover and facial cleansers is a must.
After taking off the mask, gently massage or pat the face with your hand to help the essences penetrate deeper into the skin. The lotion left in the sheet mask's package can also be applied around the neck area or on your body as a body lotion. However, it might not be a full replacement for a good Japanese lotion.
No matter how busy your days are, moisturizing is an essential step for a youthful, radiant look regardless of your skin type! It's always a good idea to indulge yourself and give your face a pamper at least once or twice a week with budget-friendly, highly effective Japanese facial sheet masks.
What are your all-time favorite Japanese sheet masks? Let us know in the comments!