Japanese women (and men) are known for their eternally youthful, glowing skin and for taking great care with their skin care routine and beauty products, which is seen as an important part of traditional Japanese beauty itself. 
An essential part of the Japanese skincare routine, Japanese lotion has recently become a buzzword… But what is it? And why is it so popular? Let's find out.
What is Japanese Skin Care?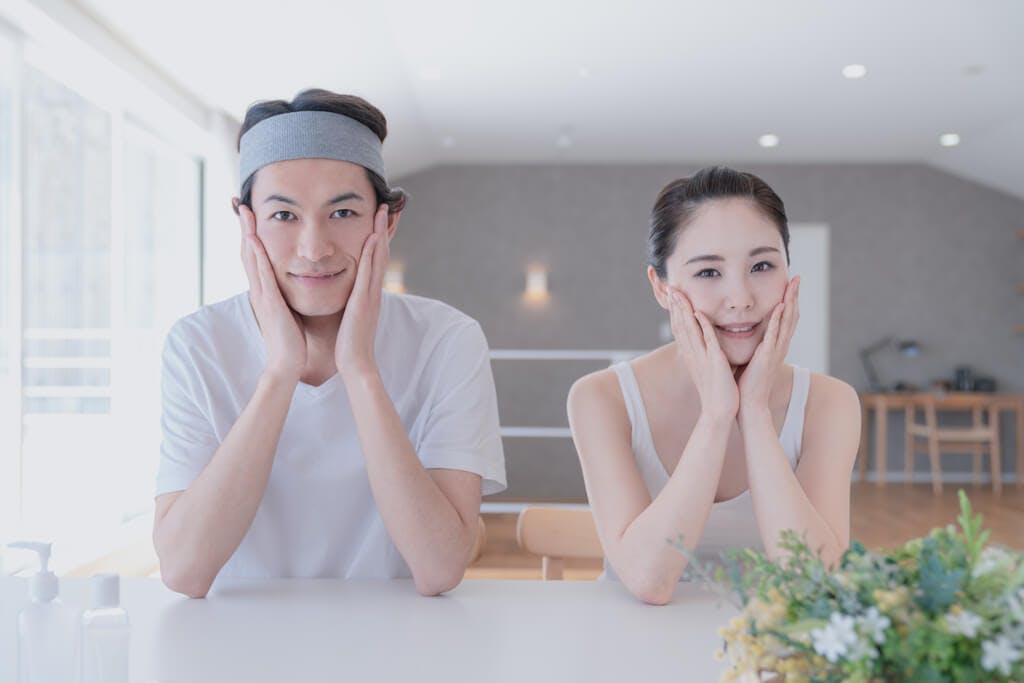 Image via Shutterstock
Before we get into the details of lotion, we need to talk about Japanese skin care. In the West, many routines involve alcohol upon alcohol, stripping the skin of its makeup. But Japanese routines are more focused on adding moisture - even double moisturizing - to get that 'mochi (Japanese rice cake) skin.' 
As Chizu Saeki, author of the best-selling The Japanese Skincare Revolution says, Japanese skin care is about touching your skin and finding out what your skin is saying. Rather than layering product after product, Japanese skincare involves becoming attuned to your pores and selecting the right products for you.
Japanese lotion is something which benefits many skin types without being invasive.
Looking to add a bit of Japanese skincare to your life? Check out NoMakeNoLife. NoMakeNoLife sends the latest J&K-beauty and skincare items right to your door perfect for adding a bit of Japan to your skincare.

What is Japanese Lotion?
This thin, milky-white substance is often confusingly called 'lotion' in Japanese. Unlike Western 'lotions', Japanese lotion, or 'kesho-sui (化粧水)', doesn't contain any alcohol and actually acts more like a toner to be left on. When used before a moisturizer, it can act as a double moisturizing agent.
Japanese lotion can also be called a 'skin conditioner,' which means it softens, hydrates, and prepares the skin for the moisturizer which is to come for an even greater moisturizing boost. Its main job is to hydrate the skin, a big part of Japanese skin care and a great way to keep the skin supple and moist for that 'mochi skin.'
How to use Japanese Lotion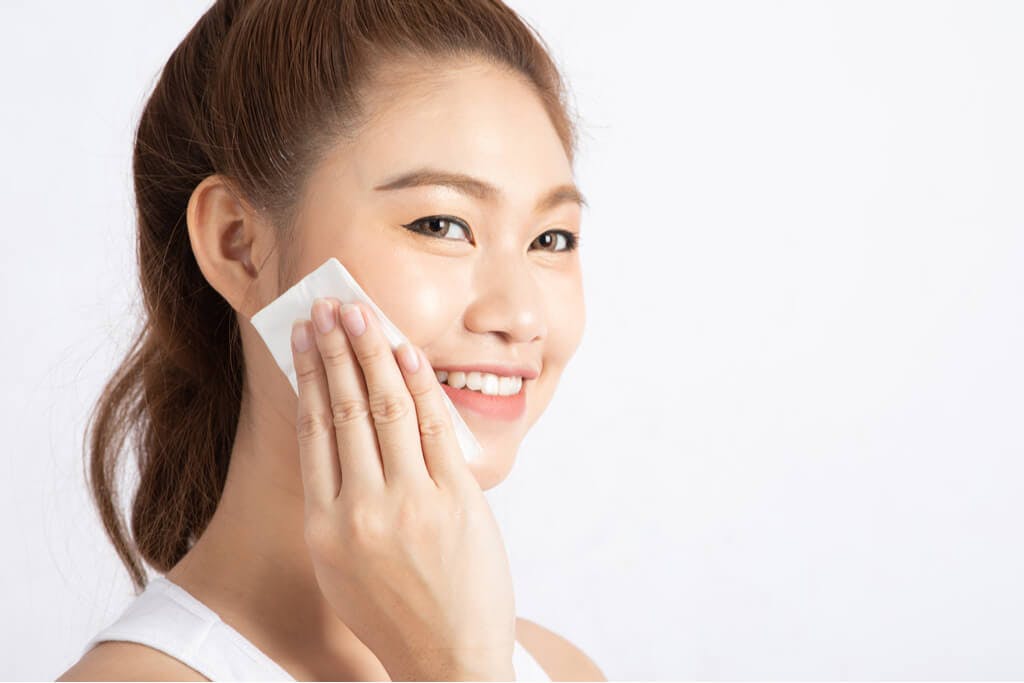 Image via Shutterstock
If applying at night, Japanese lotion is used after makeup remover and cleanser. So, remove makeup thoroughly, slowly cleanse, and then add the lotion once the cleanser has been washed off. During the day Japanese sunscreen lotions are also a popular choice.
Lotion is thin and watery, so there is some debate about the best way to apply it: either by using cotton wool pads or simply using your fingers. 
The advantage of cotton wool pads is that they are quick to use and there is no danger of dropping lotion. Put some drops of the lotion onto the pad and wipe in slow, concise movements, starting in the center and moving outwards. A big part of Japanese skincare (in fact, Japanese culture) is to take as much time as is needed for this step. 
A disadvantage of using cotton wool is that the lotion does not have time to warm up and there is no skin-to-skin pressure, which is seen as a big plus when using fingers alone. 
Tip the lotion onto the palm to warm it up and simply dip your fingers into the lotion and apply onto the face. Warming the lotion before applying means that it's softer than when applied using a pad. Plus, it's eco-friendly!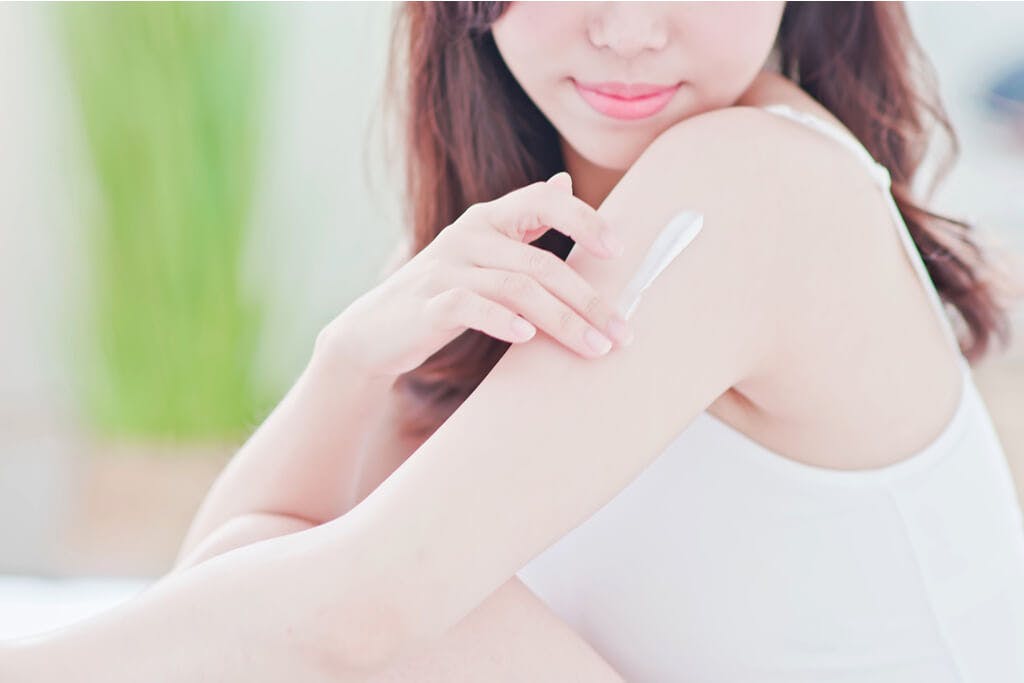 Image via Shutterstock
Using your fingers to apply the lotion also means that you can really feel your skin and start to understand its needs. Being able to identify which parts see a lot of use or are a little stiffer can show you what problem areas to give a little massage. 
Using your fingers is also good for dehydrated skin or dry skin, as massaging can stimulate oil glands and get that moisture coming from below the skin while also applying on the top.
A disadvantage to using the fingers is that the coverage may not be consistent. For proper coverage, be sure to make short, slow strokes from the center outwards. Use all fingers if possible, allocating time to slowly massage the face muscles and invigorate circulation to fully absorb the lotion quickly and efficiently.
For skin in need of a little extra TLC, lotion makes a great face mask as well. It doesn't contain alcohol, so it can sit on the skin for a time without causing damage or stripping away moisture.
To make lotion-base sheet masks, add lotion to cotton pads or dry paper masks and use it as any normal sheet mask. It's a quick DIY alternative if you're out of your best Japanese face masks. 
Some of Our Recommendations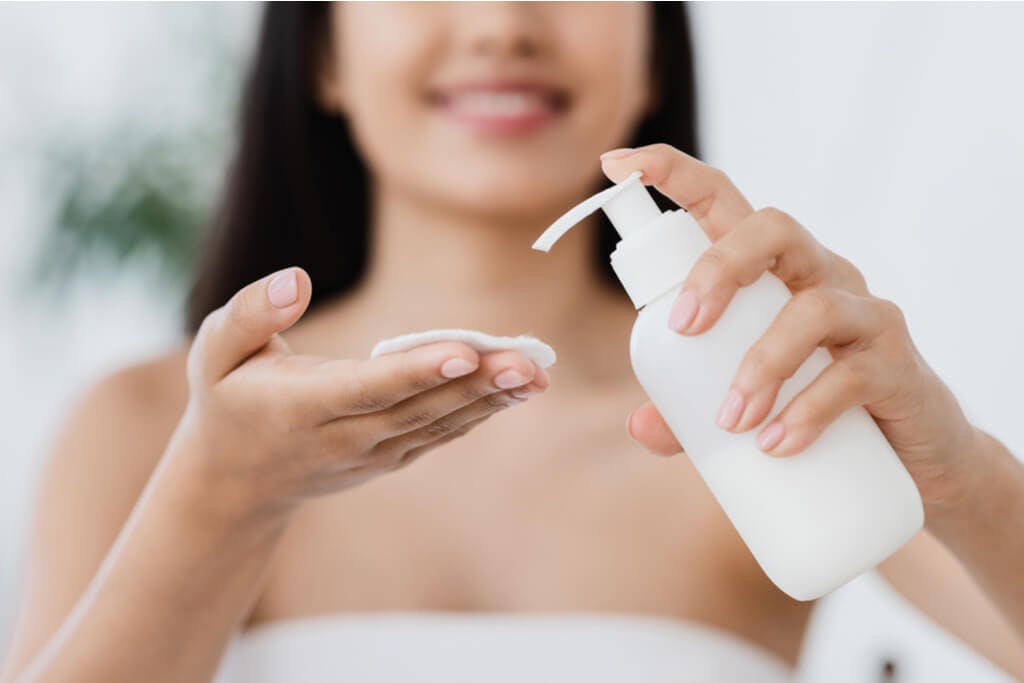 Image via Shutterstock
The market for Japanese lotions is vast and can be overwhelming to those uninitiated. 
Depending on whether you want anti-aging properties or have an oily skin type or dry skin type, there is something for everyone out there - it's just knowing where to look. 
For all types of skin, ORBIS u lotion is one to look out for. Described as 'liquid glycerin' by reviewers, this light lotion contains HSP (Heat Shock Protein), acting to invigorate and provide a skin care barrier to lock in moisture. Fragrance free and oil free, even those prone to excess oil can use it easily. It even contains Hyaluronic Acid, meaning that it reduces the appearance of fine lines and wrinkles while plumping the skin and giving it anti-aging properties too.
A great one for those on a budget who are looking for a hyaluronic acid fix is the popular Hada Labo (skin lab) Gokujun Hyaluronic Hydrating Lotion. With a high percentage of Hyaluronic acid combined with easy application, this lotion is a good one for those on the move or newcomers to the world of lotions.
Another top-seller is SK-II Facial Treatment Essence - one is sold every 2 seconds! This lotion contains sake-kasu (rice-alcohol ferment), which is kind to the skin and helps reduce dark spots. 
As with all skin care products, it's important to test it out before using. Do not settle for a 'this will do' product - it can take a lot of trial and error before finding the one that's right for you. 
Enjoy your skincare and let us know if you have any tips in the comments below.